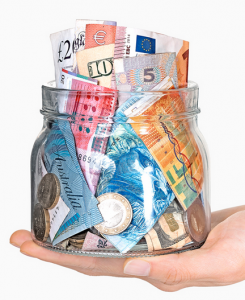 Buying Bitcoin
Once you have actually begun understanding Bitcoin you probably realized that you'd like to pick up some for yourself. The first step is to set up a wallet for yourself – a place to hold the Bitcoins you're about to purchase.
Now comes filling that wallet. We've listed our favorite sites and companies for buying bitcoins, some of which you've likely heard of by now, while others may be new to you. We've bypassed the more generic Bitcoin wallet and buying sites like Blockchain, Coinbase and BitPay and instead opted for sites that we really like, and think you will too.

Top 5 Places to Buy Bitcoin 
The following is our Top 5 of Bitcoin payment solutions – each with their own unique perks for you to try out.
Coinbase
Coinbase is probably the most popular place to get some coins. This Bitcoin exchange based out of San Francisco also has an exceptional Bitcoin wallet for its customers. The stats speak for themselves: They have a total of 2.8 million customers in 32 countries and they have traded $2.5 billion in Bitcoin exchanges. They connect directly to your brick and mortar bank account to exchange Bitcoin into and out of your local currency with ease. Coinbase also has apps for Android and iPhone apart from their regular browser platform. In terms of security, the vast majority of the Bitcoin they hold is stored offline.  Coinbase also has insurance for the coins held on their servers, and it offers a multi signature vault to store their customers' coins safely.
Cubits 
Cubits made its early splash into the Bitcoin market by partnering with Bitcoin Casinos BetChain and BitStarz. Cubits offers players at these casinos the ability to deposit using fiat currencies, which would then exchange into BTC to be played in the games.
However, Cubits is so much more than just a casino extension. The site offers personal and merchant wallet services and the ability to purchase and sell Bitcoins easily and instantly. The site is incredibly user friendly (not to mention how amazing it all looks) and you'll be using Bitcoins very quickly.
CoinMama 
This site is all about the ease of buying Bitcoins. Simply upload a picture of your ID or driver's license and once verified you're ready to buy and sell Bitcoins. Once you're all registered, you select the payment method – which includes several major credit cards and cash services such as Western Union, and after confirming all the transactions you will instantly be credited with your new Bitcoins. It's that simple.
CoinMama even offers an affiliate program where you can earn 3% on the first purchase of any other users that you refer to the site.
CoinCorner 
CoinCorner offers three main tools, all of which are great to have individually, but are excellent in one whole package.
Firstly, CoinCorner offers its users the ability to buy and sell Bitcoins via credit cards, debit cards and bank transfers. Next, the site (and app) is a wallet for you to keep your new acquired Bitcoins. Finally, the company offers Bitcoin e-commerce plugins for your website or business, furthering your daily use of the digital currency.
The CoinCorner mobile app is available for iPhone, Android and Windows smartphones.
Local Bitcoins 
Although more than 90% of their trade happens online, Local Bitcoins offers a solution for those of you looking for an old fashioned brick and mortar buying and selling experience. Local Bitcoins allows you to find people near you who are looking to sell some coins, or buy them from you. You simply log in, input how many Bitcoins you're looking to buy and put in your city and payment method and you're good to go. The site then provides a list of sellers near you that meet your criteria. You can either meet with them in person or complete the transaction in a different manner. The genius of the platform is the fact that it connects the seller and the buyer, in a safe manner with a rating system that allows people to establish their reputation and surpass some of the scary unknowns.
The mechanism to make the exchange safe works as follows: Once the transfer process starts between you and the seller, the Bitcoins in question are put into escrow. After you have completed the transaction from the buyer side, the seller then frees up the Bitcoins in escrow and they will be transferred to your account. It's as simple as that.
Honorable Mention 
Bitcoiniacs 
Last but far from the least on our list is Bitcoiniacs, which happens to be the only brick and mortar company that we're presenting. That's right – Bitcoiniacs allows you to purchase Bitcoins in real place, such as Vancouver where they set up their first Bitcoin ATM. The company has also set up an ATM in Singapore and is currently working on three more.
Not only has Bitcoiniacs introduced Bitcoin ATMs into the world, they also opened up The Bitcoin Store, which is the world's first physical Bitcoin exchange. This concept is also opening up soon in Singapore as well as 4 more location around the globe.
Spend Those Coins
Now that you scored some BTC, found the best ways to make use of them. Read our Guide to Spending Bitcoins .