This casino has shut down, but dont worry: we have plenty of other Casinos for you browse. Why not try one of these?  
FancyHash Review
Reducing a casino operation to pure math and probability, is any statistics teacher dream. FancyHash has achieved just that by combining the game of roulette with Bitcoin's block chain, and the result is a wild ride through an endless game of pure probability. The casino focuses on a single game for which the rules are crystal clear. The only thing you have to do is get your crypto on to try and figure out on which number will the next block land. Since a new block on block chain is discovered every 10 minutes, you will have to be especially sharp, unless you want to leave your bet entirely to chance. Since the game is block chain fair – no one can mess with the numbers thrown by a block – you could just relax and play without attempting to be Einstein, and feel the rush of total randomness.   
FancyHash Quick Facts
Year Established: 2016
Software Provider: Block Chain Based
Currencies Accepted: Bitcoin
| Games | Block Chain Fair | Accepts USA | Bonus | |
| --- | --- | --- | --- | --- |
| 1 | | | 50% for one bet every week for BitcoinChaser users | |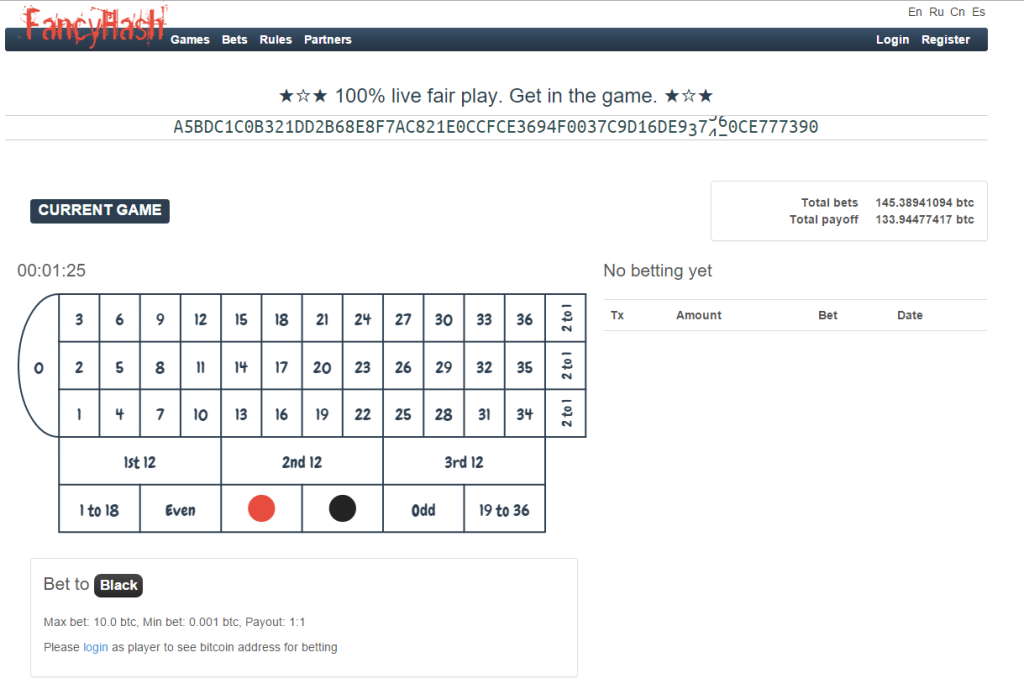 Games
Roulette is the game, FancyHash is the system. By concentrating on a single game, powered by block chain, the outcome will be based 100% on probability. If you really doubt that, you can check the numbers yourself. This casino's operation is absolutely transparent and all the numbers on each spin are by definition public. That is the great advantage on focusing on a single game that surrenders itself to the laws of probability.
Bonuses and Promotions
FancyHash also has a great loyalty program based on BitcoinChaser. Every week, one bet will get a 50% bonus as long as the bet was placed by a BitcoinChaser user. Simple, straight forward and as honest as it is random, that is how FancyHash rolls!
Unique Features 
FancyHash has pioneered a system based purely on probability and the block chain. By setting a clear set of rules, you can check the result of every spin. To determine which number their block chain roulette landed on, FancyHash does the following:
In the block, we skip all of the null characters from the left plus one other than zero.
The following two characters are taken as a hexadecimal number.
The number is converted to a base-10 number.
If the resulting number is less than 222, then the winning number will be the remainder of dividing the resulting number by 37 or, if the resulting number itself is less than 37, then it will be the resulting number itself.
If the resulting number is greater than 222, then the 2 characters in point 2 are skipped and the following ones are used instead.
For any block, there can be several winning numbers depending on the amount of bets that are played in the given block.
Conclusion
FancyHash is clearly an exciting new casino that has come up with a game system completely based on the block chain. This is clearly a first in the industry and will attract all the players who will either be interested in taking a crack at the number crunching to figure out where to place their bet, or players who are interested in the pure beauty of chance and randomness.