We are very sorry but this site, ChainRoll.com, is no longer active. But don't worry, we have plenty other great Dice sites. To see them please visit our Dice page >> 
Chainroll.com is the newest kid on the block – no, seriously, the site was established in 2015 – but it looks to be a site that can contend in the tough world of Bitcoin dice. With a really great looking interface, simple game, and BTC faucet, Chainroll is here to stay. 
ChainRoll.com Quick Facts
Year Established: 2015
USA Players Accepted: Yes
Currencies Accepted: Bitcoin
---
Overall Experience
The first thing you notice about Chainroll's site is the site itself – the color scheme and design are a huge improvement over many other dice sites. There are three pages on the top of the site that are all very useful – how to play, FAQ and a page describing how all bets on Chainroll are provably fair. That's really all of the main information that you need when arriving at a Bitcoin dice site, and there shouldn't be many questions left unanswered.
However, there is one thing missing from the homepage, and that's a login section. It appears that Chainroll is still working on adding an account portion to their site, which also makes depositing and withdrawals more of a manual task – more on that later. Despite this, Chainroll still is an impressive site that is already gaining traction and players after only being live a few weeks.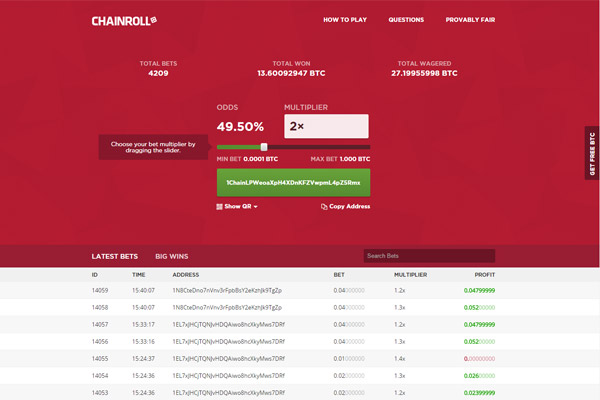 Site Features
Chainroll.com offers a dice game that is fairly simple to operate. You first choose the odds and multiplier – each multiplier comes with its own Bitcoin address. Then, once you send the amount you want to wager that is the placement of your bet. When you win, the earnings are sent to the address with which you placed the bet.
Each roll presents a "lucky number" – if your lucky number is lower than the number attached to the multiplier, you win! Just like that. Every number on Chainroll is guaranteed to be provably fair, so you know it is legitimate.
Another feature that is becoming a staple of Bitcoin dice sites is Bitcoin faucets, and Chainroll offers one as well. Once per day you can email Chainroll's support email with the subject "Faucet Money" and receive free Bitcoins. It is unclear just how many you will get, but that makes it even more enticing.
Next is the house edge – and Chainroll definitely did its homework in this regard before launching. The site has a 1% house edge – equal to or lower than almost every Bitcoin dice site on the market. Despite how new the site is, it's tough to argue with such a low house edge.
Last but not least, Chainroll is entirely mobile-friendly and looks great on a number of mobile devices. This helps with sending Bitcoins via the QR code, and for dice playing on the go.

Withdrawals and Payments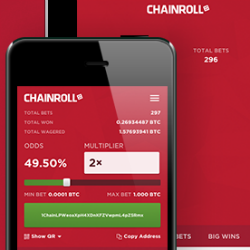 Chainroll.com only accepts payments in BTC and will only offer withdrawals in Bitcoins as well. Bets and payments are processed instantaneously – with 0 confirmations – and withdrawals are processed quickly as well.
The deposit/betting system is a bit unorthodox in that it is very manual. You can copy the game's Bitcoin address or scan the QR code and then send BTC in order to play. Hopefully that is something that will improve once they add accounts to the site, but for now the system works manually.
Conclusion
For a site as new as Chainroll, the Bitcoin dice experience it provides is pretty impressive. There are several factors that could use an improvement such as the lack of registration and the manual set up of betting/depositing, but overall the site looks great, plays great and should be an enjoyable place to play for a long time. The mobile adaption and faucet are a huge bonus as well as the low house edge, so we should see Chainroll on the heels of other Bitcoin dice sites very soon.