Win a Ledger Nano S Wallet Now!
Our January Ledger Nano S Bitcoin Wallet Giveaway has ended and we have announced the winner on Facebook and Twitter! Check this page for our upcoming giveaways. 
Bitcoin Chaser Giveaways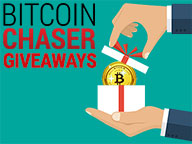 Everyone would like to get a gift every now and then, especially when it comes from one of their favorite websites. That is why we decided to launch a giveaway page to connect with our readers on a different level. We value our readers deeply, and we share with them our passion for bitcoin and other cryptocurrencies. So we would like to reward them for their interest in Bitcoin Chaser and their interest with a meaningful gift every now and then.
To make this token of appreciation meaningful, our staff will chose from a wide variety of bitcoin and cryptocurrency merchandise. This is what will allow us to further the bond we have built with our readers, but to make the giveaways even more memorable, we will ask our readers to participate in our bitcoin giveaway games.
Bitcoin Chaser Giveaway Games
Our staff will not only pick the bitcoin prizes, but they will also design the games that our readers will need to play in order to win the prizes. These games will be easy and fun to play. They will have simple rules to follow and you will be able to participate in all of them. The theme of the games will all revolve around bitcoin, and will generally reward your ability to predict certain events, your knowledge of the world of bitcoin and other cryptocurrencies, and your level of engagement with Bitcoin Chaser.
In order to participate you might need to:
Post something specific to our Facebook page or Twitter account.
Share a bitcoin or cryptocurrency moment with us.
Get other people to participate.
So go ahead and participate
Now that you know how simple it is, go ahead and participate. You can be the winner of our next Bitcoin Chaser giveaway game and get a prize. We will make sure that you have fun playing with your fellow Bitcoin Chaser readers. Just take a look at the giveaway games that our readers have played so far, and the prizes they have won:
The Bitcoin Chaser hall of winners
We will keep you up to speed on the latest Bitcoin Chaser giveaways right here, on our very own Hall Of Winners, as well as on our Facebook page and on our Twitter account. It is our pleasure to engage with our readers in a different way that is fun and will further the bond between us, so we hope you participate and win!
Hall of Winners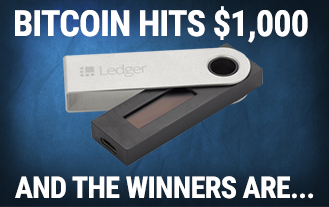 It finally happened. Bitcoin surprised everyone on January 1st, 2017 when it surpassed the $1,000 USD mark, and two of our readers who made the most accurate predictions, won a Ledger Nano S wallet. Both readers were the most accurate in their predictions and had the...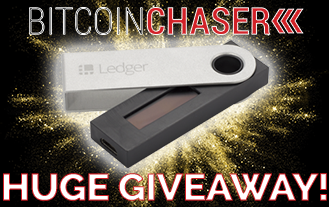 Bitcoin has had a tremendous year! It shattered the $800 US Dollar mark just a few days ago, and now it seems like it will never look back! There are those who thought the $1,000 US Dollar mark was untenable, but it seems it is only a matter of time until bitcoin...