PrimeDice Review
Boasting the "undisputed most popular and trusted Bitcoin game in the world", PrimeDice is certainly a site that believes in the simplistic power of dice gaming. While the site only has one main attraction, the Bitcoin dice game, it provides this service in a clean and efficient manner and according to the ticker on the homepage, manages to keep its players entertained. 
PrimeDice.com Quick Facts
Year Established: 2013
USA Players Accepted: Yes
Currencies Accepted: Bitcoin
---
Overall Experience
If you arrive at a Bitcoin dice site expecting the bells and whistles of a Bitcoin casino, you're going to have a bad time. Where PrimeDice excels is in knowing that it provides one singular service, namely its very popular dice game. The site is very straight forward and you can start playing within seconds. Just choose a username and you're good to go.
While there is continuous action on the site with bets happening every second according to the page's ticker, there is still a finite amount of excitement that comes with a dice site. Usually that's directly tied to the amount of coins you are able to deposit, because after a few quick rolls you could find yourself coming up empty. That being said, and considering what it is offering, PrimeDice provides a very satisfying Bitcoin dice experience that is likely to hook you in even after a few small wins.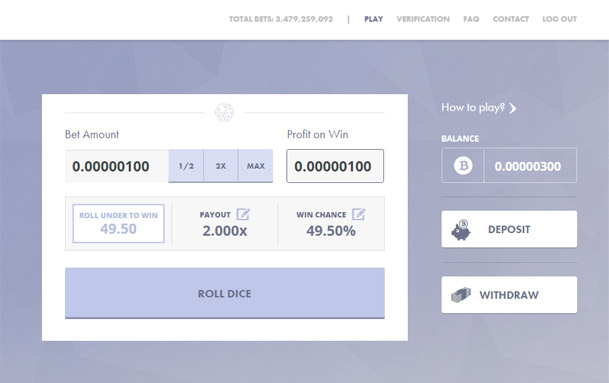 Unique Features
As mentioned above, a small Bitcoin balance could put a damper on the dice-playing experience, but PrimeDice has implemented a way of circumventing that: the site also includes a Bitcoin faucet.
When your balance is at 0 you can enter into the faucet and get a little injection of several hundred Satoshi. While you will only receive coins from the faucet if you actually have an empty account, the real kicker is how the faucet increases as your player level does. The more you play, and the more you lose in order to fall back to zero, the more you can earn when you head back to the faucet. It's a very smart move by PrimeDice to ensure an ever-growing cycle of play at their site. Of course, there's no such thing as a free lunch, but getting those "free" Satoshi's when you've come up dry is still a fun feature to have.
PrimeDice also boasts the lowest house edge that exists in any Bitcoin gambling site. When playing against the casino the house edge is fixed at 1%, which itself is very low. However, when playing against other gamblers, the house edge is 0% – "the lowest of any casino ever" according to the site. This feature ensures that players will willingly gamble against others and will maintain their interest in the game.
Another interesting perk is that in addition to earning affiliate commissions for players you send to PrimeDice, you can also earn money for reporting bugs on the site. PrimeDice claims that they have already paid 30+ Bitcoins in this regard so it is unclear how many bugs are still out there, but it could be an easy way to earn some dice spending money.

Withdrawals and Payments
PrimeDice operates solely with Bitcoins. The maximum bet on the site is 5 BTC and the maximum payout is 40 BTC per individual bet.
Banking with PrimeDice works very quickly – deposits are instant and generally withdrawals are processed within minutes. However, you must receive 1 confirmation for your deposit before you withdraw any coins.
Conclusion
Overall, there's a lot to like about PrimeDice. The site has a great personality – there's a joke as one of their FAQ's – and it doesn't try to do anything more than provide its simple service in an efficient manner. There is one game, and it works seamlessly.
With an amazingly low house edge and the faucet to help you get back on your feet, PrimeDice does an excellent job at retaining its players. The site is very user friendly and streamlined, so if you're looking to wager your Bitcoins on dice rolls, PrimeDice seems like a good place to start.


After recently passing the 5 billion bet mark, yes billion, Primedice has officially silenced anyone who would dare dispute its claim as the "undisputed #1 Bitcoin gambling website". However, growth sometimes also brings growing pains, and inevitably change, which is...
In the time it took to write this sentence, the Bitcoin dice site Primedice has processed nearly 1,000 bets. Yes you read that correctly. Primedice, which unabashedly claims to be the "world's most popular Bitcoin game" has surpassed 4.4 BILLION bets. Just today I...