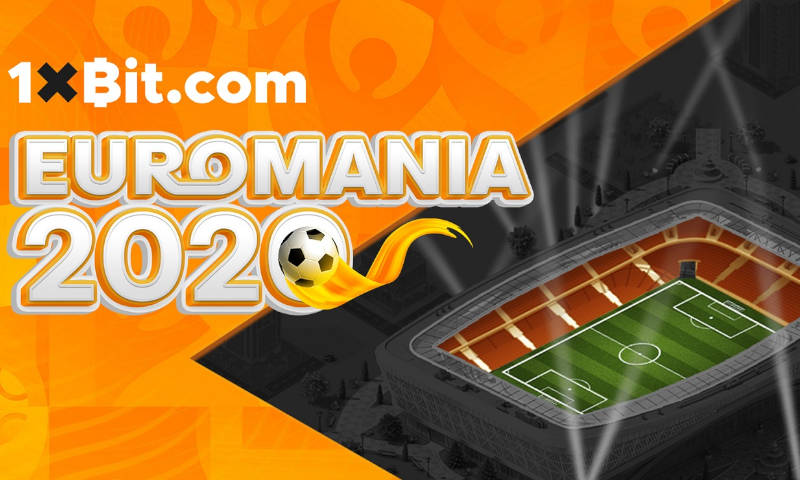 If you're a fan of sports betting, you've probably heard of 1xBit. Since 2016, 1xBit has been the go-to online casino for sports betting aficionados. The casino has everything we're looking for, offering a massive range of the most exciting sports events with the highest odds.
It's no wonder that 1xBit casino has jumped into this year's Euros season with a bang, introducing EuroMania 2020. 1xBit players can bet on the Euros and claim serious crypto prizes, promo tickets, and other rewards! The 1xBit EuroMania competition has been running since June 10, and ends on July 11 2021. Here's how it works.
How EuroMania Works
1xBit's EuroMania 2020 begins with a series of 5 prize draws, during which winners will be drawn for 1st, 2nd, and 3rd place. During the first round of the prize draws, 1st place will be awarded 100mBTC.
Only one winner will be selected for 1st place. 2nd place will be awarded to ten winners, each of whom will win 10mBTC. Finally, third place wins 1mBTC and a free bet. Third place will go to 100 winners.
With over 100 changes to win during each of the 5 prize draws, the odds are in your favour!
EuroMania Prizes
At the end of the promotion, a number of players will be randomly selected from all promotional tickets issued for bets on EURO 2020 matches. The winner of this 'Final Supersize Draw' will receive the following superprizes:
The winner to come in 1st place will receive a whopping 1 Bitcoin.
Five winners will be drawn for 2nd place, each of whom will receive 100mBTC.
For third place, twenty give winners will be chosen for 3rd place, and win 10mBTC.
The Final Supersize Draw goes all the way up to 8th place, adding up to an impressive 156 lucky winners of the superprizes.
How To Take Part
In order to take part, players need to register or log in to the 1xBit website. To qualify, players must place pre-match or live bets of at least 0.1 mBTC (or the equivalent in your chosen currency) at odds of 1.5 or higher on EURO 2020 matches. The more you stake, the more tickets you will get to enter into the draw. For example, 0,1 mBTC will get you 1 ticket. 0,5 mBTC will get you 6 tickets, etc. For the high rollers: 50 mBTC will get you a whopping 2000 tickets!
If you don't already know, the UEFA EURO 2020 competition (popularly known as 'Euros') is an international men's football championship, organised by the Union of European Football Associations (UEFA). EURO 2020 runs from 11 June to 11 July 2021, with 11 host cities staging the 51 fixtures. If you're new to the sports betting scene, don't worry. 1xBit has created some amazing Euro2020 betting guides to help you place your bets wisely.
Want to learn more about 1xBit? Check out our 1xBit casino review.