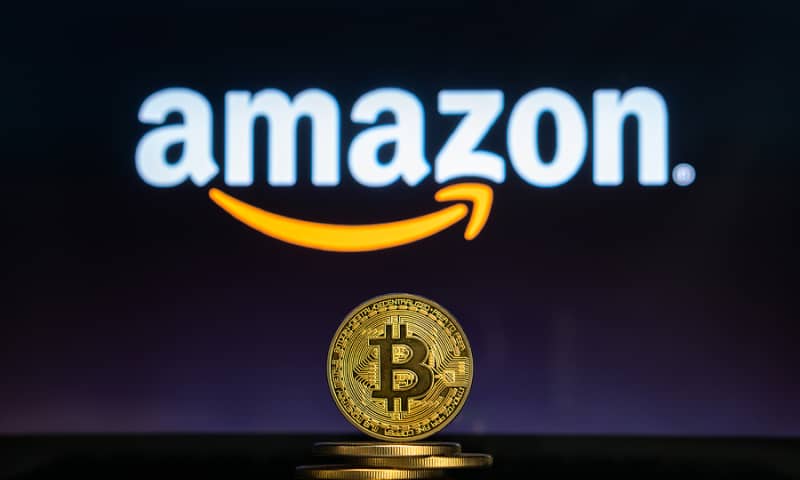 News has been circulating regarding Amazon accepting bitcoin by the end of 2021, surging the price up by more than 14%. Although Amazon has expressed a sense of intrigue in the crypto space, they have not released any official statement claiming this to be true. The rumored statement comes from an "insider", unlikely a high position employee who would have access to this information, or an untrustworthy source looking for their claim to fame. There is no definitive way to say if they will or won't accept bitcoin in the years to come, but a spokesperson did have this to say:
"Notwithstanding our interest in the space, the speculation that has ensued around our specific plans for cryptocurrencies is not true"

"We believe the future will be built on new technologies that enable modern, fast and inexpensive payments, and hope to bring that future to Amazon customers as soon as possible."

"We remain focused on exploring what this could look like for customers shopping on Amazon."

Amazon spokesperson – source
Before we get into how these rumors came to be, let's first take a look at Amazon and how their empire was built.
How Did Amazon Start?
When people say Amazon, one man comes to mind, aside from being the biggest multinational eCommerce site worldwide. The company was founded by Jeff Bezos on the 5th of July, 1994. It was started as a second-hand online book store, and was run out of his garage. The company grew to accept and sell way more products, which eventually led to them becoming the most recognized and used eCommerce site.
Jeff Bezos has since gone on to become the richest person in the world, known at least, with a net worth of more than $200 billion. He recently went to space for 10 minutes, and is planning a trip to the moon and to move civilization up with him.
Although Bezos has never stated his thoughts about bitcoin or cryptocurrency directly, it's clear he is not the person powering the cryptocurrency interest as the media is reporting. Jeff Bezos stepped down as CEO from Amazon after exactly 27 years of leading the company, on the 5th of July 2021.
Andy Jassy is the new CEO of Amazon, and it's not even known if he is the driving force behind their cryptocurrency interest.
So is Amazon Accepting Cryptocurrency?
The short answer, based on official statements, is no. While they have shown curiosity in cryptocurrency, they have not definitively said they will accept bitcoin by the end of 2021. What really began rumors is a Blockchain job listing posted by Amazon. The job offering was titled "Digital Currency and Blockchain Product Lead". The listing quotes:
"The Payments Acceptance & Experience team is seeking an experienced product leader to develop Amazon's Digital Currency and Blockchain strategy and product roadmap."

"You will leverage your domain expertise in Blockchain, Distributed Ledger, Central Bank Digital Currencies and Cryptocurrency to develop the case for the capabilities which should be developed, drive overall vision and product strategy, and gain leadership buy-in and investment for new capabilities"

Amazon's Digital Currency and Blockchain Product Lead job posting – source
While this clearly shows attraction to Blockchain and digital currencies built on it, it doesn't give a direct indication of acceptance of Bitcoin or any other cryptocurrencies. They could very well go on to accept cryptocurrency, as they have stated they "remain focused on exploring what this could look like for customers shopping on Amazon".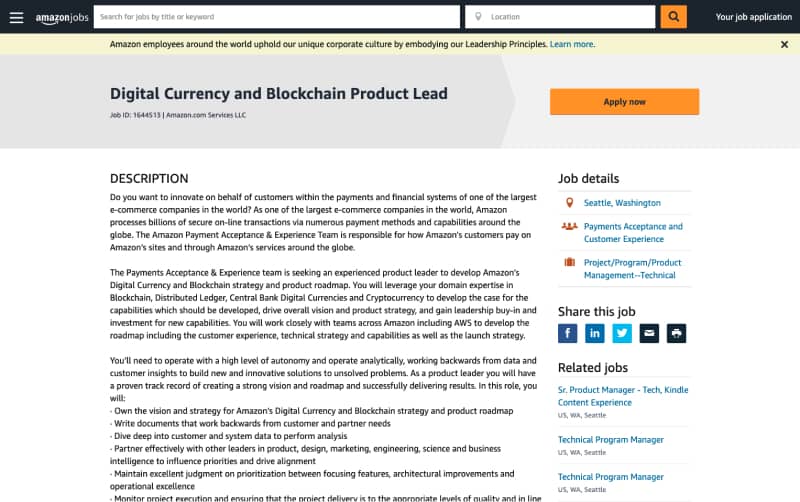 It is also likely they could be following in the footsteps of the Binance exchange by creating their own economies token. Or use Blockchain to follow their supply chain like soda giant Coca-Cola. Regardless of the true reasoning behind their job recruitment advertisement, Amazon is considering what cryptocurrency means for the future of their company and the world.
We are excited to see where Amazon goes from here, and hope this article helps fully inform you on all that's happening and the potential it holds.