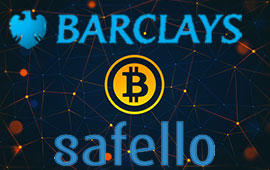 "Who said bitcoins and bankers can't be friends?"
Barclays bank has been around for more than 300 years. Bitcoin has existed for less than 300 weeks. Until recently, these two had never really got along, but that's all starting to change.
The above quote came from Frank Schuil, the CEO and co-founder of Safello, a startup focusing on Bitcoin payment options. Safello presented at the demo day for Barclays' tech accelerator and considering the two companies signed a proof of concept, it's safe to say that the presentation went well. Barclays appears to be enamored with Schuil and his company and would like to explore the idea a lot more.
So far, 2015 has been a big year for Bitcoins + Banks, after what we've seen with itBit, and future regulation in Canada, but when a bank with the reputation of Barclays begins to peer down the Bitcoin rabbit hole and establish a working partnership with a Bitcoin startup – that's big news.
In fact, it's huge news. I believe Anna Irrera from the Financial News put it best:
Barclays has signed a proof of concept with bitcoin payments platform @SafelloAB (a year ago bank execs panicked when u mentioned the Bword)

— Anna Irrera (@annairrera) June 22, 2015

The most exciting aspect of this developing partnership is hardly the partnership itself, but rather relationship with a bank with the stature of Barcalys, and a brand new Bitcoin payments company – of which there are seemingly dozens.
It's all about the fact that the banks are warming up to the idea of cryptocurrency and looking to be friends as Schuil put it. Somewhere over the past year when Bitcoin's price has stabilized more than it had in the first few years of its existence, people came to the realization that Bitcoins could be complementary as opposed to supplementary. No, BTC won't be the next USD and that's more than fine.
Barclays sees an exciting business opportunity in working with Safello but also is impressed with the maturity of the Bitcoin startups of 2015. This isn't 2013 Bitcoin – this is the future of companies that are focused on the Blockchain technology, and working with Bitcoin as a means for integrating new verticals, such as sending donations using Bitcoins (one of the areas Barclays is looking into with Safello).
Gone are the days where Bitcoins were meant to replace fiat currencies, and it appears that Bitcoins themselves are falling behind the strong power of the Blockchain as an entity. The technology is there, and Barclays means to take advantage of what's right in front of them. The relationship between these two companies looks very promising and hopefully Barclays will show other top-tier banks just how to make new friends.