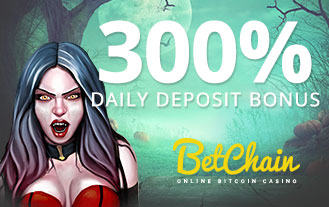 BetChain is on a Halloween frenzy! The team ate all the candy and in the midst of our sugar high, we have decided to give out only treats! Come and get a 300% Halloween bonus on your first deposit each day over the weekend, no ghosts attached! Take advantage while the casino is haunted to win big! All our best games, from providers like SoftSwiss, BetSoft, Endorphina and Amatic are ready to spook the routine and crown the next jackpot zombie!
Our special Halloween themed games are waiting for you to win. All our game creatures from The Vampires to jackpot Greedy Goblins are on the loose! Play on with your 300% bonus for a chance to win more treats. Remember, no tricks this Halloween, only treats! Take advantage of this unprecedented offer and we'll make sure you play from when the vampires come out and after they turn into ash from too much sunlight.
If you plan to put on your best werewolf mask and go out trick and treating, make sure you get the bonus before the weekend is over. We'll keep your candy safe and make sure the bonus funds stay in your account if you don't use them up during the weekend. And please, don't be greedy, share the news with your friends. This weekend every costume wins and will be rewarded with a 300% bonus because we have enough sugar for everyone!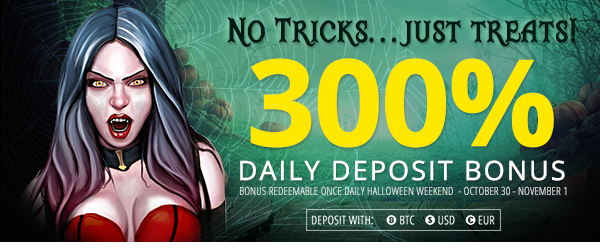 If you're still rubbing your eyes because you think we mixed Halloween up with Christmas, go into your account and dispel the myth: Halloween is indeed the season for giving, and we don't care if you were good or bad. Our 300% bonus is waiting for you here, so cast a spell on your favorite game this weekend to improve your odds to win. All our games are susceptible to your witchcraft, but the 300% bonus charm is there for limited time only. Claim it before the fairies come and take it away!
Just before you think about waiting until the last day to claim your bonus, let us work our black magic. We have decided to resurrect all of the undead and apply the 300% bonus to the first deposit you make each day over the weekend. That is what we call a win-win situation, and there's more: deposits in US dollars and Euros will get their 300% bonus delivered by a flying broom! So don't be afraid and come for your treats this Halloween weekend!