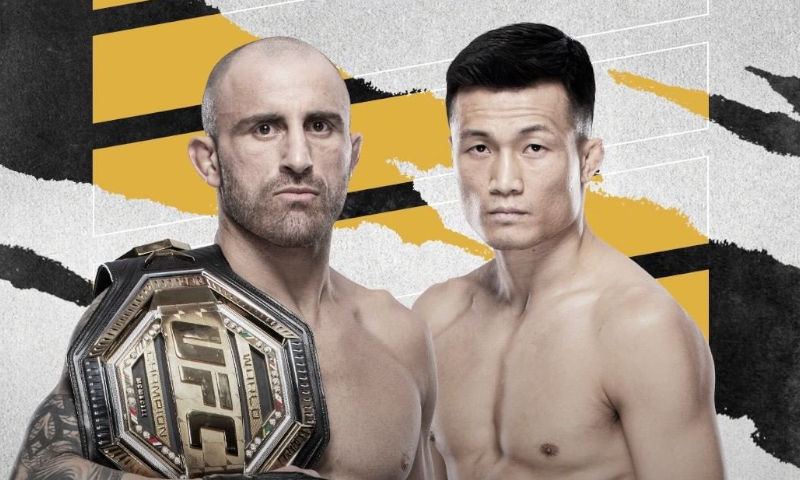 There really is no feeling that could compare to the excitement of seeing a UFC main event feature with this many mouthwatering bouts. Two UFC champions will go head to head and place their UFC gold on the line, this together with one of the most closely followed UFC rising stars packed into this jaw-dropping card has made UFC fans around the world wait in some serious anticipation! UFC 273 will occur on April 10th at 4:00 AM SAST, in the VyStar Veterans Memorial Arena, Jacksonville United States.
These types of UFC main events are exactly what UFC fans call out for, after a thrilling headliner, the previous UFC London which is still in recent memory, the UFC has given the fans what they need. BitcoinChaser, as always, is here to give you a little bit of a sneak peek of the upcoming event. The BitcoinChaser team boasts a commendable arsenal of knowledge when it comes to crypto gambling we are surrounded by the scene daily after all! BitcoinChaser is here to share that knowledge of gambling with you in our latest BitcoinChaser Top Picks.
UFC 273 Top Picks:
Aleksei Oleinik vs Jared Vanderaa


The second fight within the UFC main card sees a HeavyWeight matchup in Aleksei Oleinik vs Jared Vanderaa. This is another interesting bout being that it was supposed to occur in a previous UFC event in March. Alexander Oleinik is one of the greatest grapplers the UFC has seen and Jared Vanderaa is a hardy, skilful striker.
Aleksei Oleinik is entering this fight as the betting favourite with the odds: Aleksei Oleinik -220 vs Jared Vanderaa +180. Aleksei is going to look to take this one to the ground and Jared on the contrary will try to keep this fight on the feet. Overall this one might not be the most thrilling fight on the card but we expect it to be extremely competitive.
Our Pick: We think this fight is going to be extremely competitive, both fighters are not vastly explosive however they differ greatly in styles. This makes for an interesting matchup, BitcoinChaser thinks Aleksei Oleinik is going to get this to the ground and gain a victory over Jarred via a Submission within the later rounds.
Mackenzie Dern vs Tecia Torres


In the third bout of the UFC 273 main card Mackenzie Dern and Tecia Torres go head to head in a Women's StrawWeight bout. Mackenzie Dern is known for having eye-catching striking techniques and Tecia Torres is a fairly well-rounded opponent. This fight will likely be a thrilling bout offering promising many nail-biting moments.
Mackenzie Dern will likely look to try and keep this fight on the feet for as long as she can, however in saying this Mackenzie is not known for having brilliant takedown defence while Tecia Torres is entering the fight as the more well-rounded opponent. We think if Tecia Torres can take this fight to the ground she might have the victory. However, Mackenzie is entering the fight as the betting favourite with the odds: Mackenzie Dern -115 vs Tecia Torres -105.
Our Pick: After looking at the odds one could already tell that this is going to be a thrilling matchup, Mackenzie Dern is likely to put on a striking display and amass a victory over Tecia Torres through a competitive bout. Mackenzie will likely win this fight via a Decision victory.
Gilbert Burns vs Khamzat Chimaev


This may very well be the most thrilling bout on the card, Khamzat Chimaev is a rising UFC star that has absolutely torn through the ranks at a blinding pace. While Gilbert Burns has faced the top competitors within the Division. Here we see Khamzat Chimaev dace off against Gilbert burns in the fourth bout of the UFC main card.
Gilbert Burns is known for his brilliant groundwork but until recently had revamped his style into a more well-rounded mix of striking and grappling. Khamzat Chimaev on the other hand has displayed amazing feats in both his knowledge of striking and grappling, Khamzat has hardly been hit within all his appearances in the UFC octagon. This will be this fast-rising star's biggest test yet however Khamazat is entering the fight as the betting favourite with the odds: Gilbert Burns +360 vs Khamzat Chimaev -490.
Our Pick: Despite the fact that Khamzat has not faced an opponent of the same pedigree as Gilbert Burns, BitcoinChaser believes Khamzat is going to finish this fight in a similar fashion to his last. Khamzat is likely to win this fight via a Submission Victory or TKO victory in the early rounds.
Aljamain Sterling vs Petr Yan


This is bout has been a long time coming now. Here we see Petr Yan face Aljamain Sterling in a Bantamweight Championship Fight. In their last bout, Aljamain had come out with a quick start gaining a quick lead over Petr in the early rounds. Petr had then caught his rhythm and was decisively beating Aljamain when Petr had sent an illegal knee into Alajamain ending the fight. Petr is entering the fight as the betting favourite with the odds: Aljamain Sterling +350 vs Petr Yan -475.
A Lot has been said since then and it seems this time Petr is taking business a little more personally. This time round Yan is likely to come out guns blazing just as Sterling will causing an absolute fireworks show. Yan is the far better striker and possibly a better wrestler however Alajamain has brilliant submissions in his arsenal. A truly mouthwatering bout, this is rest assured going to be extremely exciting.
Our Pick: Petr Yan is likely to come out looking for blood which will then cause Aljamain to get a bit of a slower start. Either way, if this doesn't happen we think Petr Yan is going to be the victor through a KO victory within the first two rounds.
Alexander Volkanovski vs Chan Sung Jung


This card simply keeps getting better, in the main event of the UFC 273 card we see the champion Alexander Volkanovski put his title on the line against Chan Sung Jung in a FeatherWeight Championship bout. Alexander Volkanovski is coming off an extremely impressive victory over Brian Ortega in his previous fight.
Alexander Volkanovski is entering this fight as a rather deciding betting favourite with the odds: Alexander Volkanovski -720 vs Chan Sung Jung. Volkanovski is an absolute powerhouse he is a brilliant striker with an unrelenting will to win. Chang Sung Jung is an amazing submission artist who holds the title of the first Twister submission victory in the UFC. This fight is bound to get some oo's and ahh's out of the crowd!
Our Pick: Alexander Volkanovski has shown brilliant takedown and submission defence while also holding a vast knowledge in his striking arsenal. Volkanovski will be looking to keep this fight on the feet, however, if he gets taken down it will be a difficult time for the champ. BitcoinChaser thinks Alexander Volkanovski is going to be the victor via a KO victory within the first two rounds.
Bet on UFC 237 with Crypto
There are many great betting options available to bet on UFC 237 with Bitcoin and crypto. All have bets on UFC 237 available. If you would like to learn more about betting on sports, then have a read of our guide to the best bitcoin sports betting sites.
Conclusion
Another completely stacked UFC card that has fans jittering with excitement. Ths fight is one of the most jam-packed cards UFC fans will likely see this year with some of the most popular icons in the game right now facing off and some of which even putting UFC gold on the line. Of course, you can count on BitcoinChaser to give you an informed prediction and a timely one too! As always you can count on BitcoinChaser to give you only the most popular and reputable information from cryptocurrency and online casino news to everything in between.