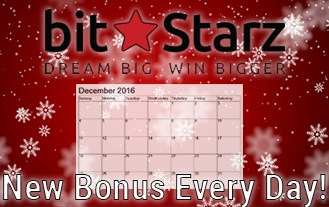 Every player spins to win, but with this bonus advent calendar, Bitstarz players will have many more chances to win when they spin. The reason why is simple: every day during the month of December they will get a different promo. This is the Christmas bonus craze that Bitstarz is bringing right to your screen, putting their little elves at work! Now it is time to take these bonuses one step further and start racking up those amazing jackpots!
Can I really get one Bonus per day at Bitstarz?
As unbelievable as it may seem, everyone is entitled to a new bonus every day at Bitstarz during the month of December 2016. There is no better way of celebrating the holidays and ushering in a promising new year. There are bonuses for everyone, and every player will get what they asked Santa for. Bitstarz bonuses include:
Free Spins.
Reload bonuses.
Cash back bonuses.
Raffle draws for prizes.
More surprise bonuses to come!
The only thing you need to do is check the daily offer and follow the instructions that Bitstarz has for every bonus. You will be able to enjoy them all if you want, or pick and choose from the ones you like the most. Just remember you only have 24 hours to claim them before the next bonus comes along.
It is time to sign up and open one gift every day this December with Bitstarz. Nothing beats 3 distinct bonuses, one per day, so you can spin and win with Santa on your side. Make sure you stay tuned and follow the bonus advent calendar every day. You can check the bonuses available every day by clicking here, and if you are ready to claim one and play, just follow our lead towards that pile of cash, courtesy of Bitstarz!