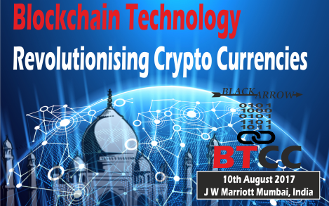 Blackarrow concluded a very successful Blockchain Technology conference in Jakarta, and is now taking this success to Mumbai. The conference in Jakarta was the first of its kind. It drew blockchain technology experts from around the globe and showcased the potential of Indonesia in this sector. Now, with an increasingly favorable environment for blockchain and bitcoin development in India, Blackarrow's conference in Mumbai will allow India's emerging blockchain scene, shine with a distinguished international audience in attendance.
Blackarrow Blockchain Technology Conference Jakarta Above all Expectations
There is no doubt that Blackarrow will be able to assemble a great conference in Mumbai after its Blockchain Technology Conference in Jakarta exceeded expectations. In Jakarta, Blackarrow's conference achieved the following goals:
The Blockchain Tech Conference brought more than 200 participants together.

There were participants from 15 different countries: Indonesia, Russia, Malaysia, Australia, Austria, France, Germany, USA, England, Peru, India, Japan, China (Hong Kong), Singapore and Italy.

High profile participants, including: CEOs, Directors, VPs, COOs and CFOs.

Participants coming from a wide variety of industries like: Payments, Financial Transactions, Banking, Security, Government, Advisories, Investment, Trading and Finance.
Blackarrow Blockchain Technology Conference in Mumbai

This auspicious gathering at the Ritz Carlton Pacific Place in Jakarta, had a profound impact on its participants. It allowed them to forge relationships while they deepened their understanding of blockchain technology and the Indonesian blockchain and bitcoin scene. At the JW Marriott Mumbai, Blackarrow will build on the momentum it created in Jakarta. The Blockchain Technology Conference in India will allow participants to deepen their knowledge and will bring more high-profile participants together in a place that has a lot to offer.
Join the Blackarrow Blockchain Conference in Mumbai
Join the Blackarrow Blockchain Technology Conference in Mumbai, on August 10th, 2017, and take advantage of this opportunity. You will be able to get first-hand information from the top bitcoin and blockchain experts in the world. This will allow you to take a leading role on the implementation of blockchain solutions within your organization, and will allow you to meet like-minded executives and business owners who are looking for business opportunities in this field and in India. 
Be among the first to get in touch with the blooming blockchain sector in India, and benefit from the expertise of Blackarrow. If you are still on the fence, just look at the testimonials. Once you do, we know we will get your personal opinion when we meet at the Blockchain Technology Conference in Mumbai on August 10th.

For further information, please visit Blackarrow's website.