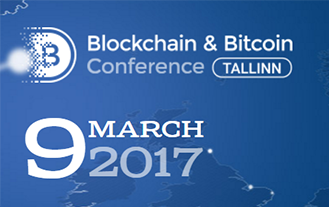 On March 9th, 2017, Tallinn Estonia will host the Blockchain and Bitcoin conference. The event will highlight advances in technology as well as cryptocurrency adoption, and will be the perfect opportunity to learn more about the blockchain and bitcoin revolutions. As such, Bitcoin Chaser is proud to count itself among a select group of even sponsors that will be bringing top specialists, entrepreneurs, developers, investors and manufacturers together under a single roof.
Blockchain and Bitcoin Conference Topics
The Tallinn conference will be focusing on the application of blockchain technology to government solutions (GovTech), as well as the banking system, trading, the media, healthcare and more. The focus on GovTech is of particular interest among those attending especially given Estonia's pioneering work in this field. There will also be discussions focusing on the future of the technology, the legal and policy considerations, drawing on the experience of the host nation and the speakers to provide innovative insights about how to overcome the challenges that arise in the field.
Blockchain and Bitcoin Conference Speakers
The speakers hail from a select pool of individuals who have become some of the most highly regarded specialists in the field of blockchain technology and bitcoin adoption. The list of speakers includes people such as:
Jon Matonis – Founding Director at the Bitcoin Foundation.
Kaspar Korjus – e-Residency Managing Director, Enterprise Estonia.
Franky Hu – CEO at WageCan.
Karolina Marzantowicz – IBM Distinguished Engineer, Member of the IBM Academy of Technology.
Richard Kastelein – Founder of Blockchain News, Blockchain Partners, and The Hackitarians.
Lasha Antadze – Innovations and Development Foundation.
Vitali Pavlov – Project Manajer, HashCoins OÜ.
Pavel Kravchenko – Founder at Distributed Lab.
Dima Starodubcev – Co-founder and Product Architect at Cyber.Fund.
Kaidi Ruusalepp – Founder and CEO at Funderbeam.
Bitcoin Chaser is Proud to be one of the Sponsors at the Tallinn Blockchain and Bitcoin Conference
Bitcoin Chaser is proud to be one of the sponsors of this event, which will bring so many distinguished speakers and guests. It is also a privilege to sponsor such an event in Tallinn Estonia, one of the most prosperous hubs for technology development. This is definitely a great opportunity for any enthusiast to come and join us, the distinguished speakers and guests in this incredible venue to discuss the future of blockchain technology and bitcoin. This conference will be key to further everyone's understanding about this incredible technological revolution that we are all taking part of, so we hope to see you in Tallinn.