999Dice might sound like another provably fair, dice only online casino, but this one's packing some punch. 999Dice also offer a cryptocurrency faucet and a ridiculously low house edge of 0.1%. Before you jump on, make sure to read our 999Dice casino review so that you're fully informed.
With a house edge sitting at only 0.1%, 999Dice got its name from the 99.9% they pay out. Yeah, that caught our attention too.
Registration
Not so simple. You will need to scroll down and select the account tab to register. Enter a username, password and email address to enter. You also have the option to include an emergency withdrawal address.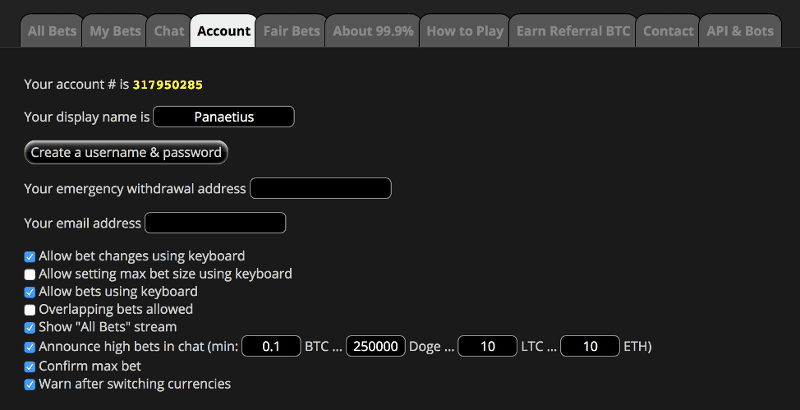 Games
As we've already mentioned in this 999Dice casino review, there is only one game. All you have to do is select your bet size (high or low) and your percentage chance to win – and your win profit is automatically calculated for you. You can also set these up to keyboard shortcuts.
The betting range is from 0 to 999,999. Bet Low covers anything from 0 to 49,999 and Bet High predicts the dice numbers will be from 950,000 to 999,999. If the number falls in between these two options, you neither win nor lose. Obviously if the number falls in your selected category – you win!
While some casinos make you work for your lower house edge by moving up the ranks, 999Dice offers their 0.1% right from the get go.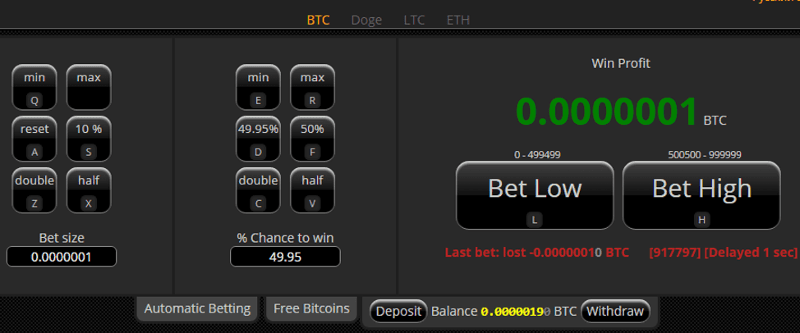 Faucets
999Dice does not offer free play, but it does allow players to take part in some faucet action. Select either Free Bitcoin, Free Litecoin or Free Dogecoin. Using a CAPTCHA system, the faucet spills out 0.000002 BTC, or crypto equivalent, every five minutes. You cannot get BTC and then try for the other cryptocurrencies, the five minute wait stands across the board.
Currencies
999Dice operates with Bitcoin, Dodgecoin, Litecoin and Ethereum.
Payment methods
This crypto casino offers instant deposits (requiring no confirmations) and withdrawals (requiring 1 or 2 confirmations if larger). There is no minimum amount needed to make a deposit, however the minimum withdrawal limit is 0.0002 BTC. Also note that there is a usual 0.0001 BTC fee for every withdrawal transaction.

Licence
It seems that 999Dice casino does not have any licencing, but this is not terribly unusual for a single-game online casino. The site checks out on security – they offer a 2FA set up – and players are completely anonymous.
Desktop and Mobile
999Dice is both mobile and desktop friendly. Their layout is simple allowing for fast speeds when playing. There are no 999Dice apps.
Restricted Countries
This online casino is not terribly forthcoming with any restricted countries – there are no Terms and Conditions available on the site, however these is a note that states: "you should ascertain that there are no laws in your country that prohibit the betting of cryptocurrency in sites like 999Dice." We gathered from another 999Dice casino review that players from the USA cannot play on the site.
Promotions / Bonuses
We can confirm in this 999Dice casino review that there are no promotions and bonuses offered.
Support
Support is offered through a content form on the site. You'll need to be signed in, or enter your email address in the message body, in order to get a response.
Languages
999Dice offers the following languages in English, Chinese, Lithuanian, Spanish, Croatian, Bahasa Indonesia, Polish, Turkish, Russian, and German.