Offering a trustless experience through the use of blockchain technology and smart contracts, BetHash is built on the EOS blockchain. Along with their own EOS-powered cryptocurrencies HASH and HPOINT, they also host various casino games unique to this platform.
The small range of games offered by BetHash is largely built around classic casino and table games. Importantly, they are all provably fair. BetHash also offers super low house edges – as low as 0.08% – and a great dividends program, among other features.
Registration
Very quick and easy registration, it takes only seconds and does not require any personal information. Worth noting in this BetHash casino review is that when withdrawing, however, you will need to provide a valid email address.
Games
BetHash's games are all unique to the platform and are built on EOS technology. Easily accessible through a dropdown menu on your left, you can find Lottery, Dice, Slots and Blackjack games, along with Banker Bull. BetHash has indicated that they will also be adding Baccarat and Jacks or Better to their portfolio.
Tip: for the HPOINT Jackpoint, you will need to have at least 300 HPOINTs (after buying HASH tokens) to play.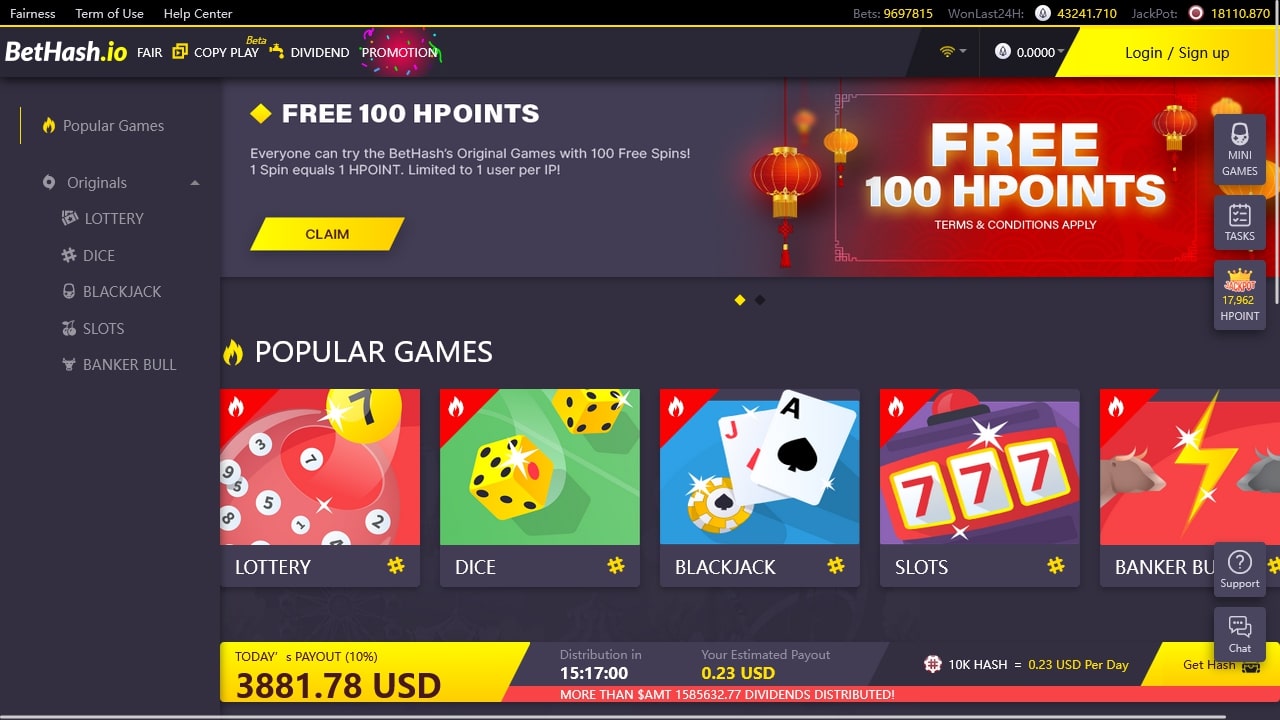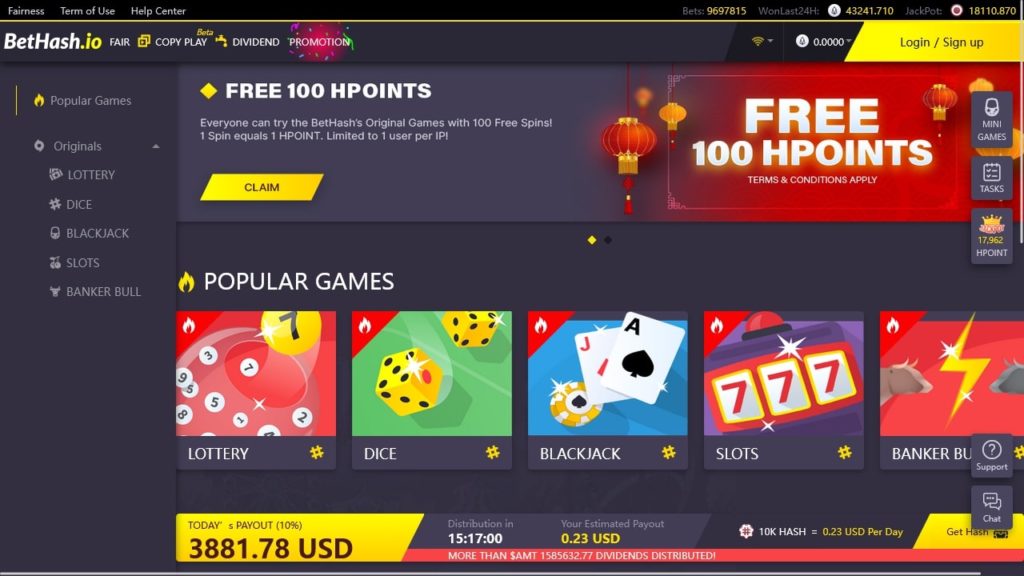 Currencies
This crypto casino works with crypto-only, and you can onboard the following cryptocurrencies: USDT, EOS, BTC, ETH, TRX, IOST. From the top navigation menu, you can always access the Exchange feature which allows you to quickly work out different crypto values (i.e. 5 BTC in EOS).
In the same menu, the "Get Tokens" option links you directly to four reputabe exchanges.
Deposit Methods
Once logged in, select your chosen cryptocurrency on the right of your profile (top right), then hit "deposit". BetHash will provide you with a wallet QR code or the numeric alphabetic wallet code. You will also be advised what the minimum deposit is (i.e. BTC is 0.0001). You have 6 cryptocurrencies to choose from (as mentioned above). Note: these will go through 15 verifications before clearing in your account.
Withdrawal Method
You will need to verify your email address in order to access the withdrawal section. Once verified, select Withdraw in the dropdown profile menu and enter your wallet address. Minimum withdrawal are 0.02 BTC, or equivalents (as displayed on the screen). BetHash allows for instant withdrawals in EOS, ETH and TRX.
Licences
BetHash currently does not have a licence. It's not uncommon for anonymous casinos to operate without a licence as these are generally harder to obtain (they function somewhat differently to normal casinos).
Desktop and Mobile
This crypto casino functions well on both desktop and mobile, and works quickly.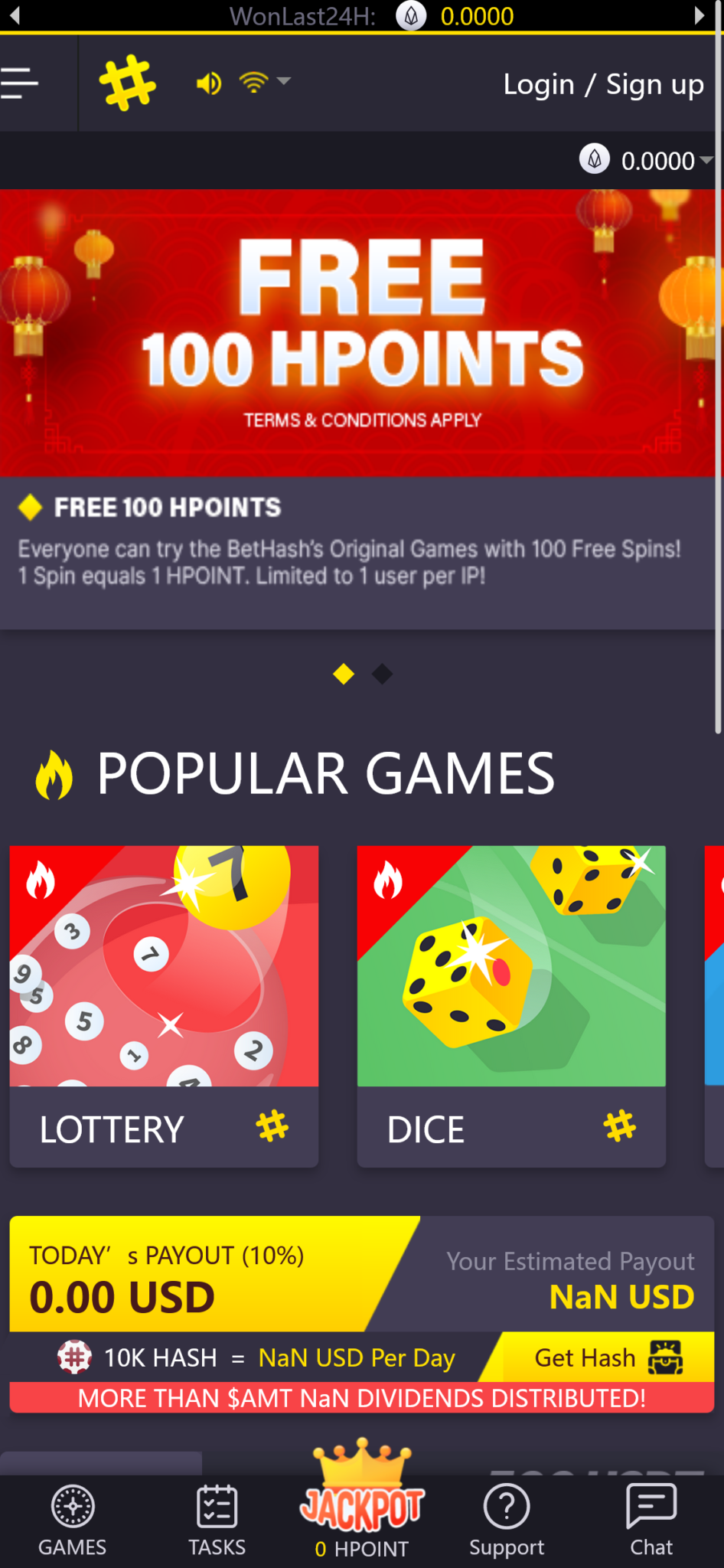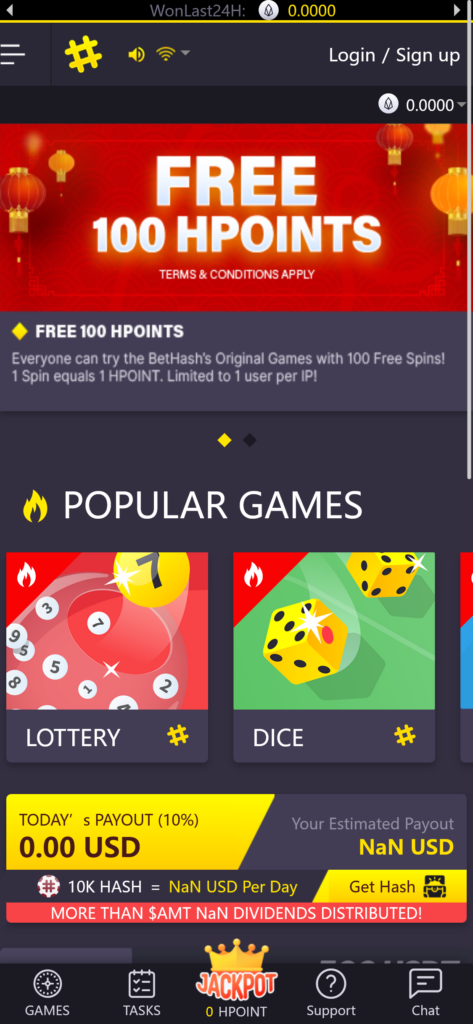 Security
As this online casino is built on blockchain technology, rest assured everything is 100% secure and 100% transparent. You can read more about this in their Fair section (in the top navigation menu).
Promotions / Bonuses
What BetHash casino review would be complete without a promotion section? Their welcome package offers 100 free spins, with no deposit required. You'll need to sign up, join their Telegram group and Discord server, and follow and retweet their pinned tweet on Twitter to qualify. You'll then receive 100 HPOINTs to use on the platform.
Another BetHash promotion allows players who bet 10 USDT on the platform to receive free HPOINT tokens. These can be used to buy HASH tokens, which can earn you hourly dividends.
BetHash has a strong loyalty programme, offering regular players big promotions in the form of HPOINTS. These can then be used to bet, play in the jackpot, or to purchase HASH and receive these dividends we keep mentioning in this BetHash casino review.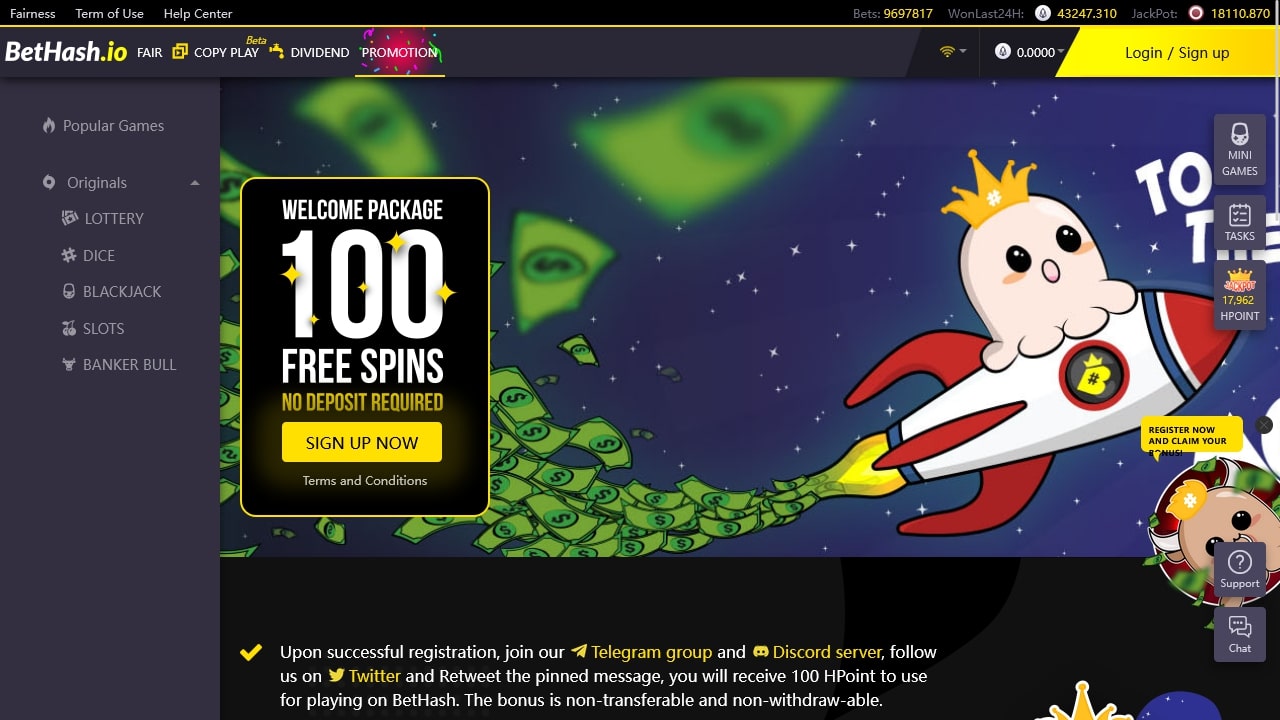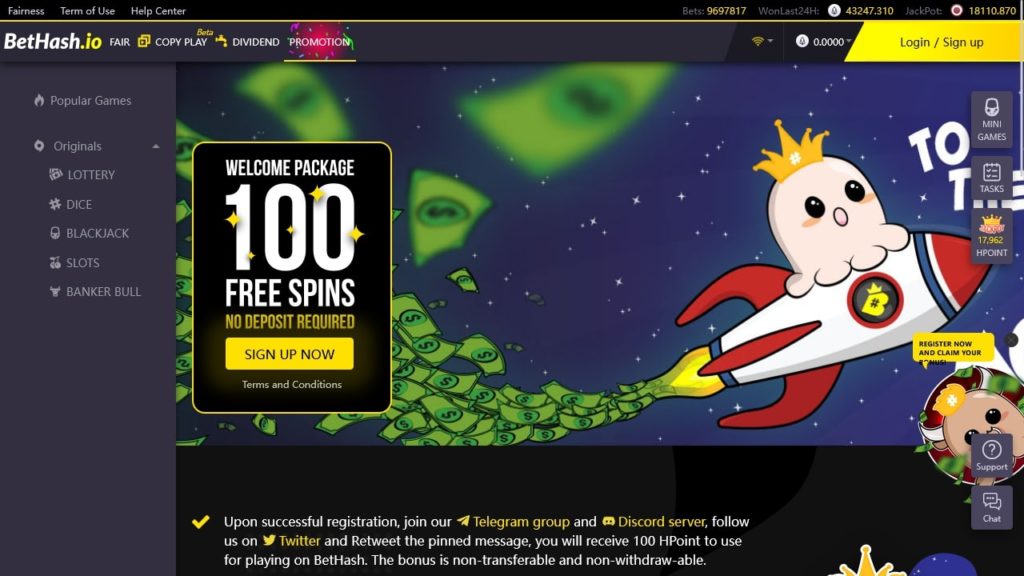 Dividends
This crypto casino has a pretty interesting dividend program which allows players to buy their native tokens (HASH and HPOINT) and receive dividend payouts on the hour. An opportunity to earn passive income, this is a unique venture for a young, blockchain-based online casino.
Support
According to their website, their help centre "no longer exists". There does not appear to be a Contact Us section either. Their social accounts are all linked at the bottom of the page, this seems to be the best way to get in contact with the anonymous online casino.
Languages
The website offers English, Russian, Chinese, and Korean.
Conclusion
While the BetHash crypto casino is fair and transparent, with the processes and results available for anyone to view (in an immutable and auditable blockchain record), they still lack a few certain key features. A functioning help centre, for one. This platform is not terribly user-friendly, and we would advise beginners to get into the crypto casino space before attempting to understand what's happening here.