The proprietary games, provably fair gaming and excellent customer care BitDouble offers makes it a well-rounded option for the pure bitcoin player.
Games Selection
We begin our Bitdouble review with the core of what this casino offers: its proprietary games. Bitdouble casino offers its own version of the classic roulette game, with a simple animation of the wheel spinning around as seen if there was a camera in the middle. This allows players to see the numbers clearly and understand immediately which number won. The betting mechanisms are also simple, and with the provably fair features, players will be able to verify the randomness of each spin.
Moving onto the second game on this Bitdouble review, we get the casino's own version of flip coin. This game is also provably fair, and it has its own nice twist. On the 'heads' side of the coin, there is a picture of Dorian Nakamoto, the university professor who was mistakenly identified as the legendary creator of bitcoin, Satoshi Nakamoto. This is just one of the great details on this game that will appeal to pure bitcoin players.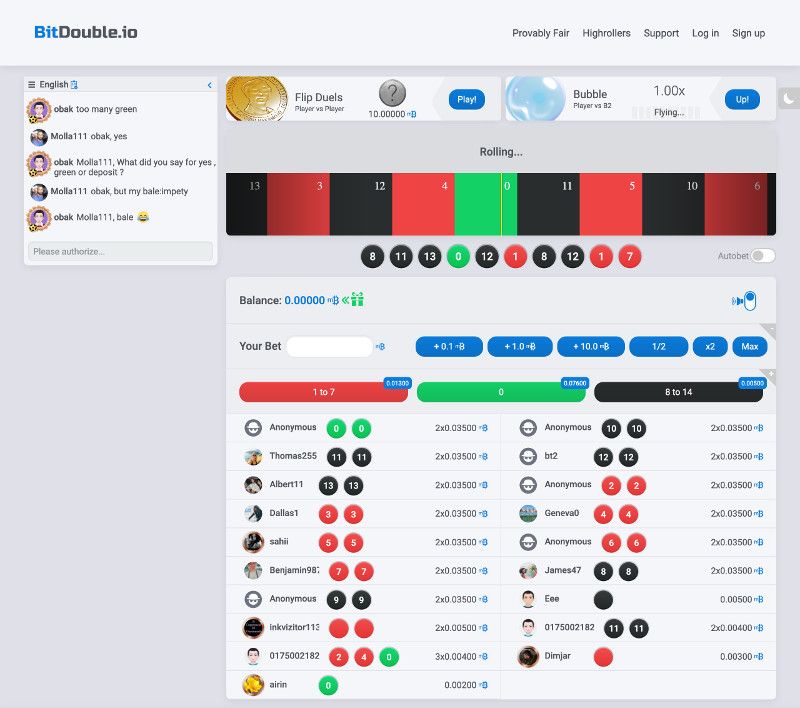 Bonuses and Promotions
Moving onto bonuses, it is important to understand that Bitdouble casino is a pure bitcoin establishment. This means that bonuses are hard to come by. That means that this is probably the hardest part on our Bitdouble review to write about. Nevertheless, this casino understands that the best way to attract players is with bonuses. That is why it is giving out a 0.1 mBTC welcome bonus.
That might not sound as much, but with bitcoin prices skyrocketing as they have so far, it might one day be a small fortune. Apart from this welcome bonus, Bitdouble casino also offers a bitcoin faucet and a VIP/loyalty program that is much more generous.
Customer Service
The next part of our Bitdouble review focuses on the excellent customer care that this casino offers. Again, as a pure bitcoin casino, it is unlikely for the owners to offer a phone line to call, but there is a live chat feature with a 24/7 service basis. Email support tickets are also available, and customer care professionals on both are great.
Unique Features
Our Bitdouble review does not focus on payments, because this is a pure bitcoin casino, so everyone knows the drill: it all depends on the bitcoin network. Instead it would be better for our readers if our Bitdouble review focused on its great special features.
The best one of them all is the social betting component. There is a chat box on the side that allows players to share their thoughts and strategies with each other. This makes playing either roulette or flip the coin a lot more fun!
Conclusion
All in all, Bitdouble is a pretty solid pure bitcoin casino. It has a lot of potential and it will appeal to the pure bitcoin players out there. Anyone can try it for free as well, which is a great feature.
Bitdouble casino is definitely worth a spin or two, and who knows, maybe you can hit a huge jackpot right off the bat. Take a chance and try it out!