There is nothing more satisfying than winning the lottery. The game is simple, the rules are clear, and playing is cheap and effortless. The jackpots are usually huge, which often makes lotto wins life-changing. This is exactly why the cryptocurrency space needs its own lotteries, and the reason why Bitplay Club launched its own lottery.
Bitplay Club has some advantages over traditional lotteries. First and foremost, the lottery is provably fair, meaning participants can verify the randomness of the outcome. Then there are those Bitcoin jackpots, the kind that keep on giving even years after people hit them. Lastly, Bitplay Club plays its draws quite frequently, making it one of the most desirable lotteries out there.
Games Selection
What can be said about a lottery game that people don't know? The premise is simple: get a ticket and wait for the draw to see if you win. The advantage with Bitplay Club is that you don't have to check the numbers on the TV, the newspaper or a website. Bitplay Club plays its draws and pays for wins automatically. It is all blockchain-based, making it sweet and fast. If you by any chance want to check the randomness of the draw, just check their formula and the draw.
Bitplay Club offers two lottery games and European roulette. When playing lottery you can either choose your numbers or have the computer choose them for you.There is an option to play a Demo round of lottery. To access this from the homepage click on the 'More details' tab and you will be able to access this feature.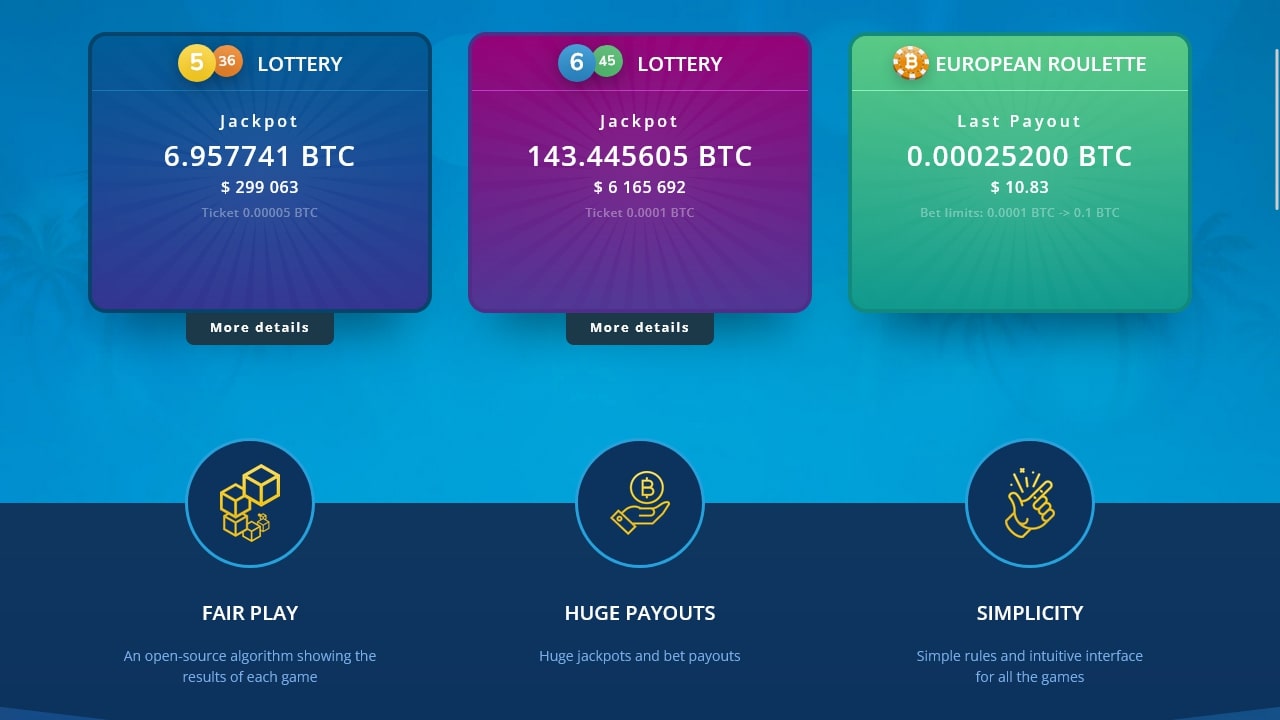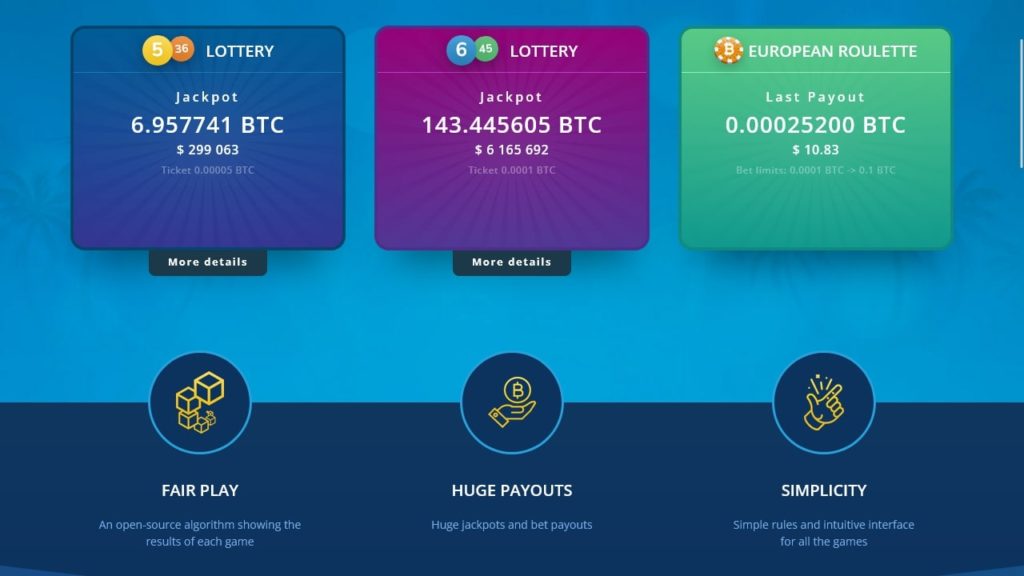 Bonuses and Promotions
Bitplay Club is considering giving out free lotto tickets to people who sign up in the future. As of now, there are no bonuses or promotions available, but management says this will change soon.
Payment Methods
To pay for tickets is easy. You have a number of options. One is to open an account on Bitplay Club and transfer Bitcoin to that account. Then from that account you will be able to buy as many tickets as you want. Relying on the blockchain, these transactions are fast and reliable. Alternatively, you can also purchase tickets with a Visa or Mastercard, and Bitplay has also integrated auto exchange Changelly so people can pay in with any Altcoin which will then be conveted to BTC.
The tickets are 0.0001BTC each, and jackpots vary according to the amount of tickets bought every day. Payments and withdrawals are quick and easy to make.

Conclusion
There is no doubt than when it comes to lottery, the blockchain is a fantastic way of playing no matter where you are in the world, especially if it is a Bitcoin lottery. Bitplay Club has capitalized on this with a great system that has a daily draw, incredible jackpots and other prizes for ticket holders. The fact that Bitplay Club is provably fair, and its pay outs are immediate, make it one of the greatest options out there.