Pure cryptocurrency casinos abound, but few are designed to deliver on what you are looking for – jackpots – more than CryptoSkull. This brand has been going at it with their own version of a game that has taken online gambling by storm: Minesweeper. CryptoSkull's rendition of this game is well designed and it offers the kind of excitement that only the most sophisticated games can provide. Apart from the jackpots and CryptoSkull's version of minesweeper, this brand offers lightning-quick withdrawals and superb customer care.
Pros
Accepts more than just Bitcoin
Games Selection
One game is all it takes for players to fall in love, play and start making some serious money. CryptoSkull launched its brand with a proprietary version of the popular Minesweeper game. This game was designed with a minimalistic outlook that is clean and makes it really easy for players to understand how to play. The game – like any Minesweeper game – allows players to pick their path towards an incredible jackpot one tile at a time. Players go through 10 rows of tiles. Rows have progressively increasing rewards and players can get to the next row by clicking on one of the three tiles of their current row and avoid hitting the mine. At any point in time, a player can claim the prize that the row they are on gives out and score a smaller win instead of going all the way for the jackpot.
Bonuses and Promotions
CryptoSkull, just as many other pure crypto casinos, does not offer a bonus per se. It offers a faucet on which players can claim up to 600 Satoshis a whopping 30 times a day! Players can use the faucet to try CryptoSkull out and they can use it to increase the chances they get to win the big jackpot, which amounts to free money on a no deposit bonus.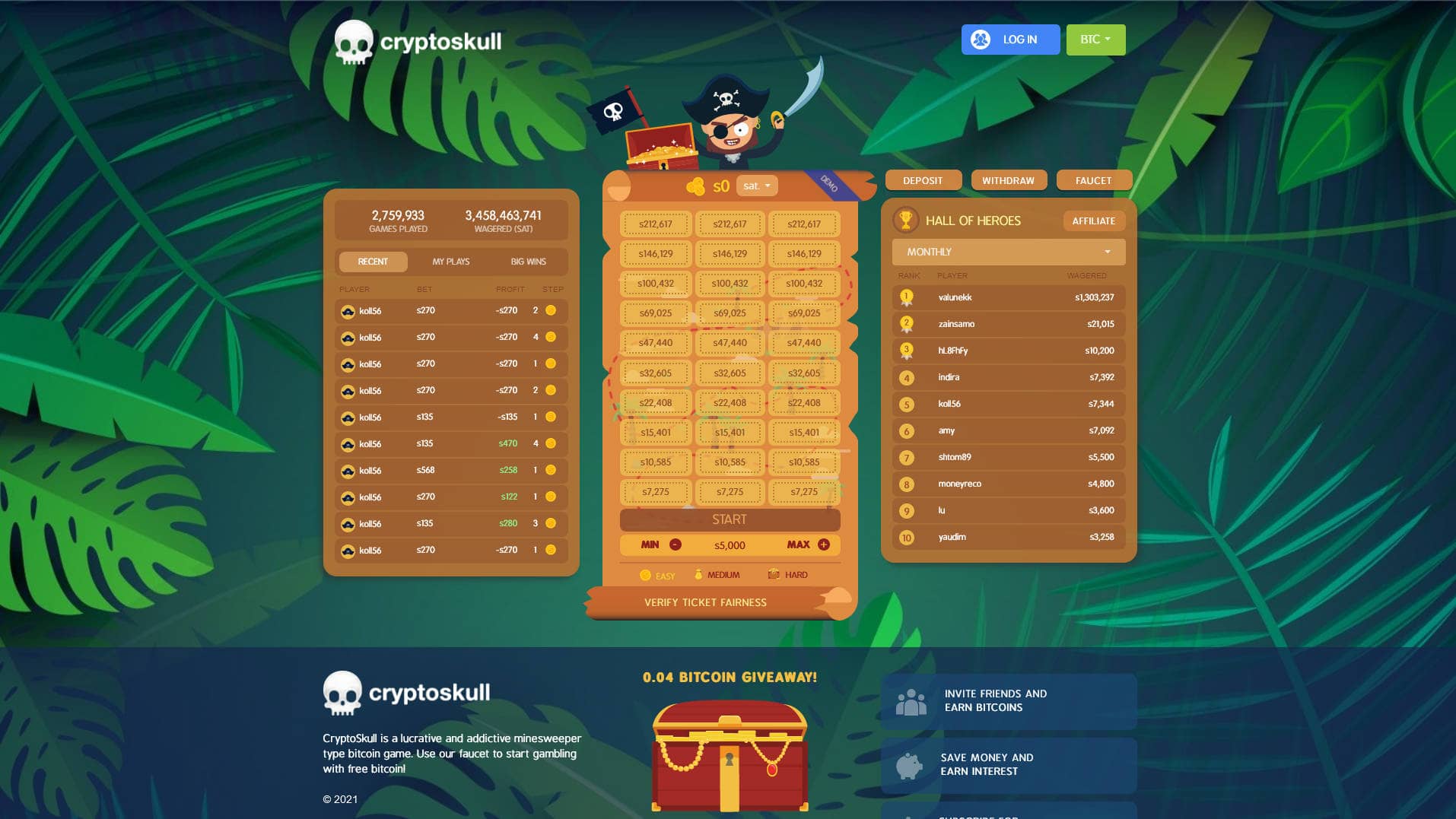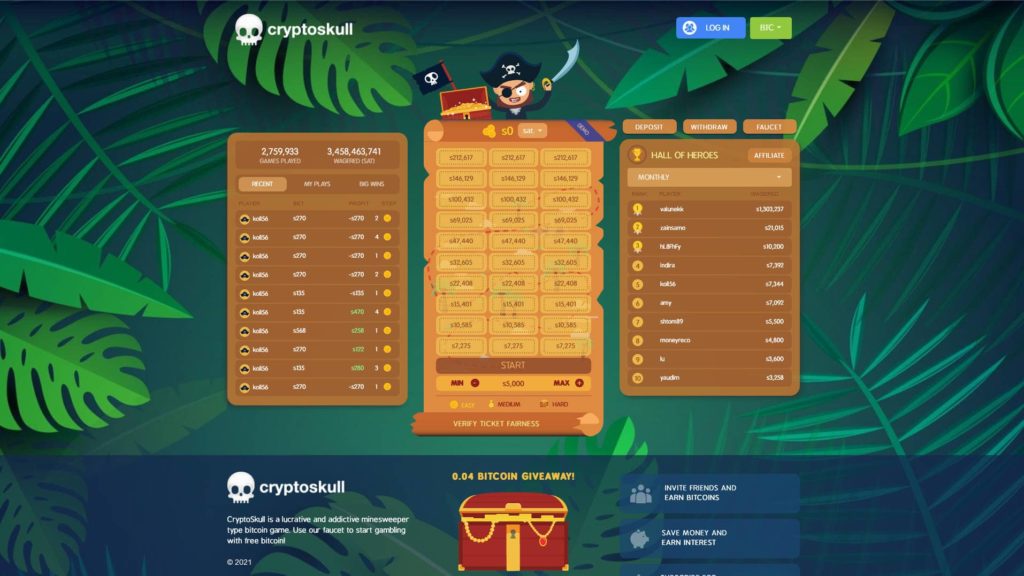 Customer Service
CryptoSkull is a provably fair brand running a single game. This makes customer service almost unnecessary. Nevertheless, CryptoSkull has set up a live chat customer care service that is equipped to help players out with any kind of question they might have about the game and every detail related to it. These live chat agents are highly knowledgeable and will be more than happy to help players out with their queries.
Payment Methods
Being a pure crypto casino, CryptoSkull accepts payments in cryptocurrency, including Bitcoin and Litecoin. As such, this brand enjoys the benefits of quick deposits and withdrawals. All it takes for a deposit or a withdrawal to be processed, is for the transaction to get recorded on the blockchain and it is done. In that sense, Litecoin deposits and withdrawals will be quicker than those made with BTC.
Conclusion
There is no doubt that CryptoSkull is a fun brand to play at because it brings innovation together with deposit and withdrawal advantages, an incredibly generous faucet, wonderful jackpots and top-notch customer care. This is definitely a brand that players should try out, whether they usually play pure cryptocurrency games or not.