DuckDice was launched in Q4 of 2016 with only one game available and yes, you guessed it, it was dice. Now, DuckDice provides three games which include: Lottery, Sniper and Dice.
DuckDice.io is licensed in Curacao and is a provably fair casino and has been in operation for over 3 years. All of the games available on their site are provably fair and they have also recently added a forum to their site which is a great addition for frequent players to discuss strategies and raise concerns.
You can play with over 20 cryptocurrencies on DuckDice, including ZCash, Ethereum, Litecoin, Dogecoin, Bitcoin,  Bitcoin Cash, Dash, Monero, Stellar, and more.
DuckDice also offers a wide variety of withdrawal options, which include all cryptocurrencies mentioned and withdrawals with Qiwi, Yandex, credit cards or phone (Beeline, Megafon, MTS or Tele2).
DuckDice is a provably fair casino and they have a page within their platform which outlines how they do this. The randomness is created with a combination from a so called server seed and client seed and nonce, which works as follow:
The server seed is provided by the casino
The client seed is provided by you automatically and it is not known to DuckDice
Nonce is a random number
The random roll is then created with a calculation from these seeds and the fairness of the event can be verified after the bet
For a more in depth explanation, please see here: https://duckdice.io/about-us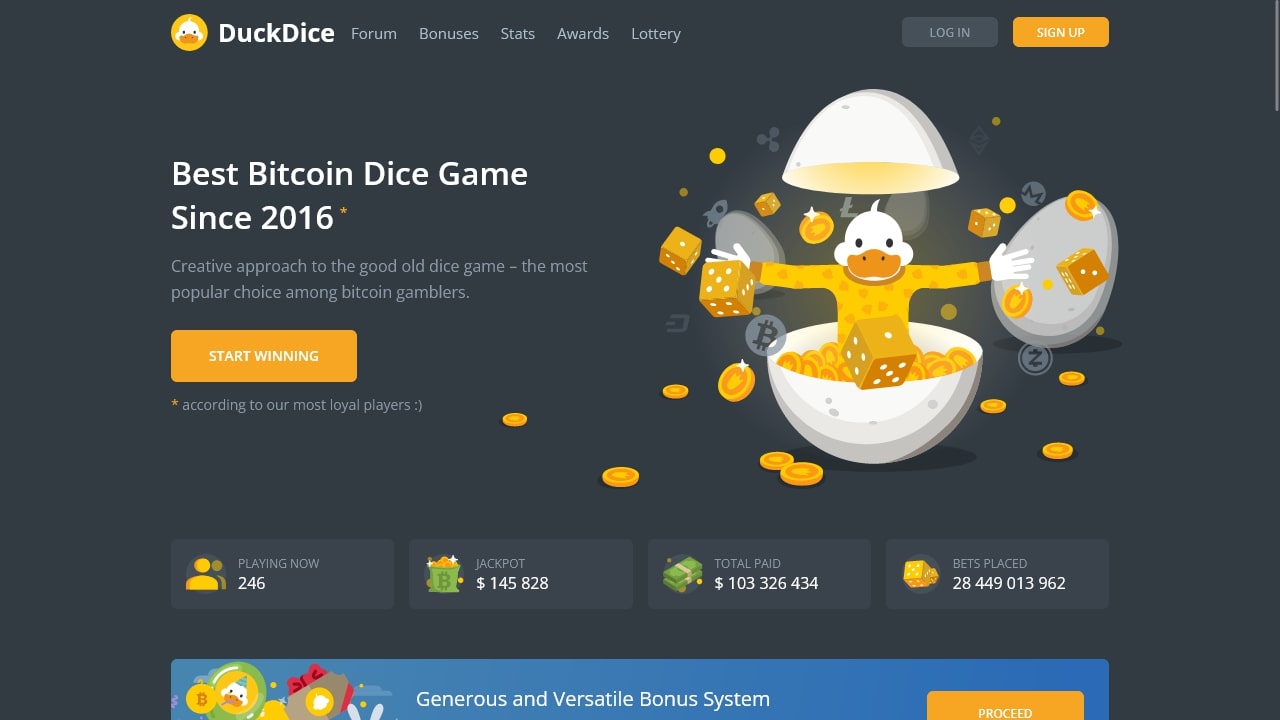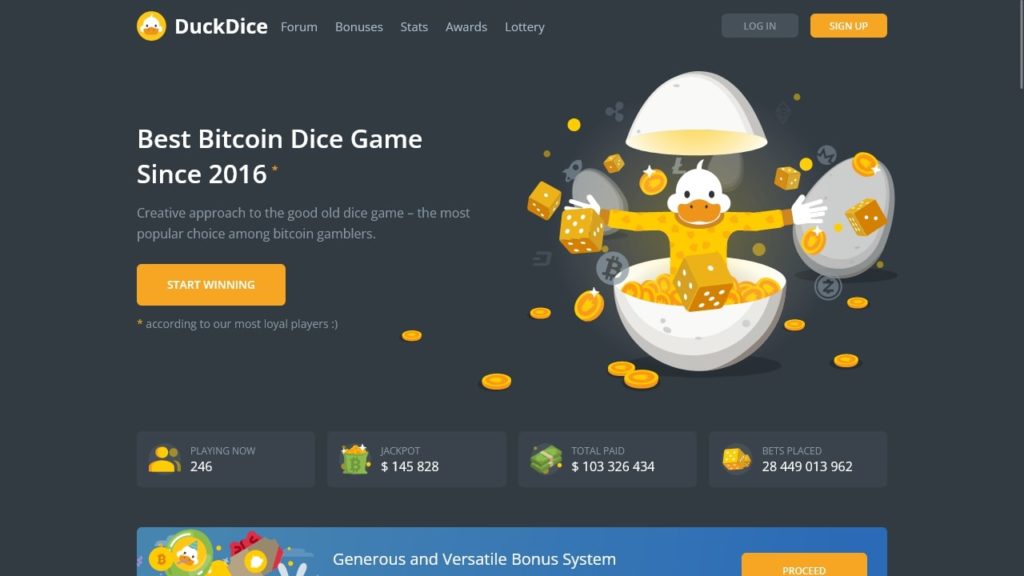 DuckDice Has a Great House Edge
The house edge at Duck Dice sits at 1% which is considered very low in the industry. Having a low house edge increases your chances at winning in the long term and many well experienced gamblers use this metric when finding their next casino.
DuckDice Bonuses and Promotions
DuckDice is currently offering three very interesting and exciting promotions which include a variety of games ranging from jackpots to interactive games. The bonuses that we enjoyed the most, can be found below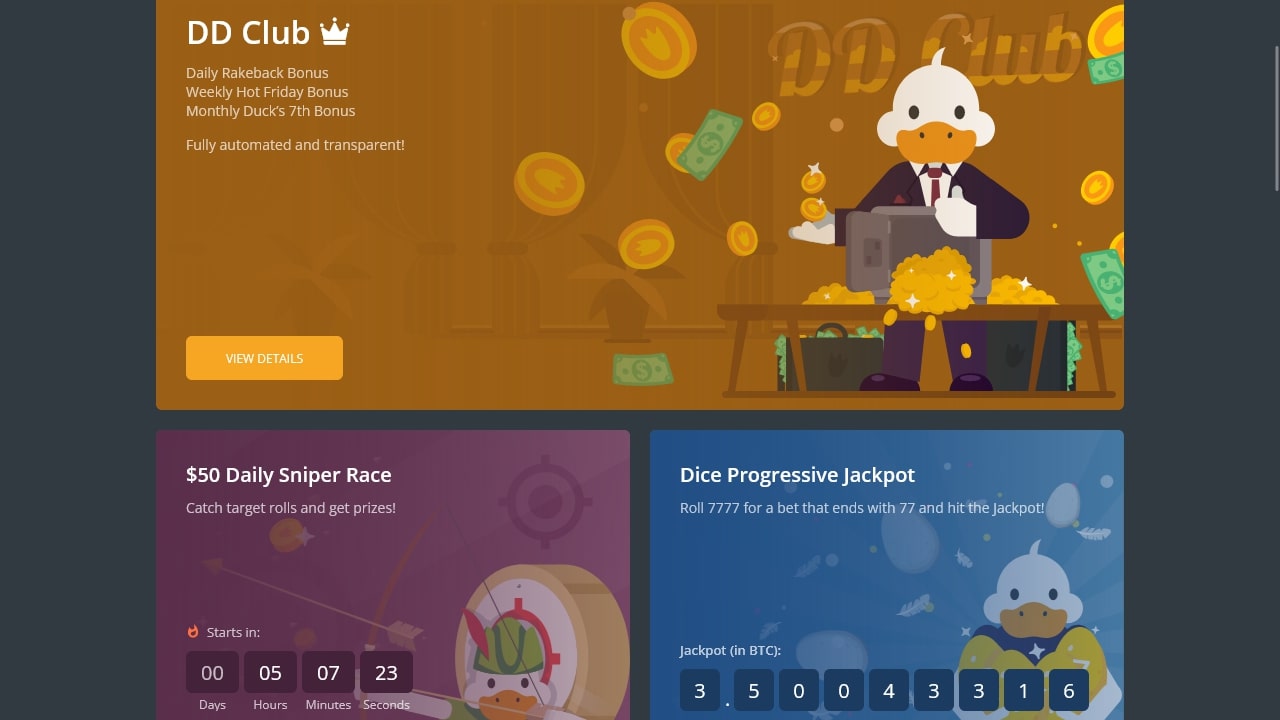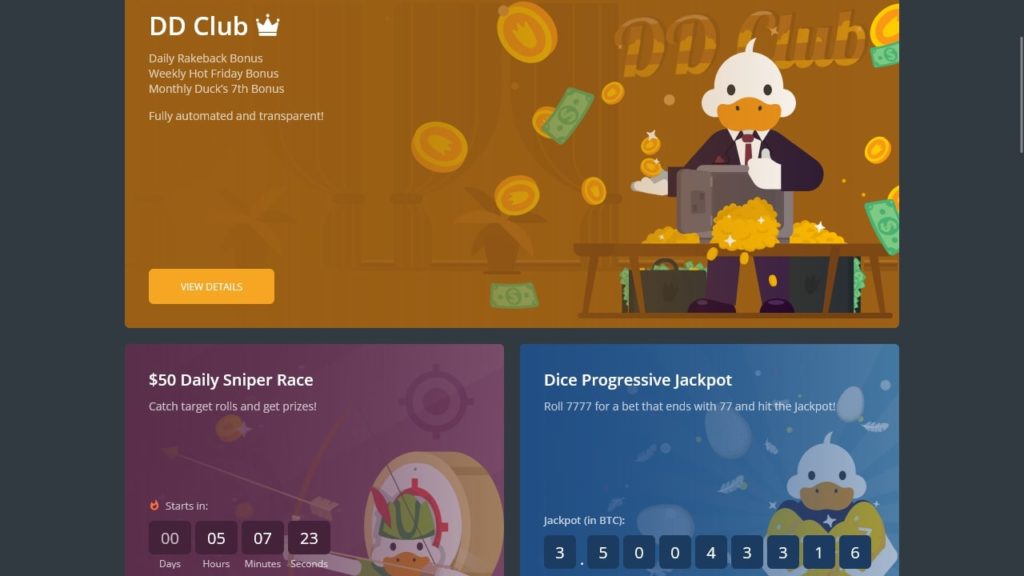 Dice Progressive Jackpot
The progressive jackpot increases each time you play the game but the jackpot is not won. When the jackpot is won, the next progressive jackpot is reset to the base value of 0.25 BTC.
To win the jackpot you must roll 7777 and the last symbol of your ID bet must be 7. Confusing? For example, your ID needs to end in 7 (ID: 1234567). Your bet size also affects the jackpot size and you can find more info from the DuckDice bonus-page.
Lucky Bet bonus
Lucky Bet bonus is periodically held to let all players earn some extra rewards while betting with a certain bet chance and amount, where winners are chosen according to their bet numbers.
Duck Hunt interactive Game
How it works:
When launching the game, a duck will appear flying over the screen in a random direction and time.
The duck will appear only for users with an open chat which is only available on mobile.
In order to win free coins, players have to shoot the duck and tapping on the duck before it leaves the screen.
The prize for a shot duck is 0.00001 BTC
Summary
All in all, we generally enjoyed the simple layout of the DuckDice casino and would highly recommend it to players that are looking for a laid back and not too flashy game of dice. The fact that they offer a wide array of cryptocurrencies, a forum for support, provably fair games and fast deposits and withdrawals brings us to the conclusion that DuckDice is a safe and reliable online casino to enjoy during your downtime!