ICONbet is a provably fair betting platform, that focuses on gambling - particularly DAOlette (a form of roulette), DAOdice and DAOblackjack (DAO stands for decentralized autonomous organisation). Ever wanted to own a casino? ICONbet's creators give you that chance. The ICON Casino team will be giving 80% ownership to those participating on the platform, based on the player's betting volume on any given day.
Let's dive into the ICONbet Casino review.
Pros
The platform is provably fair
Fantastic features – daily Wager War is a hit, as is the Slider Bet feature.
Readily available support
Cons
You can only wager in ICX
Not readily accessible to those who don't already hold ICX and requires a Chrome Extension to play and wager. 
Small selection of games – although they are building on them.
ICON Casino Games
As of now, ICONbet has three games on offer. However, the team will continue adding more games as the platform grows. Third party developers are encouraged to build their own games for the site too.
DAOlette: DAOlette is essentially ICONbet's version of roulette. It works similarly to any other roulette game, and is available to play directly on the site. According to the whitepaper, "a slider allows users to customize the odds of winning, which is not available in traditional casinos."
DAOdice: DAOdice is much like any dice game you'd find on a gambling platform. It's fairly simple to play – set your bet and off you go.
DAOblackjack: This is the newest addition to the ICONbet world. DAOblackjack works as you would expect, and is a fantastic addition to the site.
Provably Fair
All games on ICON Casino are provably fair. When the game first starts, the smart contract generates a SHA3-256 hash that ultimately determines the wheel's displacement. The hash seed is then a mix of the transaction hash, the block timestamp, and an opt-in user-provided 'lucky phrase.'
Currencies and Getting Started
To actually start betting on the ICON Casino, you first need to download the ICONex Chrome Extension Wallet, and buy ICX – the platform's token. You can trade ICX on Velic, Kraken, and Binance. If you're confused on how to play, ICONbet has a YouTube channel that can clear things up for you.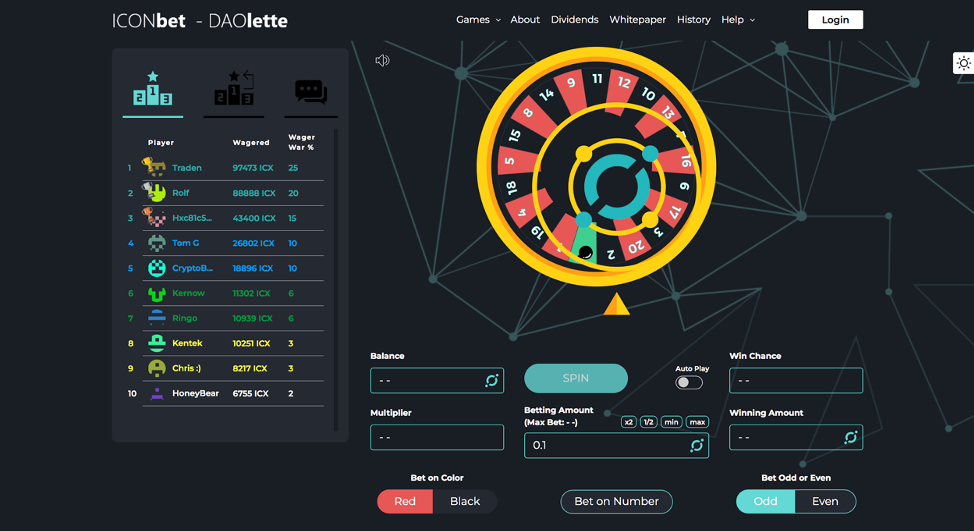 Payment methods
According to other ICONbet casino reviews, the platform and the white paper, to bet on ICONbet, you'll first need to acquire ICX – the platform's token. This can be traded on Kraken, Velic, and Binance. Then, you need to download the extension wallet mentioned previously. Payouts are made in ICX.
Minimum deposits are 469 ICX, which you need to acquire externally, then send to advised ICONbet wallet.
Features
ICONbet allows you to place a "Slider Bet" which enables you to bet on a set of numbers higher or lower than a certain value. This is a particularly unique feature, that's not available in traditional casinos.
Security
ICONBet is built on the ICON blockchain platform. It's the first casino built on the ICON Republic, and is essentially exploring uncharted territory. With that being said, it is definitely secure – as most blockchain casinos are. This one is certainly worth a shot. All games are provably fair, and the platform has some great features on offer. While it's not yet decentralized, there are plans for it to become so in the near future.
Desktop and Mobile
While it appears that you can play on ICONbet on your mobile, the interface becomes a bit clunky. The desktop version is most certainly preferable. However, keep in mind that you need to use the Chrome browser, and have the Chrome Browser Extension.
Restricted Countries
ICONbet doesn't list any particular countries that are restricted from playing on the platform, but advise you to use your common sense. The following disclaimer can be found at the bottom of the page:
"Disclaimer: If you reside in a location where lottery, gambling, or betting over the internet is illegal, please do not click on anything related to these activities on this site. You must be of legal gambling age, depending on your own jurisdiction, to click on any gambling related items. Recognising that the laws and regulations involving online gaming are different everywhere, players are advised to check with the laws that exist within their own jurisdiction or region to ascertain the legality of the activities which are covered."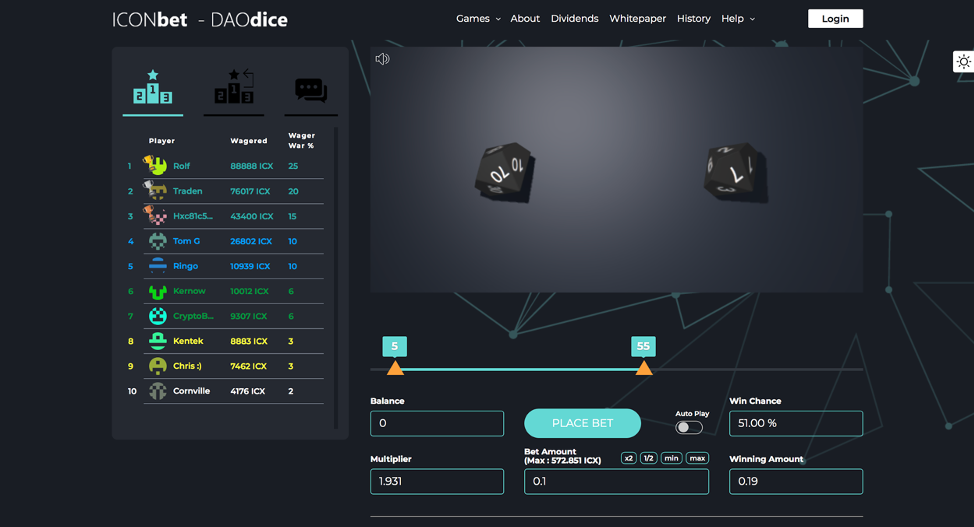 Promotions/ Bonuses
Playing any game on the ICONbet site, helps contribute to your volume in the platform-wide daily Wager War. 10% of the Current Treasury Excess is assigned to the Wager War. Then, the amount is divided between the Top 10 on the Leaderboard (based on the amount of ICX wagered): 1st: 25%; 2nd: 20%; 3rd: 15%; 4th: 10%; 5th: 10%; 6th: 6%; 7th: 6%; 8th: 3%; 9th: 3%; 10th: 2%.
Support
If at any point you need to connect with the ICONbet team, you can contact them on Telegram at t.me/ICONbet_official or on Twitter @ICONbetOfficial.
Rounding on the ICONbet Review
ICONbet is the first DAO on the ICON Republic, and that's palpable. While the platform has some features, it still feels slightly underdeveloped and very complicated. If this is your first venture into online casinos, steer well clear. When more games that are added, it will very likely become a much more competitive entity in the space. Still, work is needed on the platform. With that being said, the interface is good, the desktop version is aesthetically pleasing, and the games that are available are more than solid. Hopefully this ICONbet casino review gave you a good idea of the platform. Register here.