Based in the year 2035, Lucky Dice takes you on an adventure like no other. Another crypto casino to join the ranks, this one takes the cake with their Asian-inspired graphics and catchy tunes. Neko, the beckoning cat, even brings good fortune and money (but only if the right paw is waving. Take note). There are enough characters and twists and turns to keep you properly invested. If stories and strong graphics are how you like your online casinos - then you've just hit the jackpot.
Pros
Large range of crypto payment methods
Cons
Live chat support only available to registered players
Luckydice Games
Luckydice is a product of the masterminds at Magnet Gaming. It offers several games in the form of progressive slots with 3×3 reels and 8 playlines, and a progressive jackpot, with 96.5% RTP. Also look out for surprise bonus games. In the slot game your rewards are based on your ranking (see below). This online casino is Provably Fair, you can also expect attractive colours and happy melody.
You can also play their Faucet games – however these will not earn you money, instead they are intended to let you try the games without using personal money.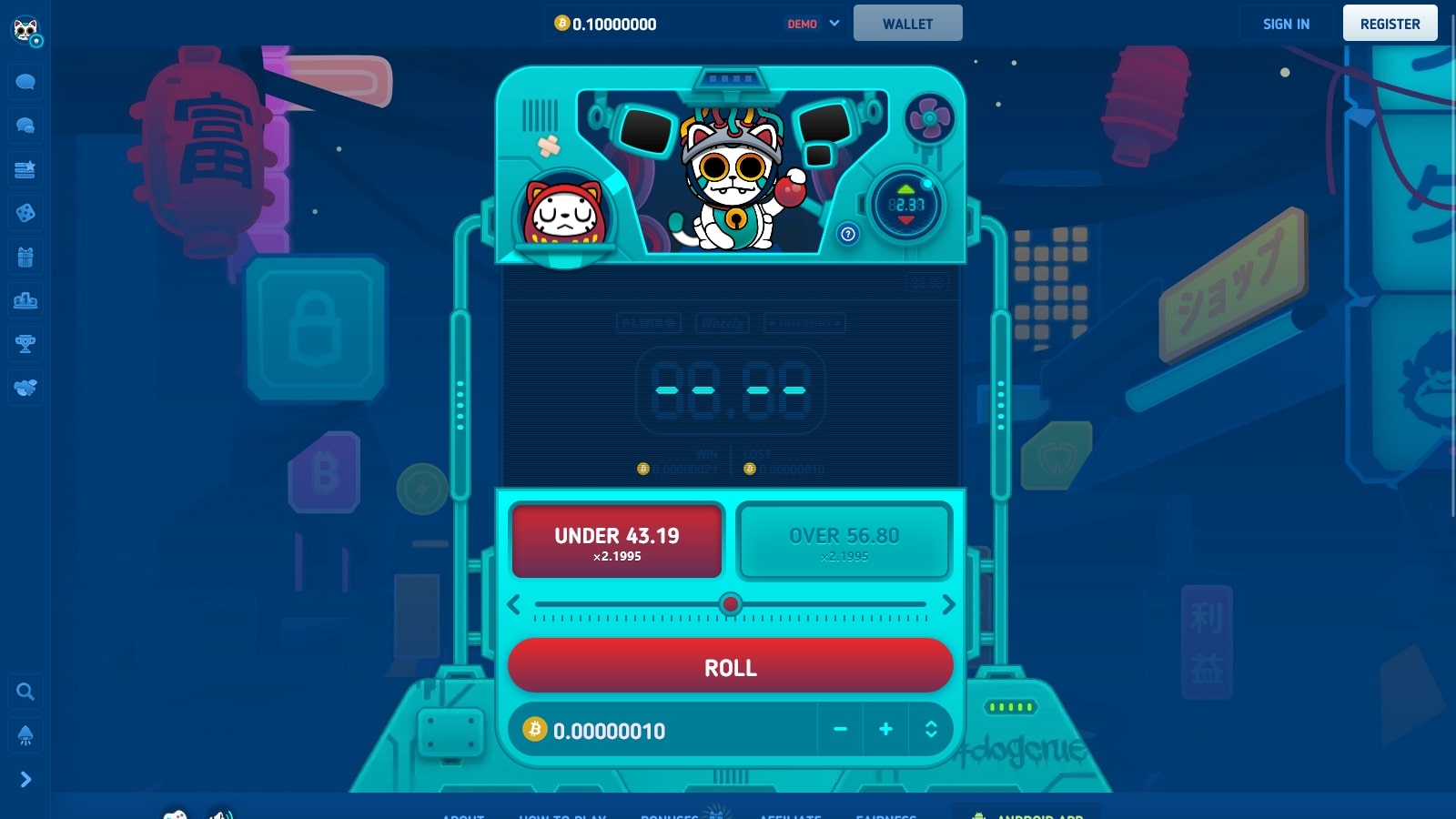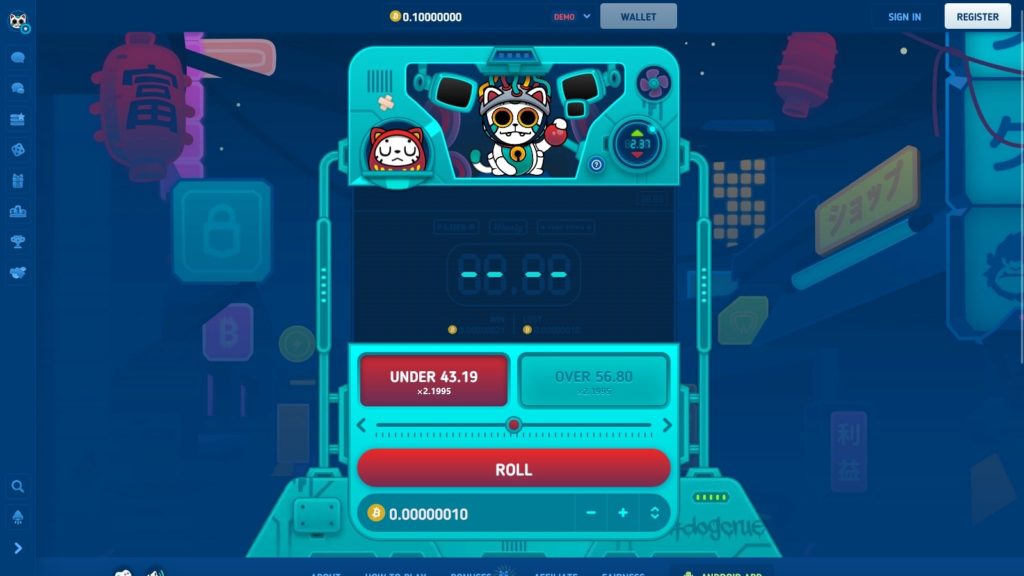 Luckydice Payment Methods
As crypto casinos go, Luckydice delivers. They offer withdrawals and deposits with top cryptocurrencies like Bitcoin, Ethereum, XRP, Dogecoin, USDC, Litecoin and Dash. You have two options when depositing: you can either select to deposit your crypto in their SegWit or Legacy address, and this process generally takes an hour to reflect in your account.
Withdrawals also take roughly an hour if you choose the normal priority, or for a small fee you can get your funds in 5 minutes if you choose high priority. No fiat withdrawal options, however they have added an Exchange feature where you can exchange fiat for crypto when making deposits, but this has to be used on the website only.
As crypto values vary, all deposits are wagered into Points – the general "currency" of the website.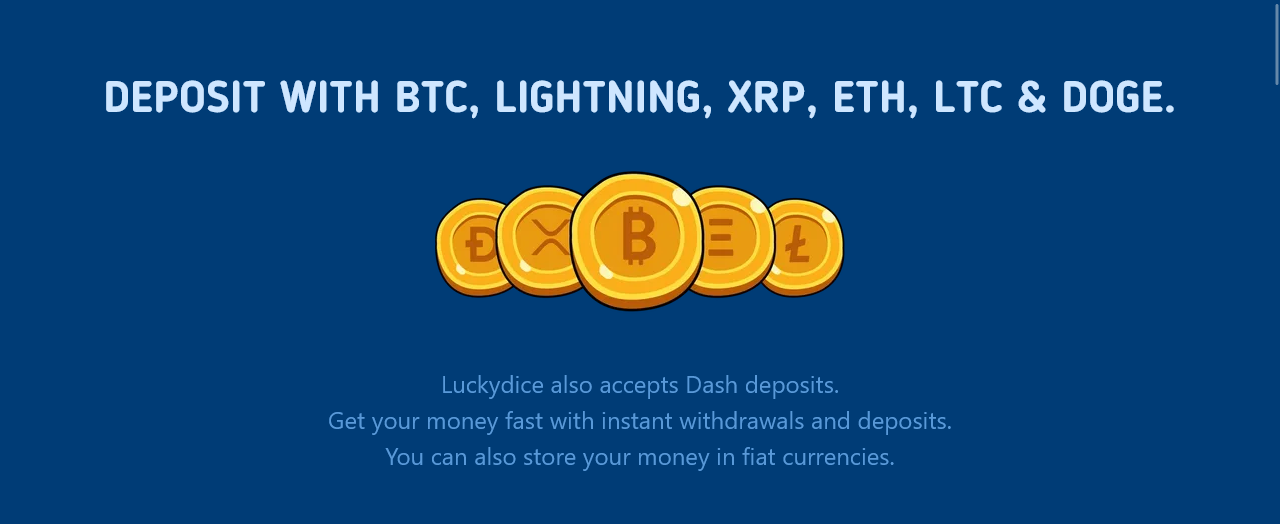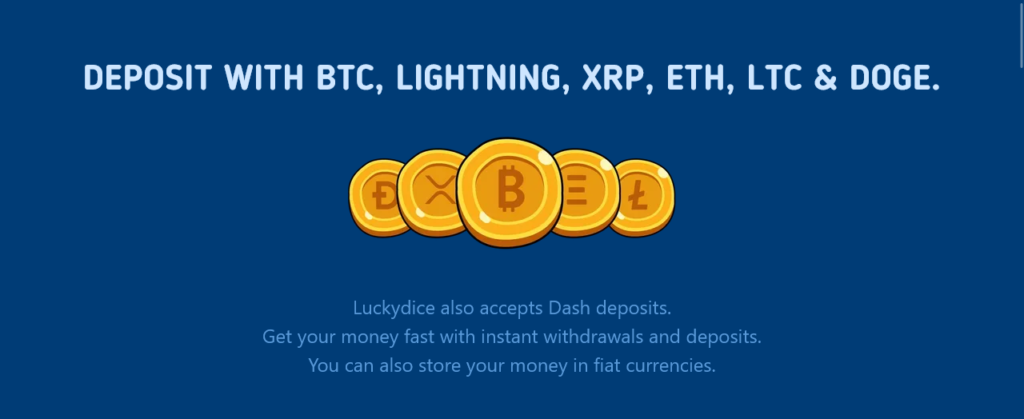 Luckydice Languages
Luckydice caters to a wide audience, with languages offered in English, Chinese, German, Turkish, Thai, Portuguese, Russian and Spanish.
The online casino is compatible on both mobile and desktop. Luckydice's customer support can be found on the bottom right section of the main page. Through their support button you can find a full list of helpful FAQs, or a Contact Us option at the bottom, which automatically opens a mail.
Luckydice Bonuses
Now let's talk bonuses – "bet big to win big" with their cashback payouts. Again, here the cashbacks are based on your ranking – the more you play the more you can earn. Cashbacks range from 0.05% – 0.3%. In this section of the website you will also find the previously mentioned Faucets, and the Magic Chest option.
Furthermore, Luckydice has three bonus modes that could see you multiply your winnings by up to x9000.
Then the Luckydice jackpot has a provably fair pool of up to $100,000 (or your currency equivalent).
The referral program is also a major hit. You'll score 0.3% of every bet your referrals place.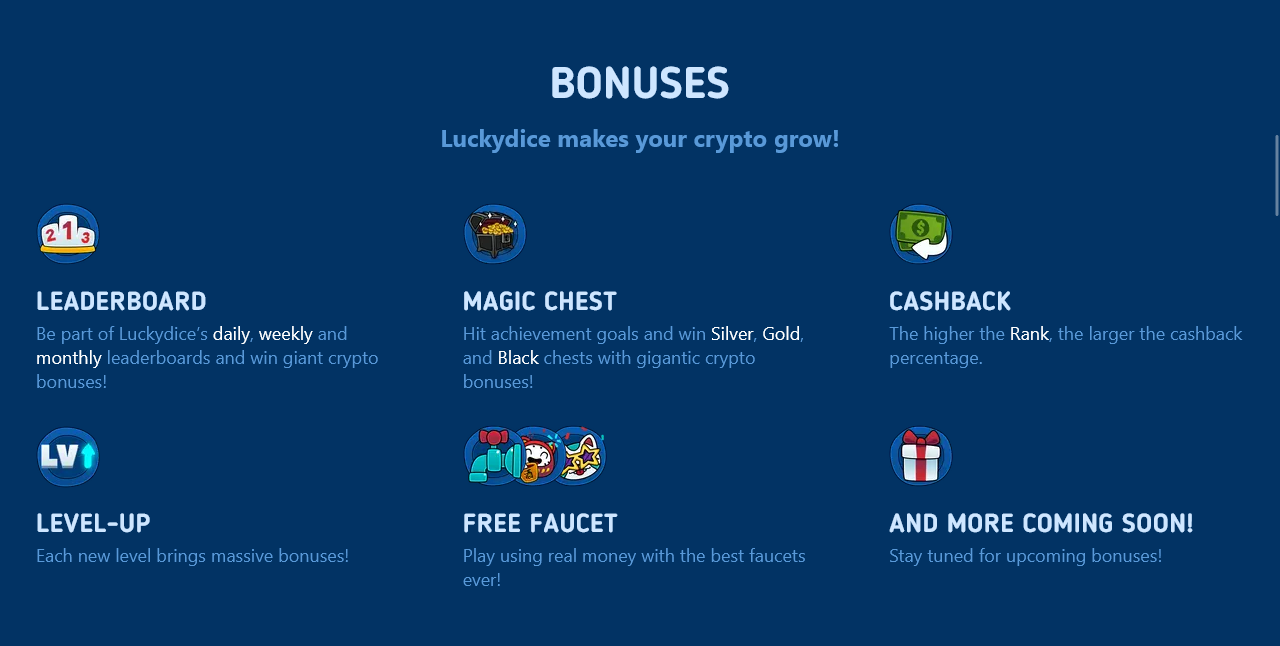 Mobile Platform
Luckydice is available on both mobile and desktop platforms. The platform is sleek and modern, and caters to the contemporary crypto player. There's no need for additional downloads either, as the platform offers instant play online.
Conclusion
Luckydice has seen some rave reviews from players around the world, and they deserve it. Great graphics, excellent continuation of theme, and great (crypto) withdrawal options make this crypto casino one of the better ones! Their FAQs are concise, and their main game is definitely enthralling. This crypto casino is getting our thumbs up.