MintDice is to the online casino industry as what Alfa is to the car industry. Smooth, sleek, neatly packaged, aesthetically pleasing, and safe as houses. They have a small selection of original casino games (no card games), concise selection of cryptocurrencies (no fiat) and all games are Provably Fair. You can also expect to find low house edge, killer support and FAQ section, and great graphics mixed into strong UX.
This crypto casino also functions off of a decentralized registry, charges no commission or additional fees, and offers players unlimited transactions. There is also an investor option - more on that later.
Cons
Not the best casino licence
Registering
Their registration process is fast and effortless. Either choose to play anonymously (with several small restrictions, you can upgrade at any time) or enter your email address and enjoy the full features of the platform. In the registration process, you will also be asked to select which cryptocurrency you will be using for deposits and withdrawals. If you have any uncertainty around crypto and/or buying crypto, you can check out their Basic Info FAQ section.
MintDice Games
As we mentioned previously, MintDice has very competitive house edges for their games, between 1 and 3%. Right, so the games! MintDice has a small selection of games compared to larger online casinos, however, they are equally entertaining with great graphics and a modern aesthetic. You can choose from a dice game, slots, their Plinko game, and the Bit.Rocket Bitcoin crash game. Each game has an optional tutorial pop up before you start playing.
Bitcoin Dice: select your currency and bet amount, choose your pay out multiplier, hit roll and hope your Bitcoin dice lands in the green area.
Slots: select your currency and bet amount, use the arrows on the left and right to select your machine (Note: blue = concervative, green = moderate, and red = aggressive), hit spin and if your lucky items match, you win. Don't expect wild themes or slots you've seen on other platforms.
Plinko: select your currency, bet amount and number of games you want to play – note: blue dice are concervative, green are moderate, and red are aggressive. Hit play! The closer to the outer edges of the triangle your dice fall, the higher you win, and the slot it falls into will indicate your multiplier. Rolling a 6 will double your winnings!
Bit.Rocket: select your currency, maximum desired pay out and wager, and hit play. You'll need to wait for the next round to begin. You can cash out at any time while the rocket is in flight mode, however make sure you get out before it explodes (or wait to see if it reaches your maximum payout). If you are the last person to cash out before the rocket explodes then you win the bonus. Be sure to check out their Bitrocket Strategy in the Free Guides option in the top menu.
Coming soon: Pyramid Bitcoin investment game and the PowerMint Bitcoin lottery jackpot.
MintDice also offers a Faucet option, where you can earn free coins without even having to register. One of the highest paying free Bitcoin faucets in the crypto casino world. As long as you haven't made a deposit, you can cash them out at any time or use them to play on the online casino.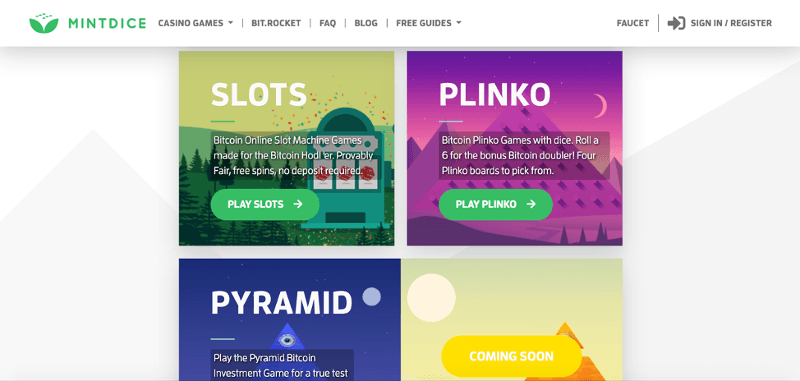 Currencies
MintDice is a crypto-only casino and accepts that accepts Bitcoin.
Payment methods
As we've already mentioned in this MintDice casino review, this is a strictly crypto casino. All deposits and withdraws are done so through Wallet Addresses, available in the deposit and withdrawals sections in your account page. They also request that you enter an emergency wallet address in your account details should something go wrong and they need to immediately pay out.
You can view the chart below for the minimum deposit and withdrawal amounts. Small withdraws are handled immediately with MintDice hot wallets, however larger amounts may take up to 24 hours.
Licences
MintDice operates under a Curacao licence. While these are the most common licences in the online casino sector, they are also the easiest to obtain, with less regulatory structure compared to others.
Desktop vs Mobile
Their desktop platform works perfectly well with fast loading speeds, however their mobile experience isn't set up yet – they're still working on it.
Security
They are very upfront about their AML/KYC policy. While it is not needed during the registration process, if any suspicious activity rings alarm bells, MintDice can suspend your account and request KYC documentation. Read about their KYC policy here.
As mentioned, this online casino has a provably fair betting algorithm audited by the industry standard Crypto Gambling Organization. All players have access to retroactively verify their bets to confirm that they are fair.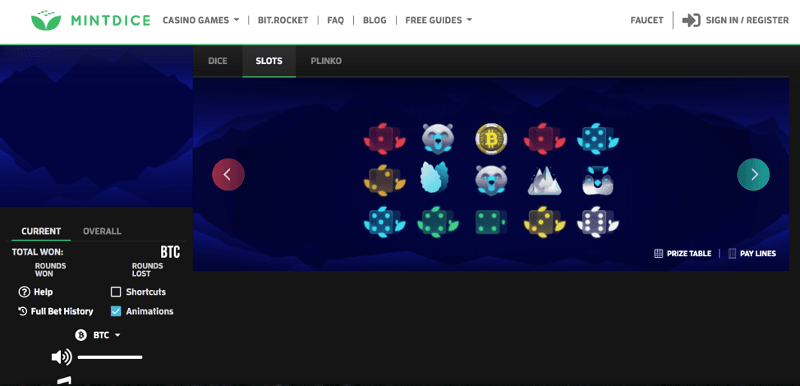 Investing
MintDice offers an investment opportunity where players can invest in the crypto casino and earn 7.5% of the profit from the deposit annually.
Restricted Countries
We're happy to report in this Mintdice casino review that there are no restricted countries (as it is a crypto only platform)
MintDice Bonuses & Promotions
They are currently working on their promotions and bonus offerings, keep an eye on their BitcoinTalk account for the latest info.
Support
MintDice has an excellent support and FAQ structure. You can really see the time and effort they have put into offering assistance to players who would like it. Their FAQ system is wonderfully categorised, brightly coloured and thorough, and if you can't find what you're looking for you can email them through the Contact Us option (in the FAQs).
You can also make use of their free guides in the top navigation menu covering all things from betting and Bitrocket strategies, to masternode sharing and investing.