TrustDice is a refreshing casino making its way in the pure Bitcoin casino category. It has every element that would make Bitcoin gamblers happy: Great jackpots, and a multi-coin faucet, free spin bonuses, unique games and anonymity. TrustDice is also one of the first casinos to accept EOS payments, opening up a market that has a lot of potential. Here are all the details about this wonderful brand.
TrustDice Game Selection
Just like other pure Bitcoin casinos, TrustDice has it own proprietary games: A dice game and a game called Crash. Within the dice game, players can place a bet on numbers from 1 to 100, with an over/under bar that allows them to set their preferences according to the level of risk they want to take. Within the same dice game, players get to participate automatically in a draw with numbers from 1 to 9999. If they hit 6666 on that automatic roll, then they win a huge jackpot.
The other game that TrustDice has is called Crash. This game is about guessing when the chart – that simulates the progression of an asset in cryptocurrency markets – will crash. Players just place a bet and allow the chart to progress until they choose to bail. The chart progression is a multiplier, and if a player bails before the "market crashes," then they will multiply their bet by the multiplier that was on the chart when they bailed.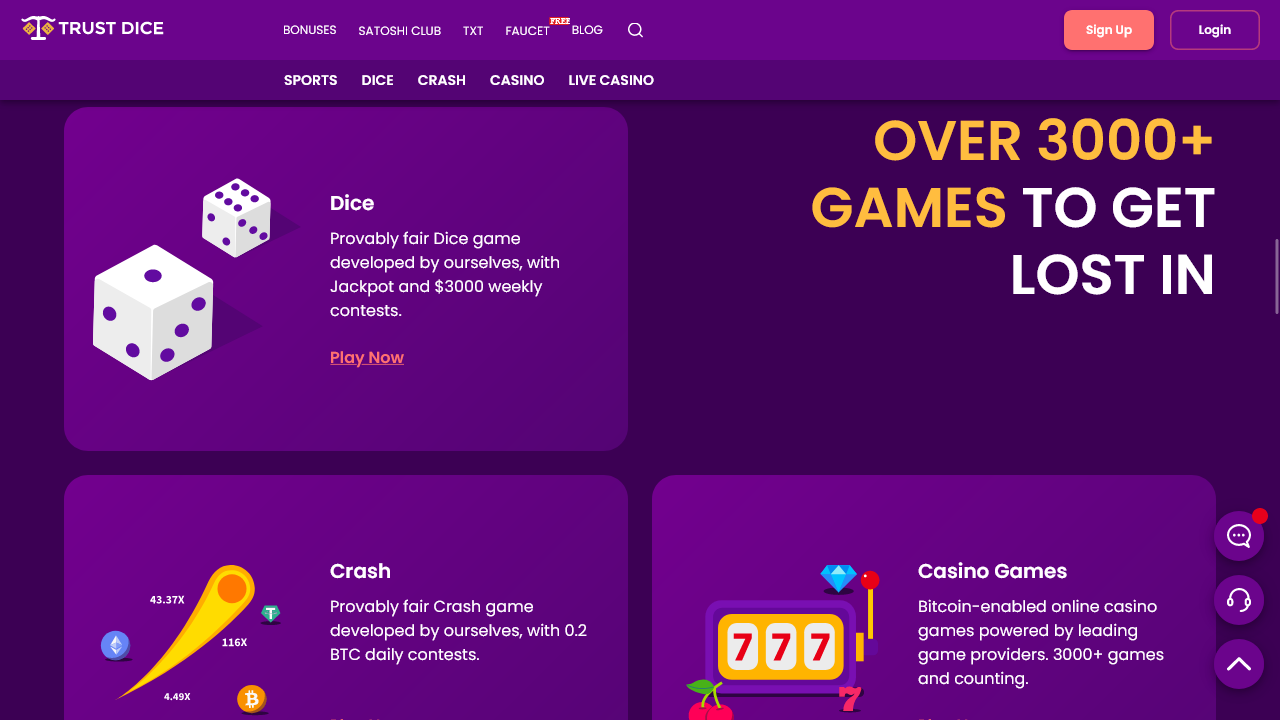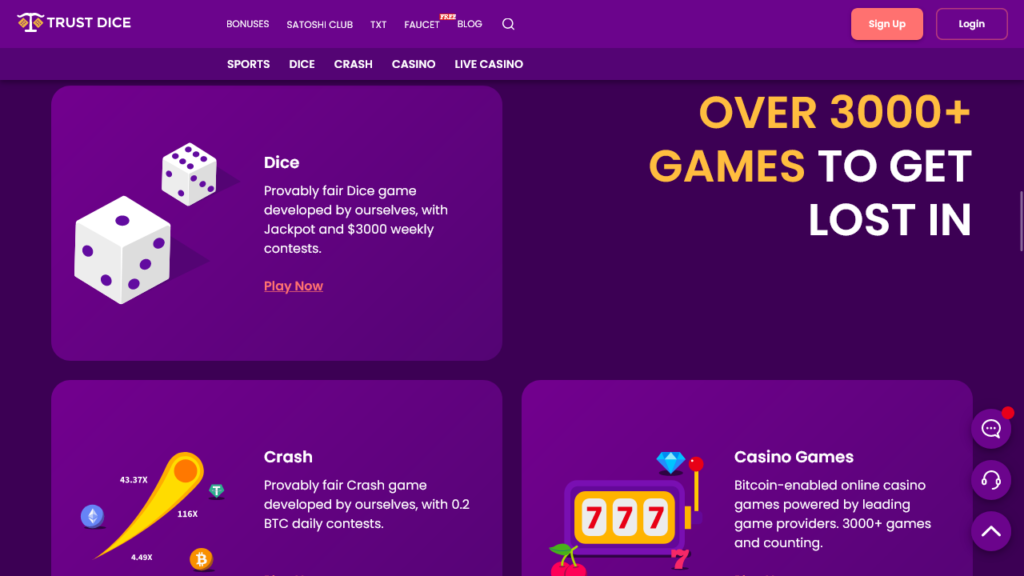 TrustDice Bonuses and Promotions
Like many other pure Bitcoin casinos, TrustDice has its own casino faucet. The faucet allows players to claim either BTC or EOS for free every 6 hours. This amounts to a recurring no deposit bonus that players always have access to.
Additionally, TrustDice promotes a model in which wagers are rewarded with TXT tokens. The more a player wagers the more TXT tokens they will get, and under this "wager-to-mine" model, TXT holders get a share of the casino's profit periodically. Up to 50% of TrustDice's profit is distributed among TXT token holders.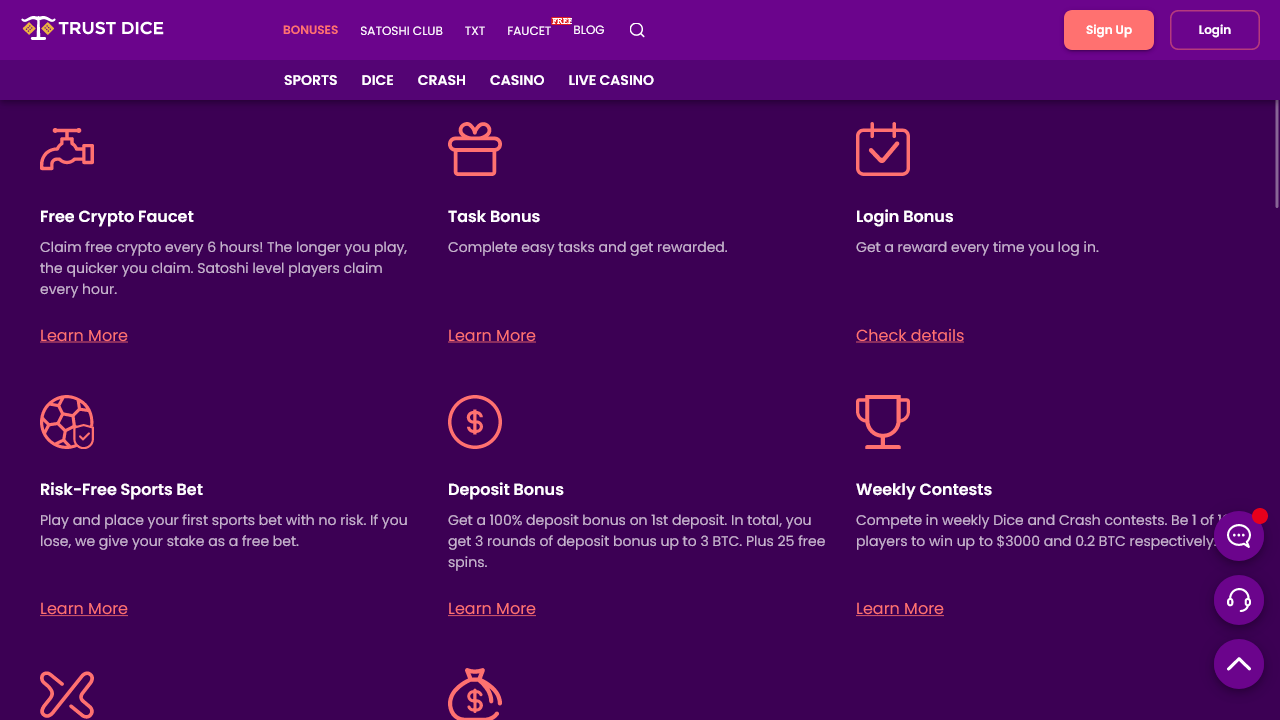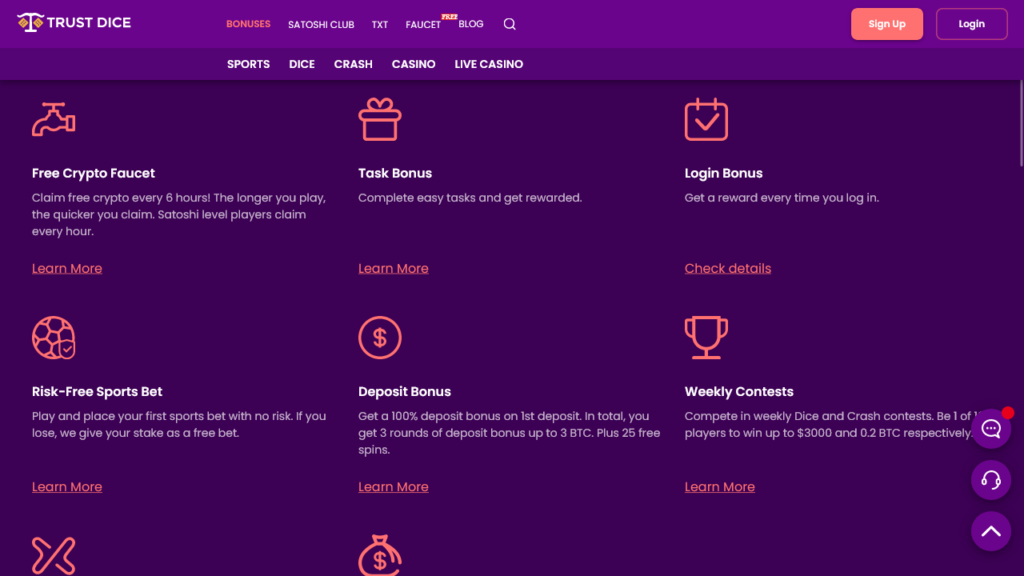 Withdrawals
The advantage of having a pure cryptocurrency casino philosophy is that players can withdraw all their funds quickly as soon as they are available to them. Players can circumvent traditional intermediaries that charge fees for withdrawals. This puts TrustDice in a category which they share with few other brands

Customer Service
TrustDice invested in top-notch customer service systems and trained its representatives well. As a result, players will get the highest quality of customer care in the industry. Customer care representatives are available on a 24/7 basis through live chat, email and social media channels.
TrustDice also has a telegram channel through which the company maintains an open channel of communication with its players, as well as a Twitter account, a BitcoinTalk thread and a Medium blog to post about interesting developments.
Unique Features
Anonymity comes together with all the advantages that TrustDice offers to its players. There is no need to register with an email. Players just need to create their own user name and write it down so they have access to their account, making it one of our favourite anonymous crypto casinos.
Conclusion
There is no doubt that TrustDice will succeed in the pure Bitcoin casino space. Its innovative faucet, along with its EOS gambling component and anonymity make this casino special. Plus its strong proprietary games are the cherry on top. There are few brands that can offer so much to their players. TrustDice is definitely a brand that is worth playing with.