In this Zorgo.Games review we cover everything from deposits and withdrawal, games, support and more. Aside from their slick navy and strong UI/UX design, Zorgo.Games' biggest pull card is that it is a PVP (player vs player) online casino. All their games involve players playing players, no dealers or bots in sight. A rarity in the field, Zorgo gamers can't get enough.
Games at Zorgo.Games
Zorgo.Games offers 4 games: Gems (a game with three hidden bets), CoinFlip, Jackpot and PVP Blackjack – most celebrated. On the home screen you have immediate access to all 4 games, as well as an indication as to how many people are busy playing the game.
Gems is a fast paced game designed for 3 players. Everyone places bets and the winner takes all (minus house commission of course). Before bets have been made, you are shown a percentage ratio of players' bets, and once bets have been placed (click "Place A Bet" button) you are shown the real amounts and the winner is determined randomly. Every Gem game grants you 10 EXP. Minimum bets are 0.1 mETH, and maximum is 1 ETH.
CoinFlip works much like you'd imagine, and needs 2 players to start a round. Each picks a side of the coin and the winner takes all (minus house commission). That's a 50/50 chance of winning! Minimum bets are 0.3 mETH, maximum is 10 ETH, and players receive 5 EXP for playing.
Jackpot is as it sounds: a multiplayer game where everyone places bets, and the winner is chosen randomly. You can check your chances in the "Chance" option next to the "Place A Bet" button. One round bags you 44 EXP.
In Zorgo.Games' exclusive multiplayer version of BlackJack, players play against each other. One of the most popular games, it's a classic version of the card game. You will need to either create a game, or join an existing one, and again – winner takes all minus house commission. Playing a game of BlackJack grants you 30 EXP, with minimum and maximum bets at 0.3 mETH and 10 mETH respectively.
This crypto casino also offers Private Games, where you can open a round for your team and cover a % of the costs. When opening the game, select "Private Game" mode, follow the prompts, and then share the link with your guests.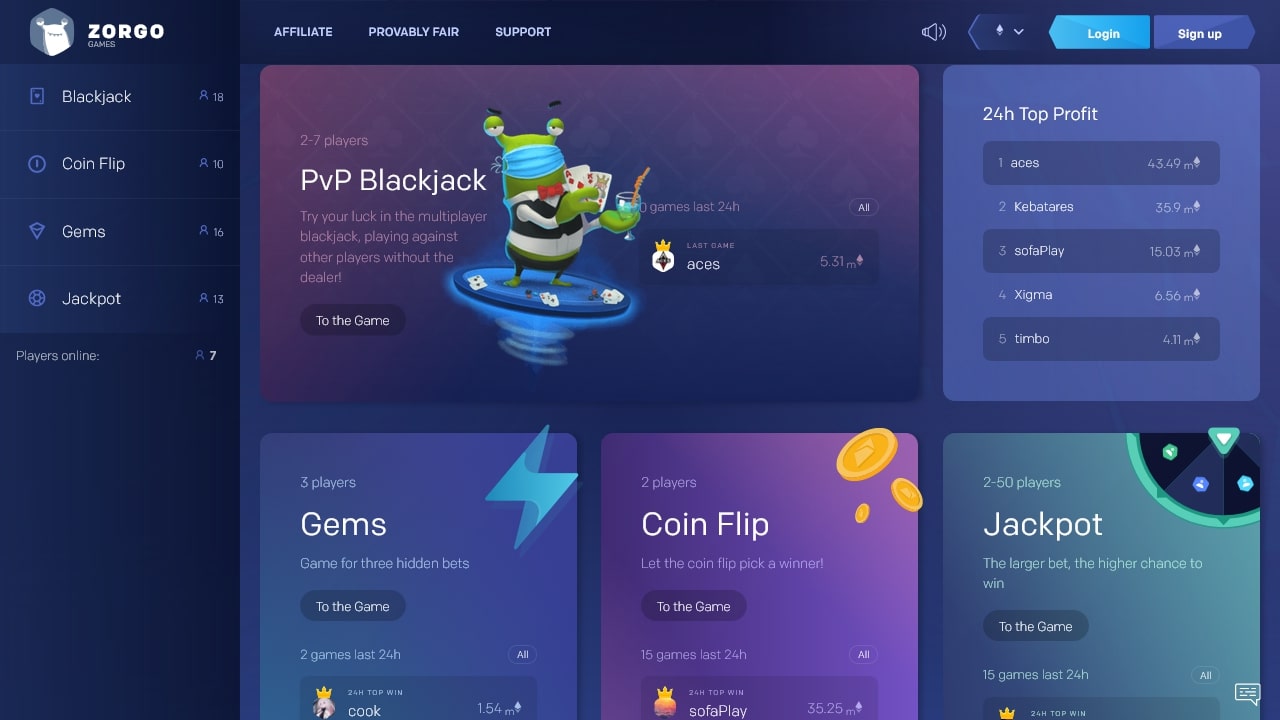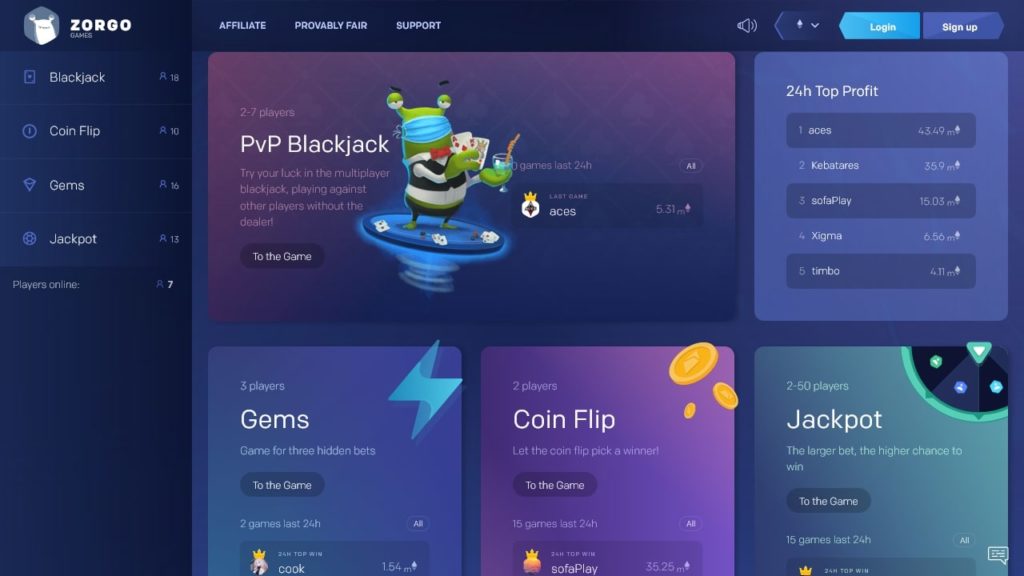 Deposit and Withdrawal
While Zorgo.Games only accepts and pays out in ETH, there is an option to select between viewing values in ETH or USD (estimate). You are given a deposit address that expires 14 days after receiving it, or 8 months after your last deposit (if your address expires you can request a new one). Minimum deposit is 0.005 mETH.
There is a guide on the website on how to buy Ethereum with a credit card.
Minimum withdrawals are 2mETH, and you are allowed to withdraw a total of 10 times a day.
Zorgo.Games Licence
Zorgo.Games holds a Curacao gaming licence.
Zorgo.Games Mobile Friendly
This online casino is fully functional on both mobile and desktop formats, and boasts great speeds.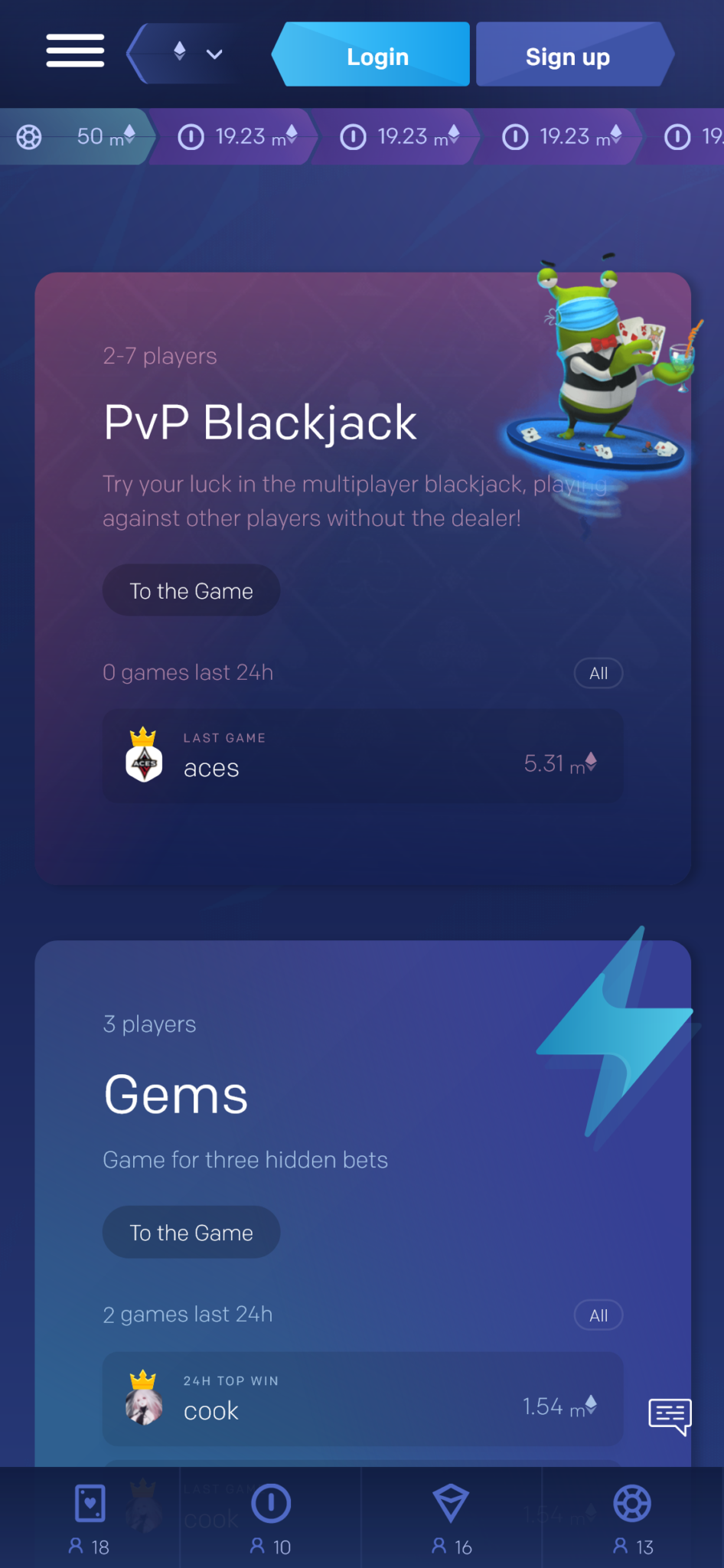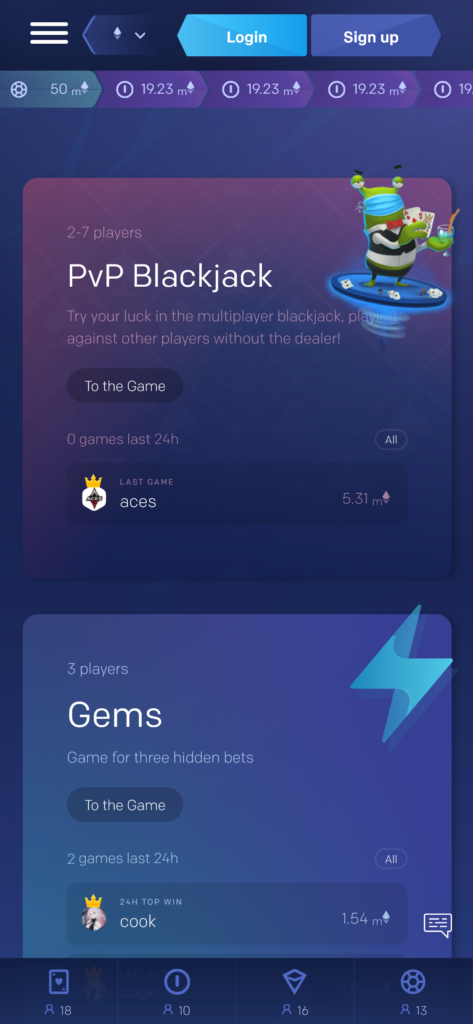 Zorgo.Games Support
Support is offered through a Zendesk format, and is accessible from the main page – the "head with a headset" icon.
Zorgo.Games Cons
Zongo.Games does currently not offer any promotions or bonuses. And as a crypto casino their crypto range is very limited, only dealing with ETH.
All in all we'll give Zorgo.Games the thumbs up. This crypto casino is 100% provably fair, and has a detailed section on their website that runs you through how to check each game's fairness. As for their theme and layout – they are top notch attractive and intuitive, you really won't struggle to find what you're looking for here. They also offer a chat option amongst players, however best to check out their rules in the FAQ section. Concluding this Zorgo.Games review we gotta say: the PVP element is a huge bonus.