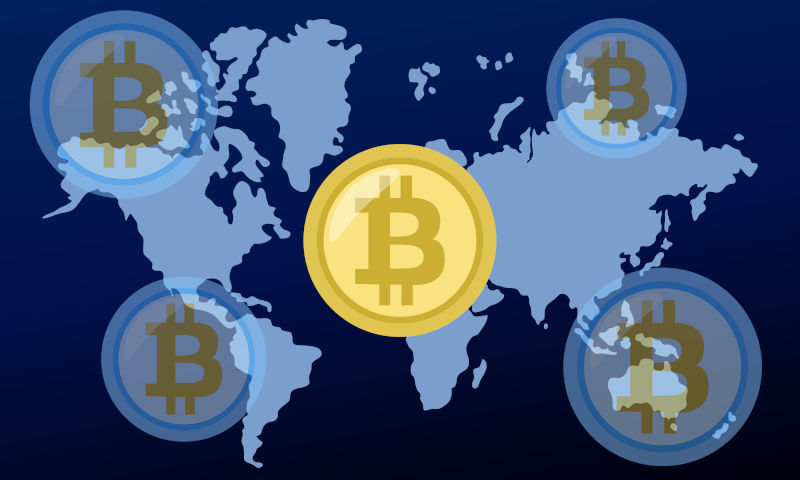 More and more countries have begun taking an interest in cryptocurrencies on an individual, business and governmental level. Hubs have emerged around the globe where cryptocurrency adoption is fostered and promoted. Explore some of the more interesting locations and cities around the globe that stand out in terms of their contributions to cryptocurrency.
1. Lebanon's Desperate Times
Though certainly not official, Lebanon is probably currently one of the countries closest to widespread cryptocurrency adoption. Following Lebanon's bankruptcy in April 2022, its citizens have been forced to seek out alternate means of earning a living, many of whom have turned to mining Bitcoin (BTC) and purchasing goods and services for USDT instead of fiat currencies.
The reason for this is twofold. Firstly, those who were earning income from international sources were losing huge chunks of their earnings due to unfavorable exchange rates. And secondly, because the value of the Lebanese pound (£L) has dropped from the ratio of £L1,507 to $1 USD, that it maintained from 1997-May 2015, to £L35,600 to the USD in May 2022 as traded on the black-market.
It is necessary to mention the black-market price because the government itself still pegs the exchange rate to the former rates, despite the central bank preventing withdrawals as well as charging exorbitant fees.
This is because, according to strong international suspicion, the bankruptcy of the country was accompanied by the unofficial bankruptcy of Lebanon's central bank, Banque du Liban. Although the bank's governor Riad Salameh has denied these claims, the Lebanese people have been completely denied access to their accountants and have been unable to withdraw anything from their accounts.
2. Prague: The Birthplace of Many Crypto Firsts
Prague is located in the Czech Republic, where cryptocurrencies are largely unregulated. The Czech National Bank Prague is especially crypto-friendly, boasting the titles of offering the first mining pool, formed in 2010 and of being where the first hardware wallet, Trezor, was released in 2014.
Prague is also home to Bitcoin Coffee, the world's first coffee shop that only accepts payments in BTC. It is open for 12 hours a day, and only on weekdays.
Furthermore, in 2018 and 2020, Prague was ranked as the most crypto-friendly city in the world in an article by FortuneJack, and by Coinmap's data respectively. This was due to the high number of brick-and mortar stores, as well as online platforms, that accept BTC and cryptocurrency payments, as well as the high number of cryptocurrency ATMs in the city, with 40 ATMs located in Prague as of November 2022.
3. Fort Worth: The First U.S City Government to Mine BTC
In August 2022 Fort Worth, Texas, became the first U.S. city to mine BTC at the government level. However, by November, the government reported that they had made a net profit of only $1,019.31 USD after electricity costs.
But according to Carlo Capua, Fort Worth's Chief of Strategy and Innovation, 'mining Bitcoin was never about the profit, but more about Fort Worth becoming a leader in the cryptocurrency industry and other technology innovation.' Therefore, they have decided to continue with the program despite the minor returns.
Preceding Fort Worth's decision to begin mining BTC, in April 2022, the city was offered three Bitcoin mining machines from the Texas Blockchain Council and passed a resolution that was specifically intended to promote BTC and cryptocurrency mining, entitled 'Growth of Blochain and Cryptocurrency Technology.Bitcoin Mining Machines.' This resolution states that:
That the City Council hereby declares the City as crypto-friendly, welcoming to the Industry and to those responsible businesses contributing to the development of this evolving technology.
That the City Council hereby accepts the donation of three Bitcoin mining machines from the Texas Blockchain Council with a total value of approximately $2,100, with said donation conditioned upon the use of the City of the machines for mining Bitcoin and with such machines to automatically revert back to the Texas Blockchain Council, without further formal action required by either party, if the City permanently terminates its use of the machines for mining Bitcoin.
That the City Council hereby directs City staff to perform all actions necessary to engage in a Bitcoin mining operation of limited duration with the status of such pilot to be revisited at or around the six-month mark.
4. Lagos: The Crypto Capital of Africa
According to Chainanalysis' 2022 Geography of Cryptocurrency (CGC) report, Nigeria ranked 11th globally on the Global Crypto Adoption Index. This is despite the Nigerian government's best efforts to ban the ownership and trading of cryptocurrency in the country.
Much of the cryptocurrency trade in Nigeria is on a micro-scale, as many individuals are trading for their day-to-day. The rising cost of basic amenities such as food and gas has continued to rise while the average household income has stagnated.
Nigerians therefore have been forced to search for a more reliable method of earning money. Furthermore, widespread adoption of cryptocurrency is also more likely since the government finally began issuing regulations to govern cryptocurrency and cryptocurrency service providers, which might lead to the unbanning of cryptocurrency trading by the Nigerian Central Bank of Nigeria that was imposed in February last year.
5. Bitcoin City: El Salvador's Bitcoin Bet
In September 2021, El Salvador made headlines when they made history by becoming the first country in the world to make Bitcoin (BTC) a legal tender of the country. They even offered their citizens a free state-issued wallet containing $30 USD worth of BTC for any citizen who claimed one. However, it seems that this project has thus far been a failure, with only 23% of Salvadorans still having faith in the cryptocurrency and less than 25% having used it in the past year. Additionally, they have yet to begin developing their Bitcoin City, La Unión, that they announced in November last year.
6. Ljubljana: Slovenia Crypto Entertainment Center
Slovenia is a very crypto-friendly country, in general, but the city that is the foremost adopter is Ljubljana due to the many stores that accept cryptocurrency. Most notable is the BTC City, which ironically is not actually named after the cryptocurrency, but was built decades before the cryptocurrency was even conceived, with the initials actually standing for 'Blagovno Trgovinski Center' (Goods and Shopping Centre.)
BTC City it is a mall/entertainment center that occupies an area of over 250,000m2 and comprises a series of shopping malls, sports areas, entertainment centers and businesses, totaling over 500 shops and is also one of the largest entertainment centers in Europe. It was initially launched on a 3-month trial basis in June 2018, where they utilized EliPay ATMs to allow customers to convert their cryptocurrency to Euros. Additionally, over 100 of the stores accept BTC payments directly in exchange for goods and services using cryptocurrency. A Google-translated map of the park taken from BTC.si can be seen below.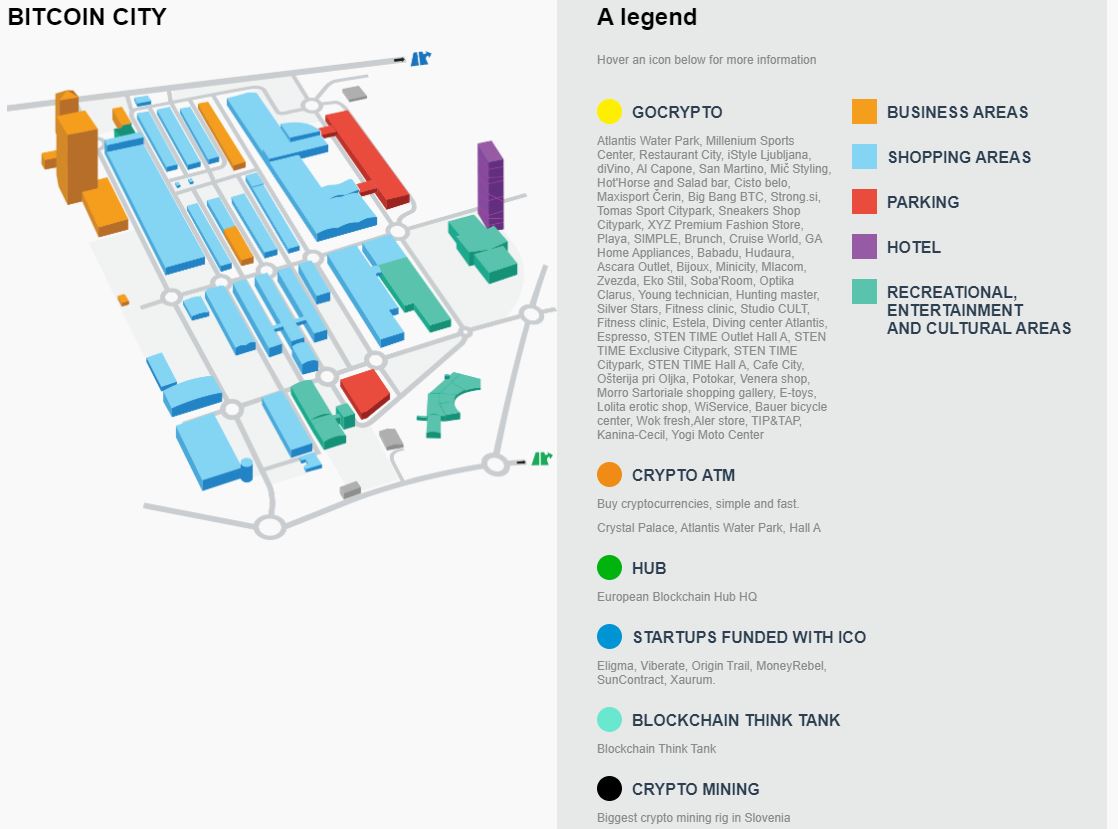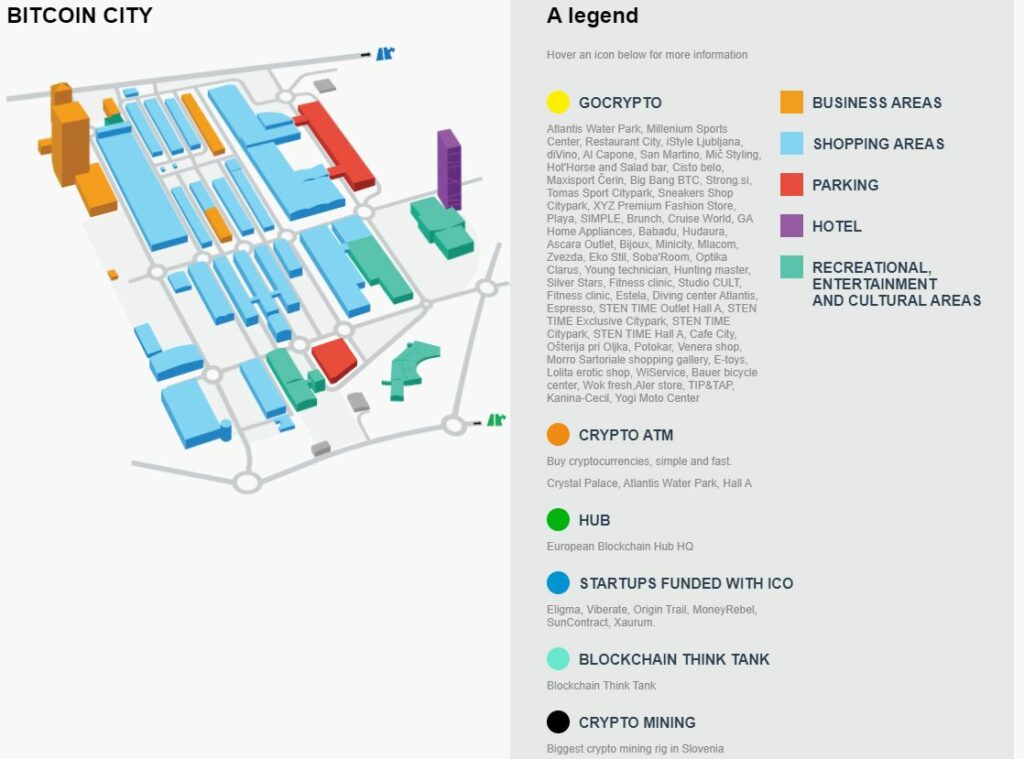 7. Próspera: The Crypto ZEDE Zone
Próspera is a private charter city located on the island of Roatán, Honduras. It was built as a special economic zone by a corporation due to a legislation called the 'Organic Law of the Employment and Economic Development Zones (ZEDE)' that was passed by the government in Honduras in 2013 that allowed them to do so. Although the zone is not officially a cryptocurrency city, it is considered a crypto haven due to its crypto-friendly regulations.
However, it should be noted that as of May 2022, the city's future has been put into question, since the new government repealed the law, and reneged on the corporation's right to create a low-tax, privatized city-state.
Próspera managed to raise $100 million USD from its investors due to the promises of creating a beach-town tourist destination with low taxes and crypt-friendly regulation, which makes the completion of the project doubtful, especially since its construction only began in 2020.
Nevertheless so far the corporation behind it has said that they still plan on moving forward as planned. That has not yet come to pass though, leaving foreign investors questioning what will become of their capital. On November 10, 2022, the Grupo Próspera filed a claim of $10.775 million USD against the Honduran government citing damages caused to them by the repeal of the ZEDE law.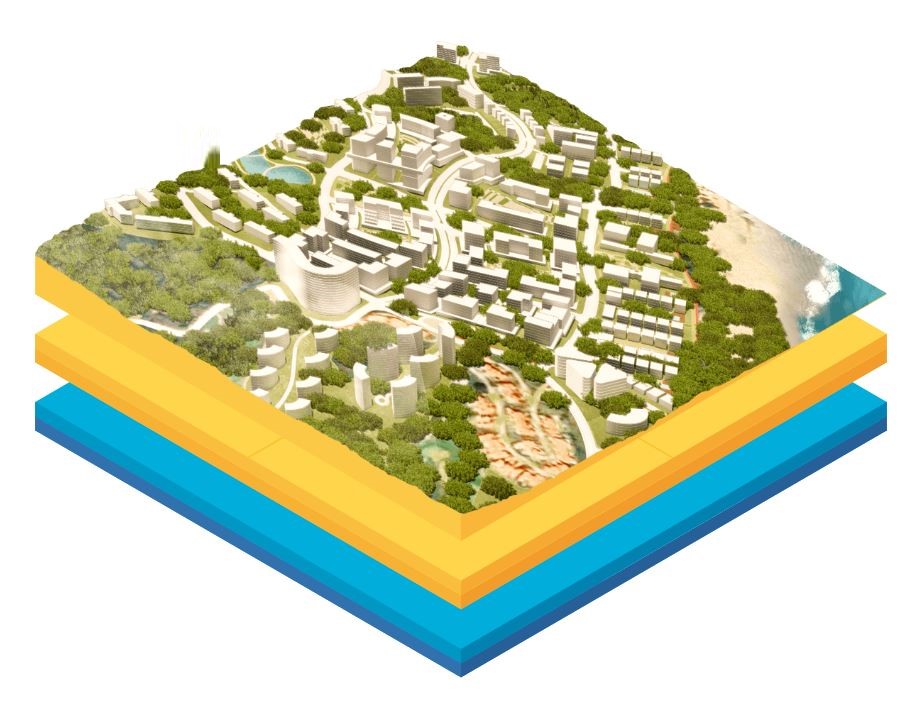 8. Liberland: The Dubious Crypto Country
The Free Republic of Liberland was founded by Czech libertarian politician Vít Jedlička on April 13, 2015. It is located on unclaimed territory located between Croatia and Serbia that started with BTC as its official currency. It has since established its own digital currency as well. However, despite the community's undisturbed presence there, Liberland is still not recognized by any major nation as a real country and is instead considered as disputed, unclaimed territory by its neighbors.
The micronation 7 km2 (2.7 sq mi) in area and is most likely ignored due to being located on a flood bed of the Danube River valley. However, the Croatian authorities have made numerous attempts to block entry to the area since May 2015, in order to prevent the community's growth, which ironically sits at zero, as not even the founding father lives there.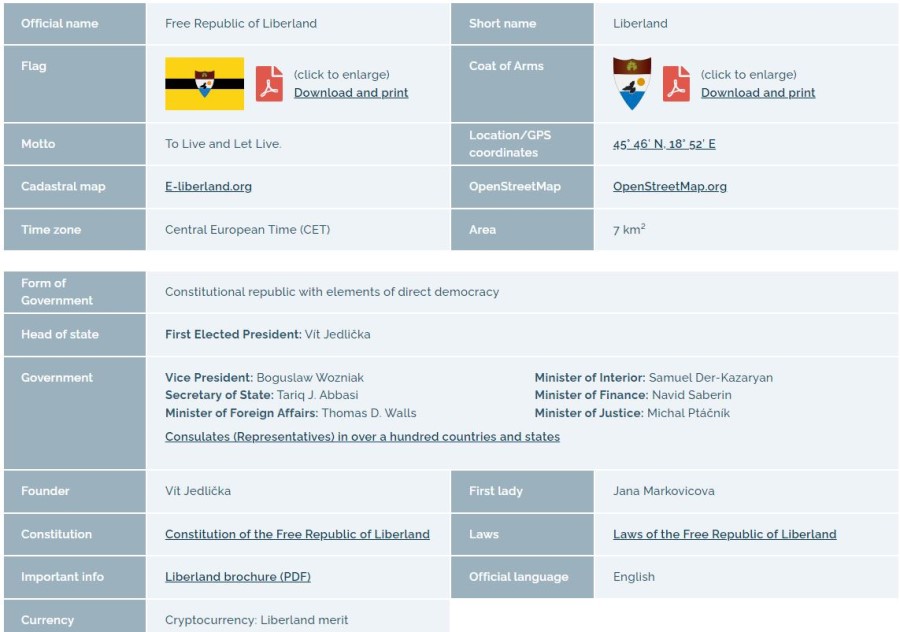 9. Tel Aviv: A Middle Eastern Blockchain Startup Hub
Israel, and especially Tel Aviv, is known as the startup capital of the world and a hub for all kinds of innovations. Israel is ranked second globally for venture funding per capita with $1+ billion in startup investment in November 2021 and according to a report from May 2022 Israeli cryptocurrency venture capital companies managed to raise over $1 billion in funding in 2021 alone, although crypto investment in only accounted for around 1.7%. This is impressive considering that Israel only has a total population of about 9.4 million people.
According to Statista, Israel is the world leader in research and development (R&D) expenditure as a share of gross domestic product (GDP) worldwide in 2022. It is therefore unsurprising that they would also be among the top innovators in terms of blockchain technology and cryptocurrency adoption.
Seven of Israel's eleven BTC ATMs are located in Tel Aviv. The Tel Aviv Stock Exchange (TASE) is especially welcoming to cryptocurrency, having offered its first BTC linked and backed bonds on TASE UP in August 2021 and announced that it would be creating its own cryptocurrency exchange platform in October 2022.
This is significant since TASE is Israel's only public stock exchange and is under direct supervision of the Israel Securities Authority, meaning that this planned cryptocurrency is government-approved. Furthermore, TASE and Israel's Ministry of Finance have already begun piloting live tests for the Ministry of Finance to list its own blockchain-based digital bonds, which they hope to have ready by Q3 of 2023.
10. Zug: The Swiss Crypto Valley
Zug, Switzerland, is famous for being the headquarters of the Ethereum Foundation, as well as hosting two of the Crypto Valley conferences. In addition to this, it is also the home of 14 of the 900 global unicorn companies that are worth over $1 billion USD. This is significant given that the tiny town is only home to a population of around 29,800 people. Furthermore, of the 960 crypto startups in Switzerland, 433 are based in Lug. This is why Zug dubbed itself 'crypto valley.'
The reason why such a humble location is so popular with business magnates is because of its friendly cryptocurrency regulations and taxation laws, even though the general population seems less interested in it, given that only 1.85% of the population owns cryptocurrency, according to tripleai.io's global crypto ownership report.