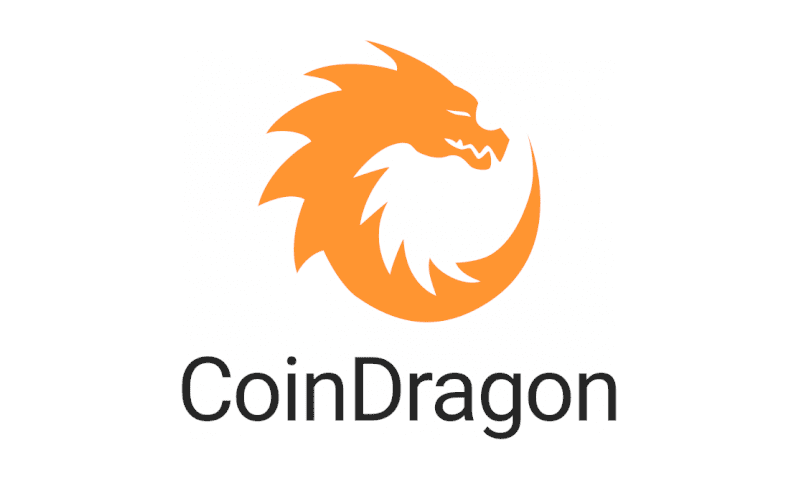 CoinDragon casino first made itself known to the crypto casino community back in 2020, although they may not have been around long, they truly made a mark on many. There was so much positive sentiment surrounding this casino, with many deeply sad they are leaving. Review sites and customers alike adored them, with only a few complaints here and there. Their closure notice has been a shock to many. They were licensed under the laws of Curacao, and provided probability fair games, so why are they shutting down? We don't know.
They released an announcement recently stating that their customers have until the 17th of January, 2022 to withdraw funds. That is their official day of closure, and all players should withdraw before then. They will no longer be taking on new registrations or deposits. Their community chat will be suspended permanently as well. Players can no longer enjoy games and increase their balances, the only services allowed until the 17th of January are withdrawals.
Why Is CoinDragon Closing?
CoinDragon has not directly said why they will be halting services, there are some speculations but nothing confirmed. Some players say it is because they were too generous with promotions and took away profits. Others say they may not have had the capital or team to continue on. While these speculations may not be far off, CoinDragon has given no reason for closure, only that it is happening. In their announcement they simply stated:
"It's come to a point in our life journey, in order to make room for new ventures and enable us to create new and exciting products and services, we must close this chapter."
They then went on to thank their players for all the success and fun they had along the way. A little bit cryptic, but we can't blame them without knowing the full story. Maybe the crypto casino industry was not providing them with the potential they had originally foreseen, but we may never know the full story. What we do know is that players have until the 17th of January 2022 to withdraw any funds they are still holding within their casino wallets.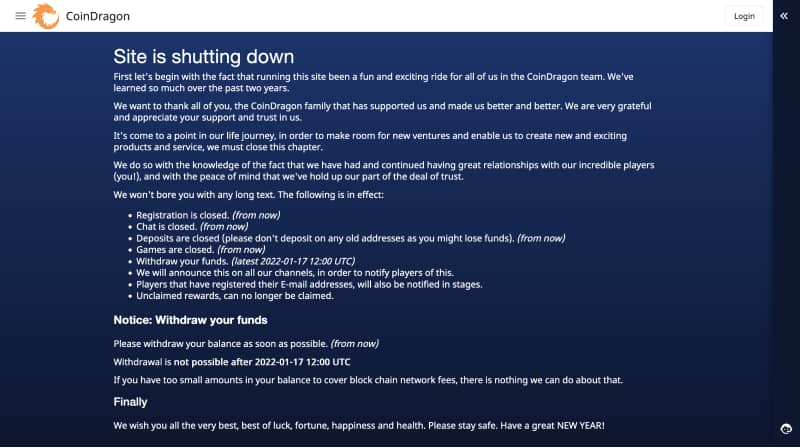 What Now You Ask?
Well, if you were a player at CoinDragon then now is the time to withdraw any outstanding funds still within the casino. You have until 17/01/22 to do so. It is sad to see a well-loved casino closing its doors, but that doesn't take away from all it did. They had a strong community behind them, maybe including you, who will miss them dearly. This may not be the end for them, maybe their new chapter is an even better casino, or maybe it's not. There are still plenty of cryptocurrency casinos in the market, all with their own benefits. It is sad, but it is not the end for you or them. Give the other crypto casinos a chance, they may surprise you.
You can take a look at our long list of crypto casino reviews, and see which is the best fit for you moving forward. Cryptocurrency is just starting to get good, don't get stuck in the past, see what the present and future hold. CoinDragon and the mark they made will be missed. And again, remember, you have until January 17th, 2022 to withdraw funds.
Sign up to our newsletter to stay updated on casino news, games, and more, with Bitcoin Chaser.