Coinroll Review
Coinroll is a Bitcoin dice site that has been around since early 2013 and has proven its longevity with fair play, excellent deposit and withdrawal times and a site based on simplicity and ease of use. There is a very low minimum bet amount and an incredibly low house edge. Coinroll has all the right pieces to stick around and compete with any flashy new dice sites that come around.
Coinroll.com Quick Facts
Year Established: 2013
Software Provider: Proprietary
Currencies Accepted: Bitcoin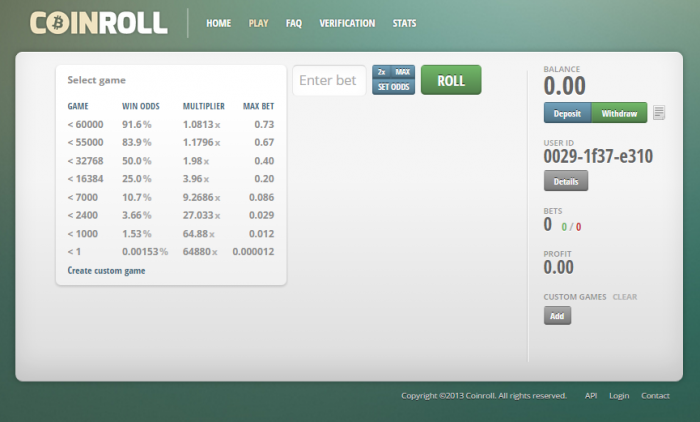 Games
Coinroll only offers a Bitcoin dice game on its site, however this does not mean that the site is lacking. The game is very easy to play and offers a variety of different versions to play with. A target number is generated through a provably fair system and as long as the generated number is lower than the target number you win!
Coinroll's house edge is only 1%, which means that when you win, you receive 99% of the payout. The minimum bet on the site is 0.00001 BTC – which is much lower than almost every other Bitcoin dice site. There is no registration or information required in order to start playing – you make a deposit, and you're good to play.
Payments and Processing
The site prides itself on having very fast deposit and withdrawal times. The rules for deposit processing times are as follows: deposits up to 5 BTC require 1 confirmation, 5 to 20 BTC requires 2 confirmations, 20 to 50 BTC requires 3 confirmations, and any deposit beyond 50 BTC requires 6 confirmations.
Regarding withdrawals, the minimum amount is 0.0000543 BTC and any withdrawal cannot be less than 10% of your player balance.
Conclusion
Coinroll is simply a classic – one of the oldest Bitcoin gambling and dice sites, and manages to provide a quality dice service. The games are easy to use, deposit times are relatively quick and there is no registration required. All bets can be checked through the cryptographic provably fair system and the house edge is only 1%. All of the above prove why Coinroll has endured the test of time.