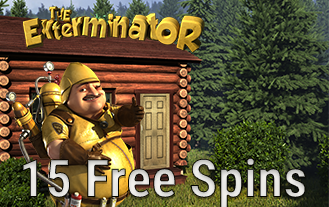 As Britain gets ready to make a decision that can potentially change its future standing, and traders rush to place their bets on the right assets, BetChain has a solution for that Brexit infestation. Take your mind off the future of the pound and make a run for a huge Bitcoin or Euro jackpot. BetChain has enlisted the services of its favorite exterminator, to make sure that all your Brexit fears are eliminated and you can focus on the thrill of gunning for those huge jackpots!
To get your mind off Brexit and start playing for Bitcoin and Euro jackpots, just deposit €30 or 0.3BTC, between Tuesday June 21st and Thursday June 23rd, and get 15 Free Spins on the Exterminator slot. Hurry before all the bankers and investors realize that their hedges are all wrong and start calling the Exterminator to eliminate the Brexit fear infestation in their own homes! Don't let the vote catch off guard
Remember, this is a limited time offer to spin the whole Brexit situation around in your favor, and win on your Pound hedge. Make sure you make your deposit before Britain announces the result of the vote, and get a chance to hit those Euro and Bitcoin jackpots. BetChain guarantees that no matter the result of the vote, politicians will never be able to spin it as well as you can with those Free Spins!
There is nothing better than hedging on those worries on the pound than with 15 Free Spins! Hurry before the vote catches you by surprise. Be the first to hit that Euro or Bitcoin jackpot, or maybe even both, and walk through the street that Brexit just gave you the wonderful opportunity to become a huge winner, and if you win, our staff might even get the Exterminator to sing "God save the Queen!"