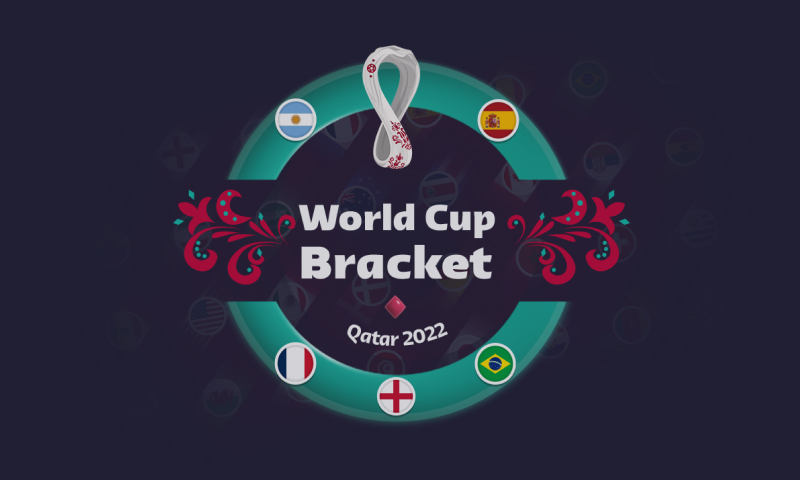 FortuneJack goes big for the big occasions, and with the Football World Cup in Qatar coming up they have launched a fantastic competition: World Cup Bracket Challenge. 
This competition is free to enter and easy. All you have to do to take part is have a free FortuneJack account, pick your teams to progress, and tweet about it. Tick these boxes and you are in with a chance to win the $20,000 grand prize.
How to Take Part
There are a couple of steps to take part in FortuneJack's World Cup Bracket Challenge.
Sign up: Create an account at FortuneJack. If you already have one you are good to go.
Make your predictions: Place your predictions on who you think will win the group stage and play-offs. Warning! Once chosen these cannot be changed.
Tweet it out: Tweet with the hashtag #FJWorldCup2022and mention @FortuneJackCOM. This step is mandatory.
Wait for the results: See how your predictions have performed.
A note about making your selection, because this part FortuneJack can make a bit more clear we feel.
In the World Cup, two teams advance for each group to go into the last-16. The first round of predictions you will place then is on this group stage. Here you pick the two nations from each group you believe will proceed.
Here are our picks for the group stages: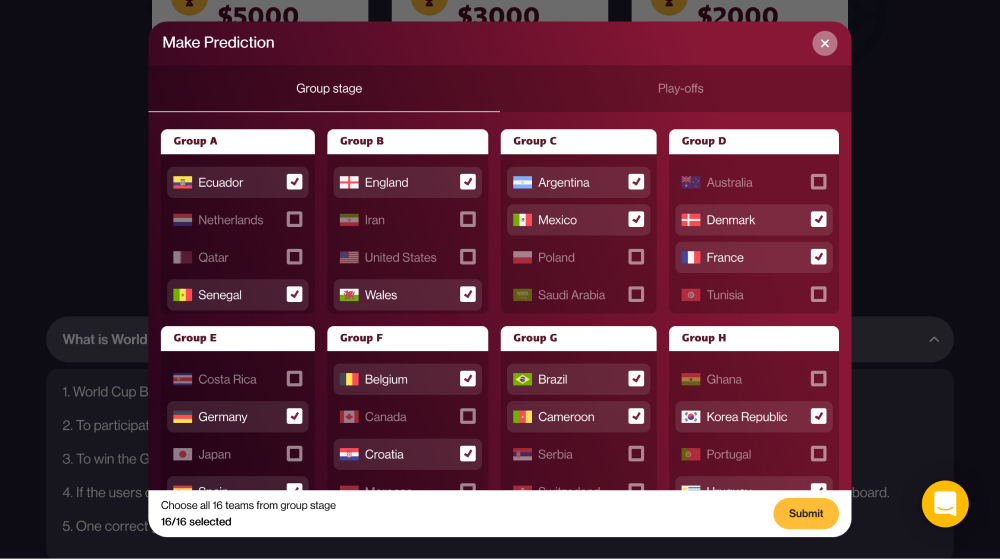 important
Once you have entered your predictions and entered submit there is no going back.
For every correct prediction you will gain points and climb up the leaderboard.
You will have to wait until the last game of the group stages, on December 2, to be able to make predictions for the play-offs.
How the Prizes Are Split
Up for grabs in FortuneJack's World Cup Bracket Challenge is $20,000.
If a user is able to correctly predict every team from the group stages and the play-offs then they will walk away with the grand prize of $20,000.
If no user correctly predicts it all then the prize will be split between the user's with the most correct qualifier predictions will share the prize pool of $10,000 as follows:
1st: $5,000
2nd: $3,000
3rd: $2,000
Each correct pick you get throughout the competition scores you some points on the leaderboard. So it's not over till it's over.
More Football at FortuneJack
With a great website and reputation FortuneJack was already a great place to bet on football with Bitcoin. On top of this great World Cup competition, for the past couple of seasons the casino and sports betting site has run a Premier League competition, Majestic 7, that allows you to similarly place predictions on who comes out top week in, week out in the Premier League.
Visit FortuneJack