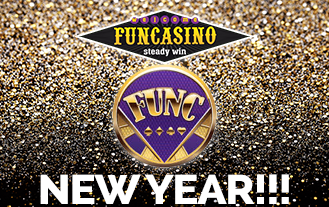 Christmas is over, but the gift giving spirit is still in the air. In fact, Fun Casino would like to make Christmas last longer. In an effort to do so, it is extending one of its best Christmas promos ever, the FUNC Christmas promo. With Fun Casino, if you missed your chance during Christmas, you will still be able to have a Funky New Year!
Fun Casino's TIER FUNKY Bonus
It is time to buy some FUNC tokens from the Fun Casino website and get more than a fair share of its revenue. With this great extended Christmas bonus, you can get access to the following:
20% more FUNC tokens for your money.
A great chance to stretch your FUNC investment by 20% for as long as you keep your FUNC tokens.
The possibility of taking advantage of this great bonus until January 24th, 2017.
The numbers are pretty simple. If 0.1 BTC would normally buy 1,000 FUNC tokens, the same amount will now get you a whopping 1,200 FUNC tokens. This means that you will be taking more dividends home for the same amount of money. Isn't this a great opportunity to make 2017 a year full of wins?
Take advantage of this special FUNC token Christmas bonus while it lasts!
Remember, this TIER FUNC token Christmas bonus is available only through Fun Casino's official website. So go ahead, make your move until January 24th, 2017 and get 20% more. That is 20% more return on your investment for as long as you keep the tokens, and it is all for free! This year make sure you are on the winning side. Invest in FUNC tokens and take your share of Fun Casino revenues home on a weekly basis. There is definitely no better way to start the year 2017, so go ahead and invest now!