Huge Hardware Wallet Giveaway!
From BitcoinChaser, CryptoHWwallet.com, and BitcoinMeme.com
If you want to win a Ledger Wallet, you came to the right page! Just a few weeks ago, we came back from the first CoinsBank Blockchain Cruise. The blockchain cruise was an unforgettable experience, especially because it allowed us to meet with all the movers and shakers in the industry and forge new partnerships. These new partnerships will benefit our readers, our community and our newsletter subscribers, and you will be able to see that right away! We are launching the first of many promos that we will host with our new partners.
This time around, we are launching an incredible 5 hardware wallet giveaway with our partners at CryptoHWwallet and Bitcoinmeme.com! We will be giving away 5 Ledger H.W.1 ultra-thin hardware wallets throughout the months of July & August.
How do I get my Hardware Wallet?
The hardware wallet giveaway will take place during the months of July & August 2017.
You have 5 opportunities to get a Ledger H.W.1 Hardware wallet.
Here is how to enter:
Giveaway 2: Competition to be announced soon.
Giveaway 3: Retweet our tweet (see below) about the competition until July 20th. You will automatically enter the competition. We will choose the winner at random the following day. Competition complete -winner announced
Giveaway 4: Competition to be announced soon.
Giveaway 5: This final giveaway comes courtesy of CryptoHWwallet and BitcoinMEME.com To get this giveaway the all you have to do is share one of those hilarious memes from our favorite bitcoin meme site, BitcoinMeme.com. Anyone who shares a meme throughout the month of July will automatically enter the draw for a Ledger H.W.1. Competition complete -w

inner announced
The Huge Hardware Wallet Giveaway Winners!
We will be announcing the winners of each wallet through our social media accounts and on this page. You will be able to follow the winners' table below, and share your win with your friends! We will be posting the date on which you won, the channel you won through and your name – or nickname, if you want to go all Satoshi Nakamoto on us! 
| Giveaway | Winner |
| --- | --- |
| Giveaway #1 | The winner of the first hardware wallet is Ivan Ari Kuczynski |
| Giveaway #2 | |
| Giveaway #3 | The winner of the third hardware wallet is @WhishaV |
| Giveaway #4 | |
| Giveaway #5 | The winner of the fifth hardware wallet is @Profilineekb |
Giveaways and Much More!
We would like to thank our partners once again for the opportunity to host this exciting hardware wallet giveaway competition. A special thanks to CryptoHWwallet for providing the wallets, Bitcoinmeme.com for joining us in this incredible giveaway and to CoinsBank for putting us all on the same ship, and bringing some of the top people in the industry together in the Caribbean. We can't wait to go on the next blockchain cruise and meet even more of the movers and shakers in the industry. We surely hope to see you on the next cruise, but above all, we would like to thank you. Our readers are the ones who made this possible, and we hope to reward you with many more giveaways like this one in the future. Keep on visiting Bitcoin Chaser and follow us on social media for more promos like this giveaway, and much more!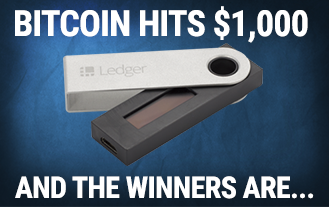 It finally happened. Bitcoin surprised everyone on January 1st, 2017 when it surpassed the $1,000 USD mark, and two of our readers who made the most accurate predictions, won a Ledger Nano S wallet. Both readers were the most accurate in their predictions and had the...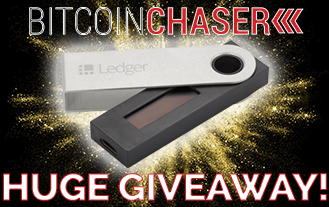 Bitcoin has had a tremendous year! It shattered the $800 US Dollar mark just a few days ago, and now it seems like it will never look back! There are those who thought the $1,000 US Dollar mark was untenable, but it seems it is only a matter of time until bitcoin...