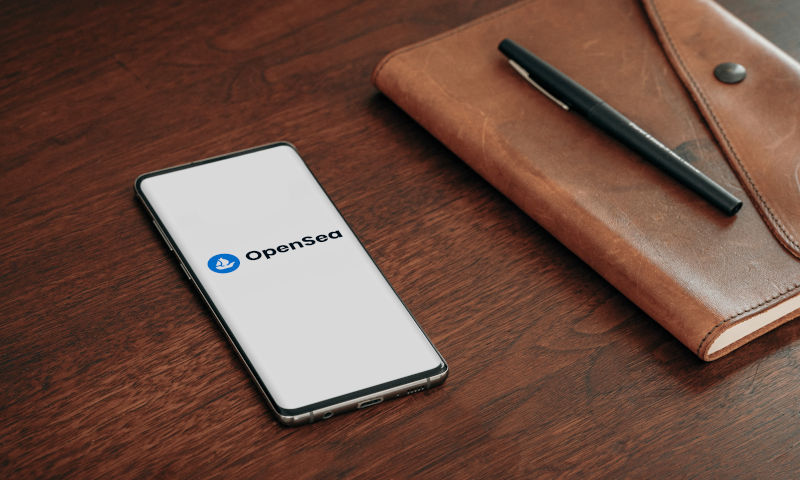 Following the rise of the non-fungible token (NFT) in 2021, NFTs steadily gained widespread recognition with mainstream corporations such as Coca-Cola and Pearson entering the fray. There are even some unexpected even unexpected entries such as Bill Murray launching an NFT collection about his life for charity on Coinbase in August 2022 and Anthony Hopkins announcing that he would be selling his own NFT artworks on OpenSea in September 2022.
Although the prices have been on the decline since the beginning of 2022, there are still many old and new HODLers who are interested in the potential of NFTs, whether they be as investors, gamers, or those who see its function as being connected to the blockchain as its main benefit. Here we will explore the best way to buy each type of NFT.
Table of Contents
1. Create a Wallet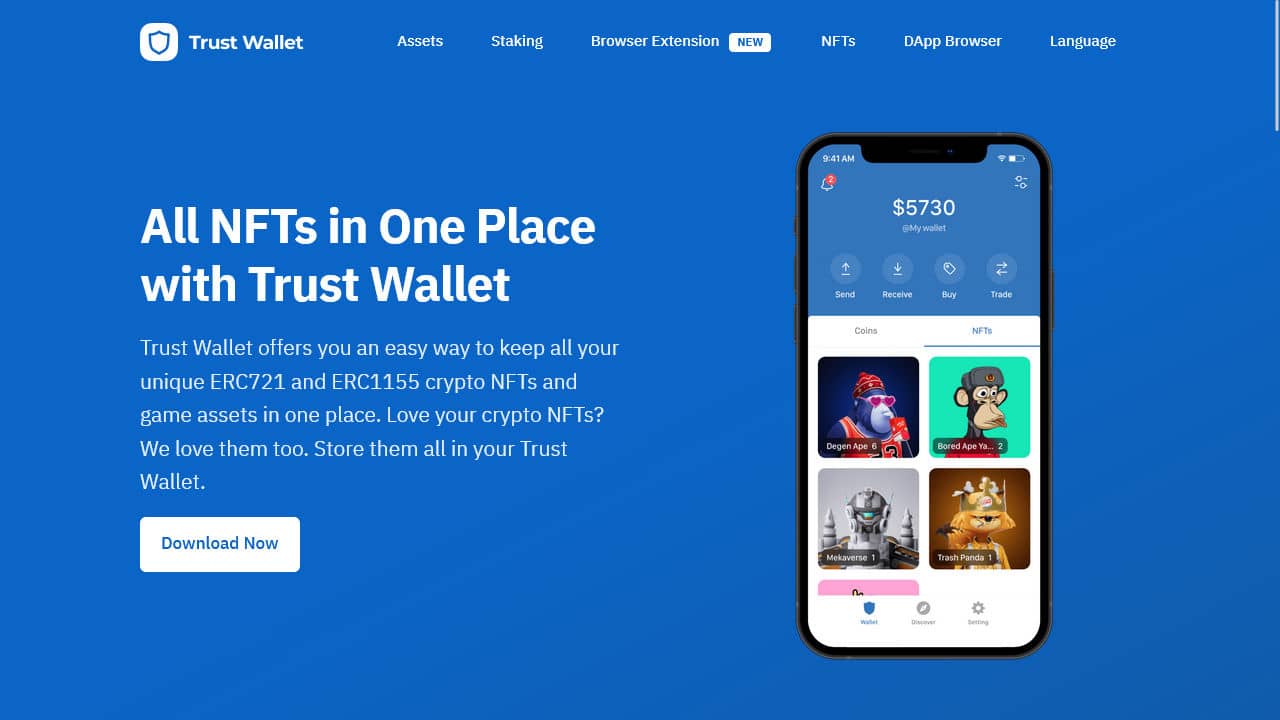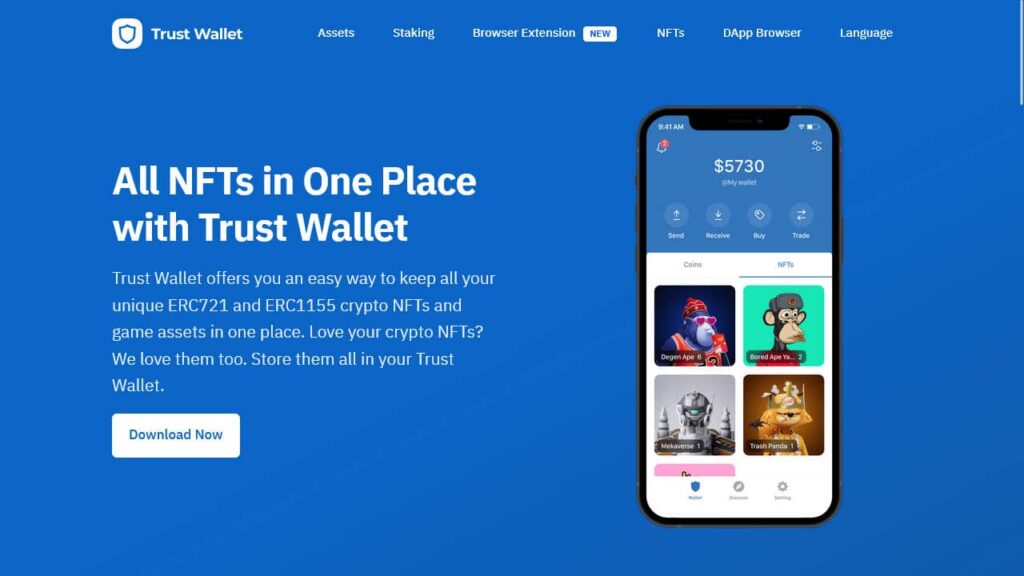 You cannot buy an NFT without having a crypto wallet, so the first step in the process to buy an NFT is setting up a wallet.
Most decentralized applications will have an affiliated or recommended wallet that is compatible with the blockchain on which their NFTs and altcoins are based. 
A lot of platforms have their own wallets such as Reddit's vault or Coinbase. This means when you open an account at Coinbase, for example, they offer you an in-built wallet ready to go.
And such wallets connected to centralized platforms are fine in the short term. But if you are buying NFTs or otherwise investing in the crypto world, it is advised to get a wallet completely dissociated to a large trading or NFT platform.
To find the right wallet for you, it is worth reading our guide on explaining the many types of wallets available.
2. Buy Cryptocurrency
NFTs are purchased using cryptocurrency, so you will need cryptocurrency in order to buy an NFT.
The kind of cryptocurrency that you can use to buy an NFT will vary from platform to platform. The price is usually listed in the relevant cryptocurrency. For instance on OpenSea, Ethereum-based NFTs will be listed in ETH, while the Solana-based NFTs will be listed in SOL.
It is therefore important to check the price listing before purchasing cryptocurrency so as to ensure that you are purchasing the correct type.
You can buy cryptocurrency with fiat currency either through a cryptocurrency exchange platform or through a broker. To buy cryptocurrency on a crypto exchange, you will need to create an account and either connect your existing wallet or create a wallet on the platform, depending on the prompt and then transfer your fiat currency into your wallet.
Depositing fiat is the same as conducting a usual electronic payment or transfer, so you will need to input your credit card information. It is therefore advisable to verify the reliability of the platform or broker, as well as ensure that your internet connection is secure before performing a transfer.
3. Choose an NFT Marketplace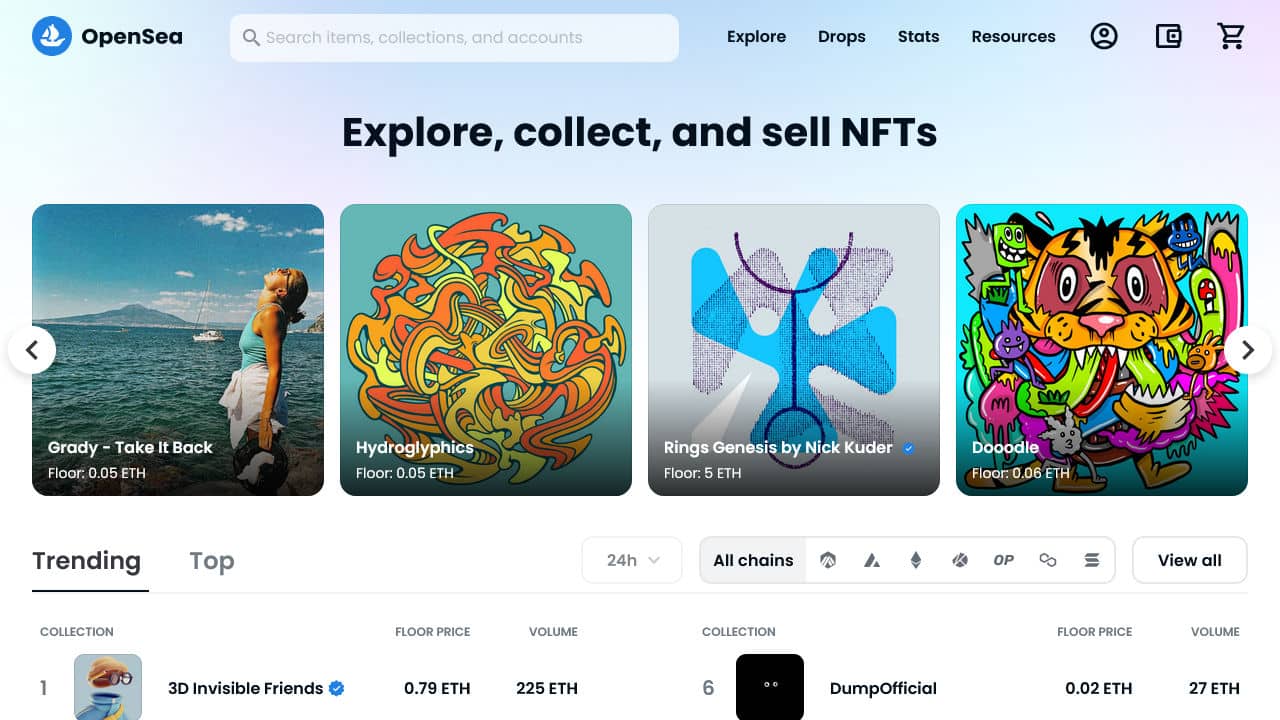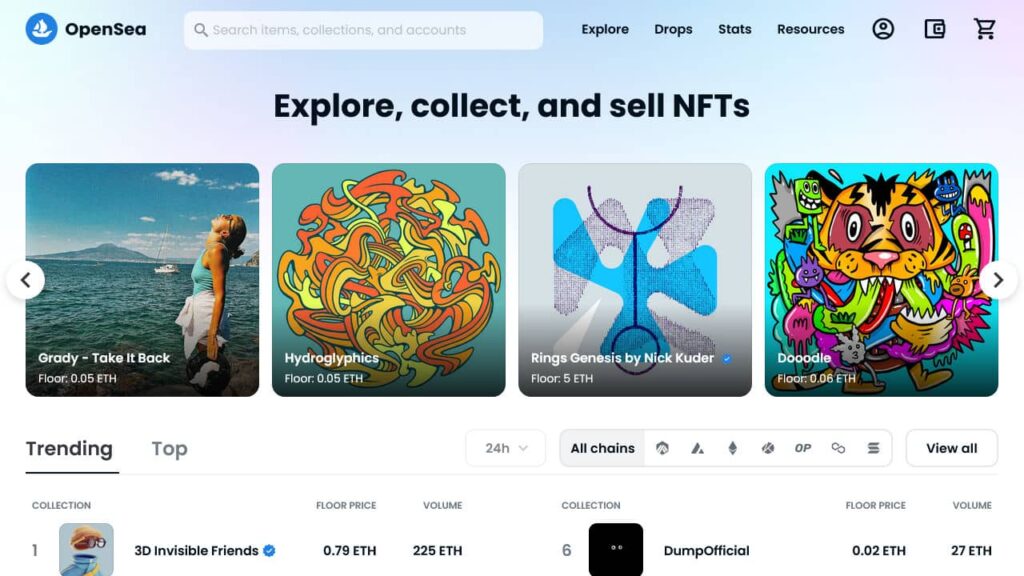 Once you have a wallet and crypto, the next step is to find an NFT marketplace. An NFT marketplace is a platform that allows buyers and sellers to find each other much like Amazon or eBay acts as an intermediary between its users.
NFT marketplaces can be either dedicated to NFTs or as one of the services on the platform. For instance, OpenSea is an exclusive NFT marketplace, whereas Coinbase is primarily a cryptocurrency exchange platform that also enables the exchange of NFTs between users.
Can you buy an NFT at any marketplace?
It is not possible to buy an NFT at any marketplace for two reasons. Firstly, since NFTs are exchanged through smart contracts, it is only possible to set up one smart contract for it at a time. Secondly, most platforms are only able to support NFTs from dApps that were built on certain blockchains. So if a marketplace is only compatible with Ethereum-based NFTs, then you will not be able to purchase NFTs that are built on Solana or Cordano on that platform.
4. Create an Account
Once you have settled on an NFT marketplace, you will need to create an account on it, just as with a usual marketplace site or app. One part of setting up your account is to grant the platform permission to connect to your wallet. You will also need to set a password.
It is best to create as complicated a password for your account as possible and to store your password and private key off-platform, as tertiary platforms and bridges are more susceptible to hacks caused by protocol weaknesses and human error than are foundational blockchains. Since your wallet is decentralized and all parts of the fulfilling transactions on these platforms are performed by smart contract, meaning automatically through the blockchain,
5. Buy the NFT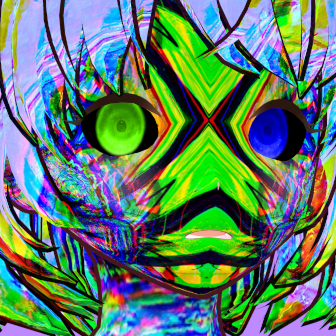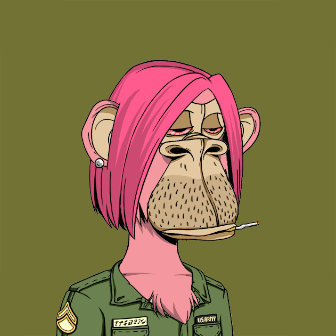 Now you are ready to buy an NFT, all that is left to do is to select the one you want. There are many different types of NFTs to choose from, so do your research before settling on anything.
As with usual online trading platforms, once you have everything set up as outlined above, you can simply browse an NFT marketplace or dApp, select an NFT, press the 'Buy' button, agree to the prompt and make the trade.
Once the transaction is complete, your NFT will immediately appear in your wallet. The transaction data will be stored on the blockchain and is fully visible to anyone interested in the transaction history. However, as the wallet is encrypted, they will only know which wallet currently holds the NFT. The actual owner will not be known unless they make their identity known.
Age restrictions for buying NFTs
It is decentralized so technically there is no way to trace your age. However, chances are you'll need a credit card, so old enough for a credit card at least, unless you earn free crypto and use that, or if you play a free play-to-earn dApp game. Additionally, it will depend on the platform. If you are purchasing an NFT through an official channel (which you should be if you want to reduce the chance of being scammed or hacked,) then that platform, such as a cryptocurrency exchange platform, is subject to the laws of the country in which it operates. Therefore, in the US or Canada, you will need to be at least eighteen years old to transact on a platform such as Binance or Coinbase. To get around this, someone under the age of 18 could ask their guardian to set up an account for them and purchase NFTs on their behalf.
Tips for Buying NFTs
Selecting an art NFT investment is obviously trickier than with other types since you're trying to guess the future value of a current hyped-up fad whose long-term value is yet unknown. So, it is important at least to figure out which sales platforms are legitimate and which artists are the most popular. Therefore, it is useful to keep these tips in mind before buying:
Do your due diligence
Before signing up with a platform or performing a transaction, do your research into whether the NFT has investment potential and whether the platform on which you will perform the transaction is reliable. A good way to discover this is through various forums such as Reddit (r/cryptocurrency) and Quora. Searching past posts or asking your own queries will reveal more than just looking at the information offered by the platform itself.
Looking at various cryptocurrency exchanges or sales platforms and examining the shifts in prices and trade volume could also be helpful in figuring out market trends. Nevertheless, it is still important to remember that the cryptocurrency market is notoriously volatile, and this is true for the NFT market as well. So, try to avoid the fear-of-missing-out bandwagon, or of investing more than you can afford to lose.
Use the search function
Many platforms allow their users to create and upload NFTs to their platform without much gatekeeping, so it is easy to get confused with copycat selections. Using the 'search' function to find an exact collection makes it easier as that is what will appear first from the 'search' findings.
Check the price
If you know that an NFT collection is popular based on research, then you can expect the price to match. For instance, if you see a 'Bored Ape' NFT with a price tag equaling a few dollars, you can be sure it's not from the original BOYC collection. As a general rule of thumb, if something seems too good to be true, it usually is. Checking the price history is also a good way to confirm whether you are getting the NFT for a steal or a scam. This information should be visible on the item's sale page.

Store Your NFTs Securely
Do not store your collection in a wallet that is attached to a marketplace platform or cryptocurrency exchange. Many of the hacks that have occurred have been through blockchain bridges that connect the dApp to the base blockchain that it is built on. It is therefore advisable to not keep more cryptocurrency and other digital assets on-platform than needed when you are not using it. Instead consider moving them to a second wallet, perhaps even a hardware one.
Check the price history
Established NFTs will have an infallible trade and price history that is reliable due to all transaction data being stored on the blockchain. This is a useful method of checking its value of time and also of confirming its minting date. Below is an example from OpenSea.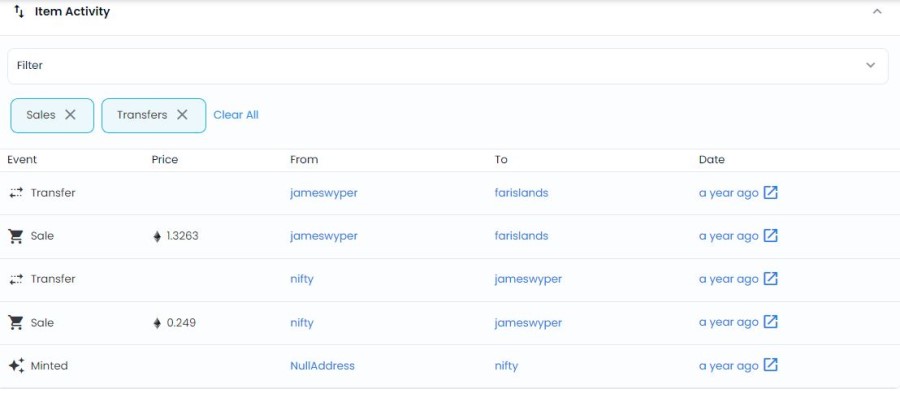 How to Get NFTs for Free
The best price for anything is always free, and certainly safer than sinking money into something you're not sure about. Two methods of acquiring free NFTs include free play to earn dApp games and airdrops.
Free games
There are some free gaming dApps that allow you to play and earn NFTs without paying any upfront fees. Most of these do also have the option for microtransactions that can help boost progression as with more traditional mobile and mainstream games these days (think Hearthstone or any gacha game.) This means that if you want to unlock content faster, there is the option to make in-game payments for on-platform digital assets in the form of card packs, in-game currency, upgrades or many other perks. The upside to this is that many of these games also allow for trading of these in-game assets for cryptocurrency with other players, which means that it is possible to earn crypto by playing even free-to-play crypto games. Some examples are listed here.
Airdrops
It is possible to get free NFTs as airdrops. Airdrops are limited events where the developers of a platform give away free altcoins or NFTs as part of a promotion. They can be given out as part of an advertising campaign for an IGO, because the artist felt like it (as was the case with the original Crypto Punks) or for other purposes such as with the Reddit NFT airdrop in August 2022. As with any other NFT, you will need to create an account and have a compatible wallet. It is also advisable to only accept such offers from reputable sites to avoid trojan attacks or other types of hacks.
Read more about NFTs: