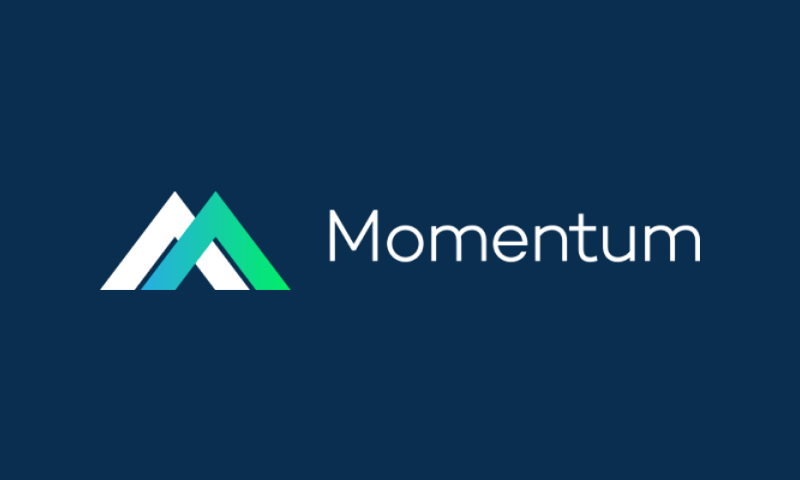 This is an ICO project from an existing business called Mobile Bridge. This company has over 3 years of experience in this sector and has nurtured relationships with some established retailers and brands, such as Burger King, Dansk Supermarked and Volkswagen. Its new product, Momentum is a loyalty protocol which allows the creation of loyalty tokens for individual brands through the Ethereum network, using ERC-20 protocols. Meanwhile, the existing Mobile Bridge solution sits on top of this (as a middleware layer) to use the tokens to optimize marketing.
Momentum Wallet
Momentum Wallet is a mobile app in which users can store either Momentum tokens or individual brand tokens. Not only will consumers be rewarded for purchases but also for any level of consumer engagement, be it: reviews, social media mentions (i.e. hashtags and tweets), signing up for newsletters, or for recommending their products or platform to their friends. Although joining the mobile application will be free, consumers will have the ability to opt in or out of sharing their personal information with companies.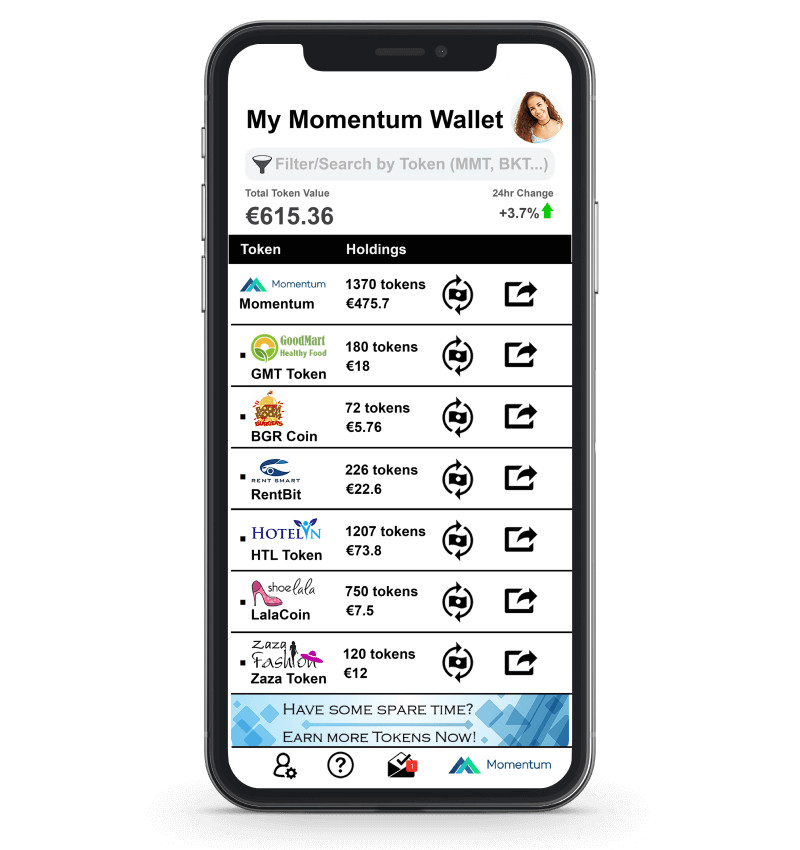 The Issue with Current Loyalty And Marketing Programs
Consumers often don't see value in most marketing campaigns and loyalty programs as they commonly result in email or postal spam, and the loyalty points are left unused and expire. Momentum will enable brands to either use the Momentum token, or create their own brand token. Users can then exchange any company branded loyalty token into any other loyalty token on the platform, or exchange them for Momentum Tokens, which will be publicly traded and can in turn be exchanged for crypto or fiat.
What Experience Does Momentum Have?
Through its parent firm, Mobile Bridge, Momentum already has an experienced team, an awareness of the market and a variety of partners who are interested in using this platform. Momentum is currently negotiating to integrate some of these partners to the platform. This gives Momentum the edge over some of the other blockchain-based loyalty programs entering the market as they are established and see this move as a logical next step as opposed to any level of business strategy change or major diversification.
Momentum is a complementary product to Mobile Bridge's primary service. Its existing customer base means they are in a good position to offer this service upgrade and take advantage of the benefits that blockchain technology offers.
Social Media Interaction Reward Program
The loyalty program which grants rewards via social media, uses an API tool. Momentum can thus use any interface which works with their API. Momentum can then verify post authenticity in two ways: From its mobile app using the API or through a direct post from a social media platform and a hashtag or link to Momentum added allowing them to associate it back.
Momentum incorporated elements of gamification to its platform by rewarding people to comment, hashtag, share a newsletter, share data about themselves, recommend to friends and more. Basically every interaction that is of value to or good for the brand that it is supporting.
Legislation & Regulations
Mobile Bridge is an existing company with some great partnerships. It is well versed in how to operate legally and in accordance to regulatory and procedural standards. To ensure compliance, Mobile Bridge proactively contacted KPMG to ensure its operations were within the legal framework and complied with taxation law. Momentum hopes this proactive action will reduce the risk to investors, and help give people confidence in the longevity of Momentum as a business.
Data Gathering & Market Research
To engage consumers effectively, stores need to track data about them. The way the data is stored and used needs to be GDPR compliant – meaning the customer must have full control of the data and have the ability to opt out or tailor the accessibility of their data to companies if required.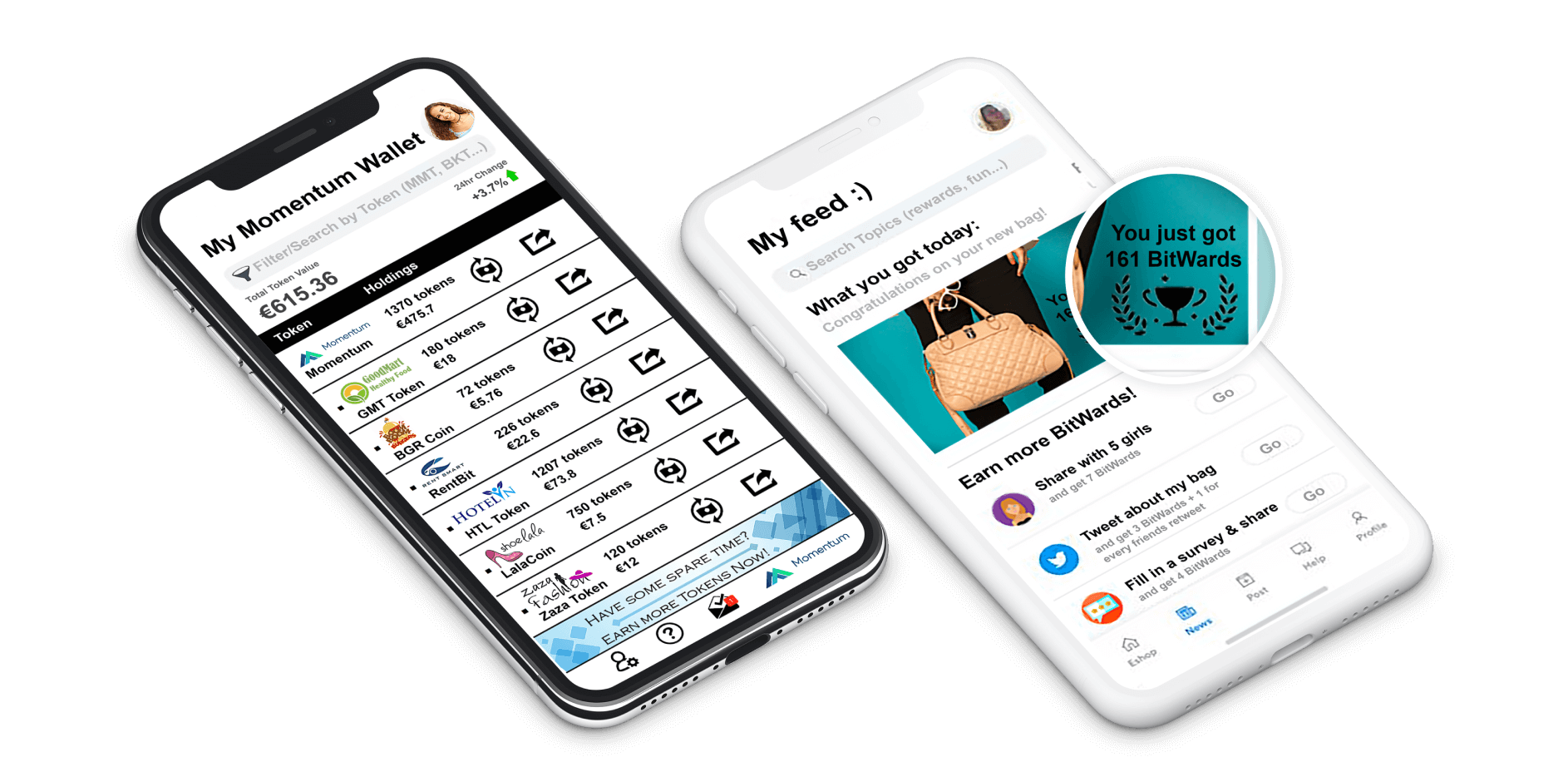 Momentum Token – MMT – & its ICO
Momentum created a proof of concept mobile application. The Momentum Token (MMT) is the utility token behind the platform. It is in private sale now and will be in public sale soon with a minimum entry level of $100 per person. This is due to happen in July/August.
Each business with whom they partner will have their own token, which will only work within its own loyalty program or eco-system. A consumer can then trade these tokens in for either Momentum tokens or an alternative crypto or FIAT. Momentum tokens (MMTs) will be susceptible to price changes over time. This means that using the Momentum token will not be the best option for use in their partnership loyalty programs. The tokens used in the loyalty programs need to have a fixed price. Partnership specific tokens will not be publicly traded like ICO tokens; they will only be available in the Momentum platform or from the partner firm directly.
Tokenomics
1 billion tokens have been issued and only half of these are earmarked for sale.
33% of the total tokens will be put into a strategic reserve and will be held for 3 years.
For the team 2% of the tokens created are earmarked for advisors.
3% of the tokens will be allocated to the Mobile Bridge team (30 people) and they will be frozen for 12 months before employees will have the option to sell them.
5% of these tokens will be for the long-term team retention and will be given out after 2019 to future or existing team members.
A portion of tokens will be allocated to the bounty program.
Token Sale Targets
Momentum's soft-cap is 25 million EUR with a hard-cap of 42 million EUR.
Sales are restricted in the US. China however can participate.
Conclusion
Momentum has a good chance of succeeding, since it has a great understanding of the sector it operates in. It also established partnerships with a range of well-known brand names. This is all a result of having an existing 4-year old company in this sector. The fact that Momentum sees the opportunity of using ERC-20 tokens to improve the efficiency of Mobile Bridge's existing service, means it should be a relatively straight forward development of the business.
The Momentum token sounds like it could have a lot of potential. It will allow users collect tokens from one vendor and use them with another via the exchange mechanism. Users will be able to collect loyalty points on their morning coffee and trade them in once a year on a family holiday or outing for example. The success of the whole program will ultimately depend on how well the application is adopted and the diversity of partnerships it can bring to its users. Time will tell!
For more information on the Momentum ICO – visit https://momentumtoken.io/