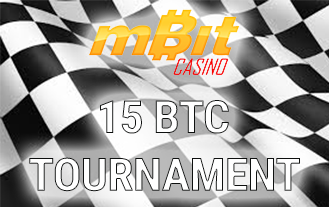 It was an incredible holiday month for mBit players. The 10 BTC holiday slots tournament was a huge success. The top 30 players all got a piece of that 10 BTC in prizes, and now mBit wants to start the New Year right where it left off in December, but this time around the prize money will be much bigger! This is not only because bitcoin prices are going up at break-neck speeds, but because mBit has decided to give you more in bitcoin terms!
15 BTC in Prizes for mBit Players!
Now the tournament will have a total of 15 BTC in prizes. That is 50% more than the last time, and it also includes more games! The rules for the new tournament are similar to the rules for the previous one. Here are the key details of this amazing promo:
Players will compete to be the top wagerers during the month of January, 2017.
The top 30 players will get a prize. The tournament ends on January 31st, 2017 at 11:59 pm UTC.
This time, there will be 2 tournaments going on in parallel.
All players can participate in both tournaments.
The first tournament, will be a repeat of the 10 BTC slot games competition that was immensely popular.
The second tournament that will take place at the same time will be the 5 BTC prize table games tournament, for which the top 30 wagerers will get a prize just like with the slot games tournament.
You wallet will burst with wins!
These tournaments are a great opportunity to hit jackpots and win, and then compete to be in the top 30 and win again. It is obvious why the holiday version was so popular, and now that bitcoin prices are climbing above the $1,000 USD mark, you can win 3 times with jackpots and prizes that keep getting bigger even after you win! This is an amazing tournament to kick 2017 off, and make your wallets burst with a triple win! So what are you waiting for? Go ahead, get your wallets ready and start playing at mBit Casino!