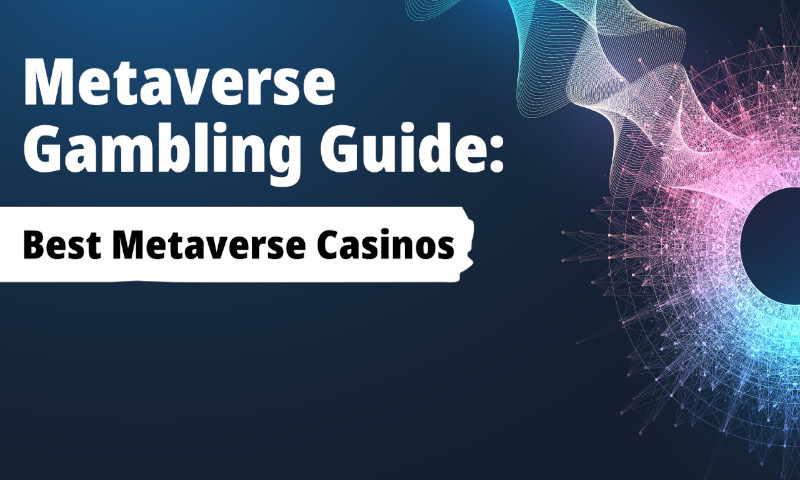 Metaverse is more than a buzzword, it is an immersive 3D virtual world on the internet. But the Metaverse and its opportunities expand even further than that.
There is not one singular purpose or description of a Metaverse, but that is what makes it exciting. We see Metaverses like Roblox allowing users to create interactive games for the community, and then we see Metaverses like Cryptovoxels who prioritize building digital experiences. The big three Metaverses being built so far are Sandbox, Decentraland, and Cryptovoxels.
Metaverses in their most simple terms are virtual 3D worlds where users can interact with virtual land, games, people, and more. Some of the expected features and things you can do in a Metaverse include:
Create, buy, and sell art
Buy land and build
Customize your avatar
Play games
Enjoy virtual experiences
Socialize
Run your business
Attend concerts, conferences, etc
Create, buy, and sell virtual merchandise
Get a job
And so much more
Gambling In The Metaverse
While the Metaverse is still very much in its infancy, we are seeing more and more innovative ways to interact in these worlds. One industry that has specifically already found great success in the Metaverse is the casino sector.
Metaverse gambling has made it possible for heightened human interaction in online gambling. Through the use of VR headsets and 3D characters, backed by audio input and output, you can experience online gambling with your friends and strangers in a whole new way.
Because Metaverses are largely based around the future of Web3, we can expect to see a lot more blockchain gambling sites and cryptocurrency casinos popping up. Through the use of these technologies, users can expect more secure cross-border payments, and a more transparent casino system overall, especially if provable fairness is brought into the equation.
While offering plenty of new online casino benefits, these Metaverse casinos still provide the same benefits of online over physical casinos. Unlimited operating hours, loads of payment methods, and gambling earning potential are all still in store.
Metaverse Casinos 
While Metaverse gambling is taking off, with more Metaverses joining the hype, Decentraland has been a long-time consistent player in the Metaverse casino game. For the purpose of this piece, we will be exploring Decentraland and its best Metaverse casinos.
First things first, you will need to create an account on Decentraland to bypass limited access, additionally, you can also download the app to even more ease of use. To get started:
Step 1: Head over to https://decentraland.org/
Step 2: Click "download" or "open in browser"
Step 3: Create an account with a linked wallet
Step 4: Create a customized avatar
Step 5: Create a username and add your email
Step 6: Start exploring and winning
Tominoya Casino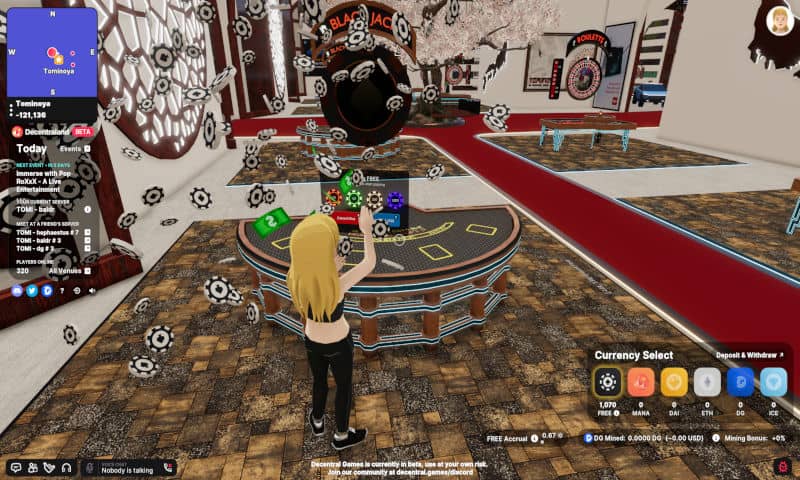 Coordinates: -120, 135
Currencies: MANA, DAI, ETH, DG, ICE
Games: Blackjack, Roulette, Slots
Chateau Satoshi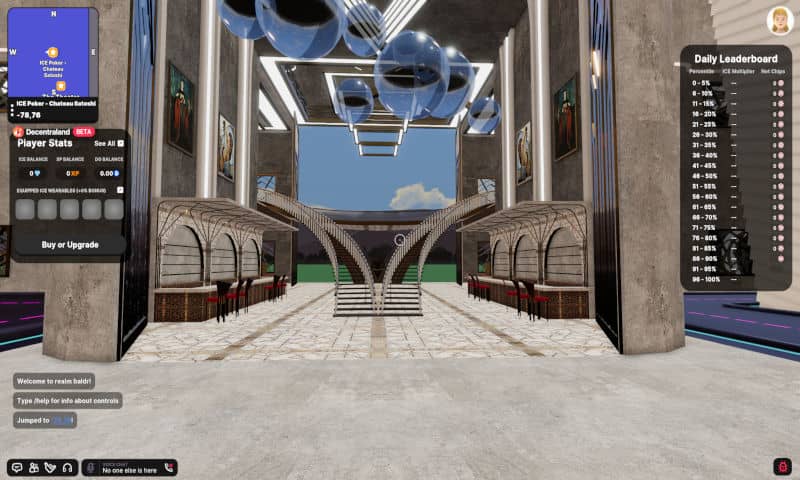 Coordinates: -75, 77
Currencies: MANA, ETH, DG, ICE
Games: Blackjack, Roulette, Slots
Serenity Island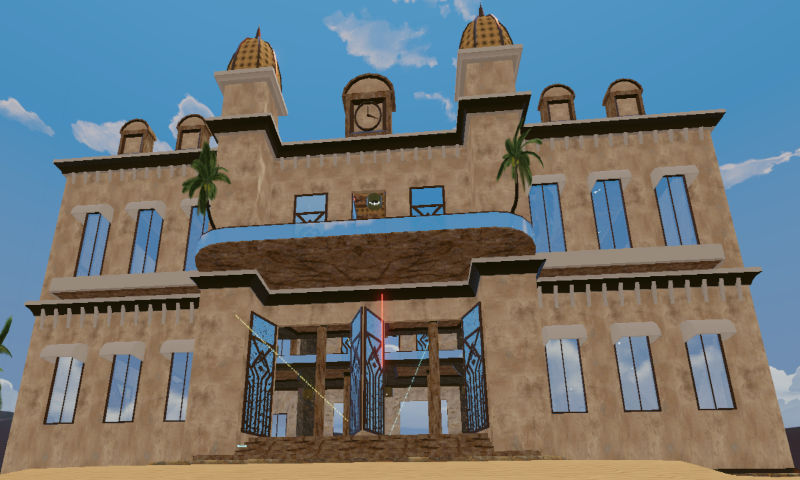 Coordinates: -146, 112
Currencies: MANA, DG, DAI
Games: Blackjack, Roulette
ICE Poker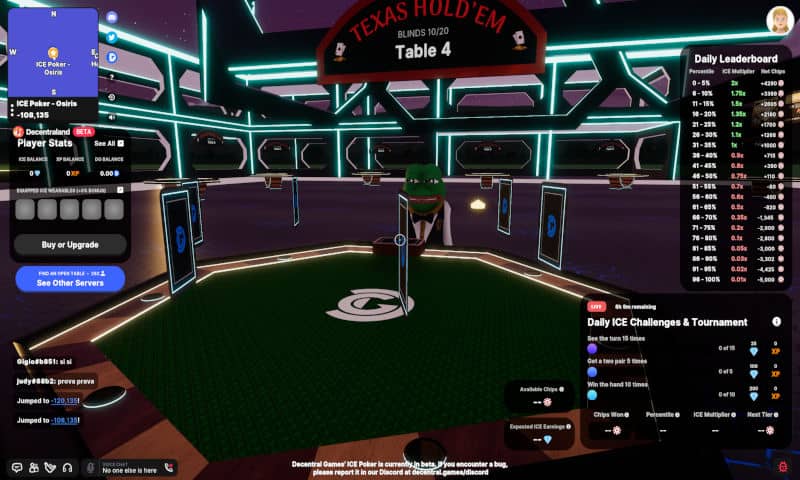 Coordinates: -100, 127
Currencies: DG, ICE
Games: Poker
The Flamingos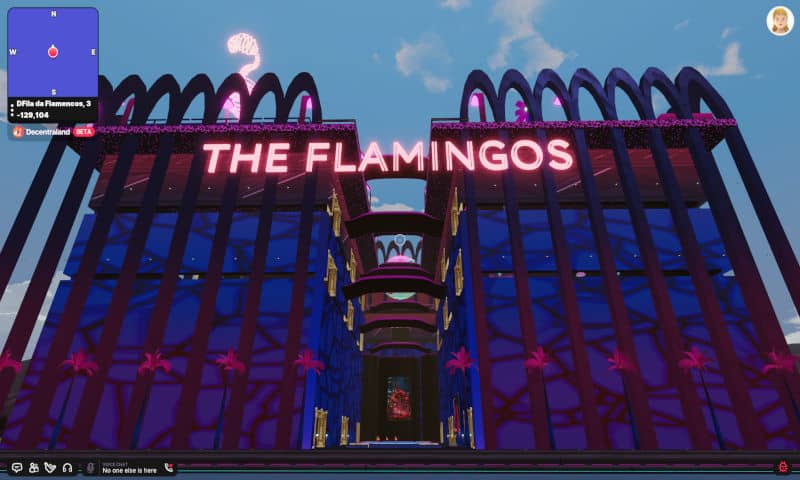 Coordinates: -129, 114
Currencies: MANA, DAI, ETH, DG, ICE
Games: Blackjack, Roulette
How To Deposit At Decentraland
Depositing is as simple as linking your wallet. Some of the compatible Decentraland wallets include Metamask, Coinbase, Crypto.com, Ledger, Zerion, Tokenary, Infinity Wallet, RICE Wallet, Vision, ApolloX, PunkWallet, Exodus, KryptoGo, and more.
Each Metaverse casino accepts different cryptocurrencies, but your safest bet is buying MANA, the native token of Decentraland. Once you choose which wallet you will be using on Decentraland, either move your MANA from another wallet or buy MANA using fiat.
How To Play At Casinos In The Metaverse
Open your maps by clicking the feature in the top left corner, or click "M", then choose your preferred casino. Once you have been transported to the metaverse casino of your choice, head over to an open table.
Once you get the table, you will see a variety of betting options pop up. Start by choosing the currency you want to play in, then select a bet amount token. Depending on your game choice, you will place your bet token on what you want to wager on. Slots are as simple as clicking spin. Roulette is a little more tricky, allowing you to choose the color or number you are betting on. Overall, the experience is simple and user-friendly.
Once the results have been confirmed, you will either see money rain down as you collect your winnings, or you will be prompted to place another bet. It really is that easy.
Casinos In The Metaverse Conclusion
The metaverse is a very new concept and still has a few bugs to be fixed. Unless you have an incredibly dedicated graphics card, you are likely to run into some lagging and display issues. This does not take away from the exciting experience though and only shows how far there still is to go.
The phenomenal architecture and friends you make along the way are something that can not be replicated on many online gambling sites. Some casinos, like ICE Poker, even allow you to earn XP and rewards for wearing your digital wearables. There is so much potential to still be explored, but these best metaverse casinos are a great example of where we are heading. Gambling in the metaverse is fun, easy, and rewarding.
Even if you are unsure of the process, you can head over to one of our recommended casinos in the metaverse and play for free. Explore the surrounding buildings, claim free NFTs, attend events, then teleport right back to your favorite casino and play a few spins on the slots.
Metaverse casinos, and the metaverse as a whole, highlight how easy it can be to travel access the map, and enjoy a wide range of experiences straight from the comfort of your screen. This is just the start of gambling in the metaverse.