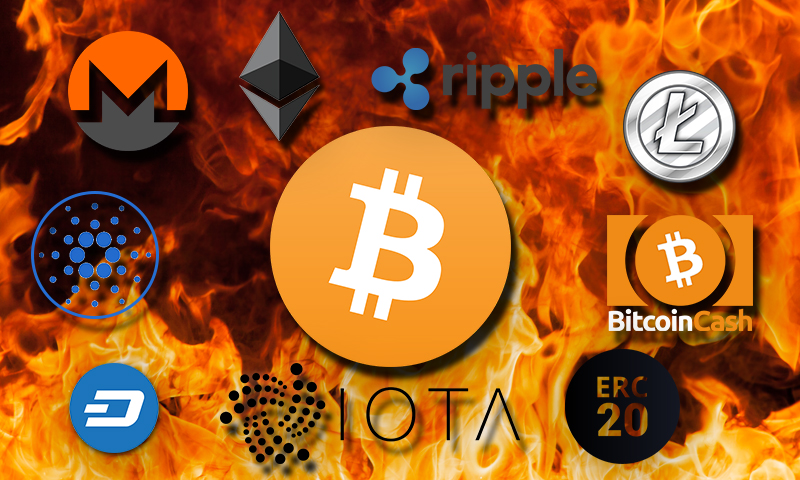 Bitcoin dominance is at record low levels. While BTC is largely sustaining its prices, it is clear that fiat flowing into the markets right now is looking for alternatives. Cryptocurrency markets are now worth more than $760 billion USD, and on their march towards $1 trillion, a certain kind of altcoin seems to be the winner. For now, at least. 2018 might be the year of the altcoin, a very specific kind of altcoin.
Bitcoin Dominance
Newer altcoins like Cardano, Tron, RaiBlocks, IOTA and ICON, are making their way up. Nevertheless, the winner so far, this year is Ripple, a coin that is largely controlled by its own foundation and in which banks and other financial institutions play a central role. As these altcoins rise and more fiat joins cryptocurrency markets, Bitcoin dominance plummets, dipping down from 50% on December 19th and reaching its all-time low at around 33%.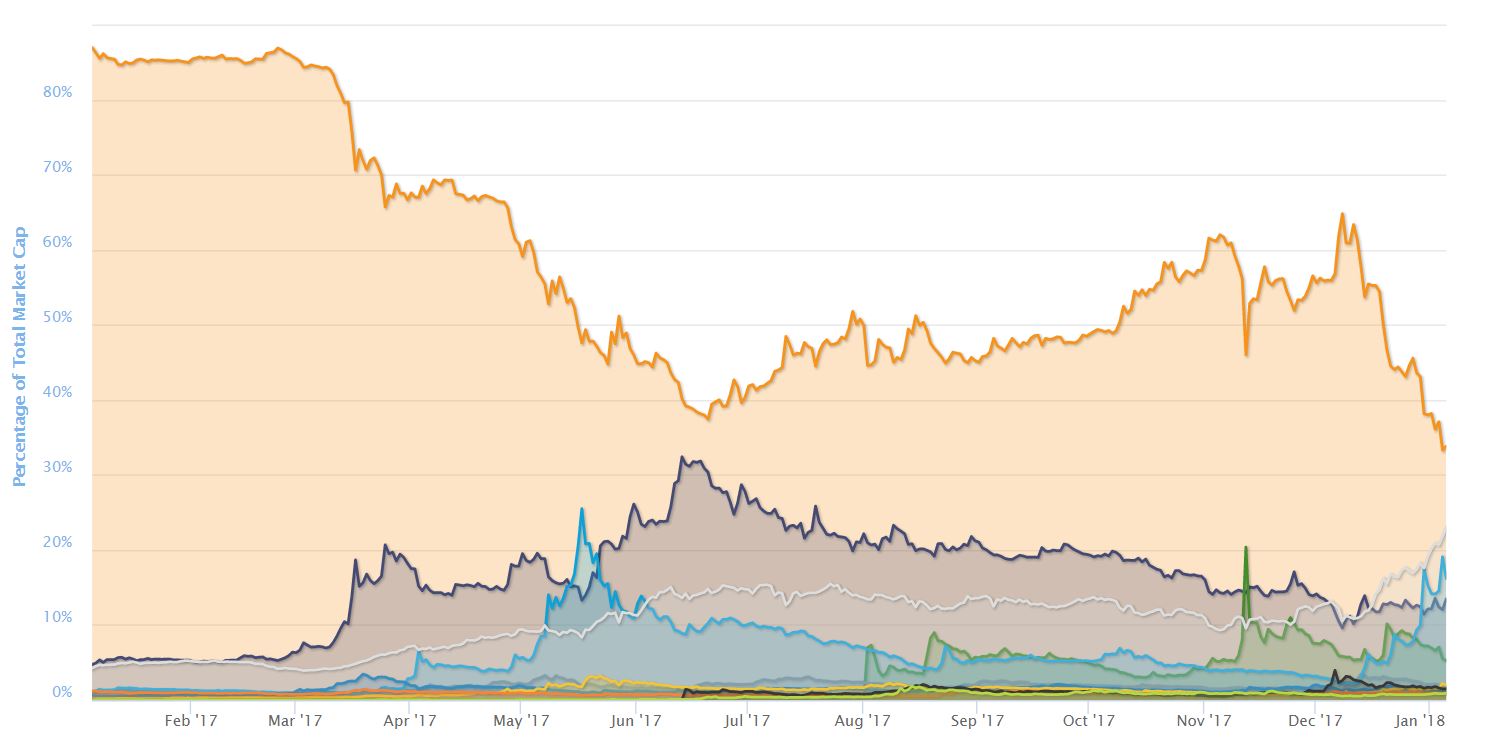 Don't Rush to Declare 2018 as the Year of the Altcoin Yet
But Bitcoin has been here before. Investors should know that Bitcoin dominance hit a low of 37.44% just under 6 months ago. BTC recovered from what was an all-time low then and soared, establishing several new all-time highs despite serious head winds, like a clamp down in China, temporary mining resource depletion in favor of BCH, multiple bubble calls and the contentious 2X fork that did not go through. Although the past is not necessarily an indicator of what may happen in the future, a Bitcoin recovery should always be in the mind of those who are active traders. It might be too early to declare 2018 as the year of the altcoin.
Gateway Crypto
Bitcoin, despite its transaction issues, is still the most accessible cryptocurrency out there. According to coinatmradar.com, there are 2025 Bitcoin ATMs spread over 61 countries. The alts that the new fiat money is flowing into, are years away from such a network effect, and with the competition there is out there, their success is not guaranteed. Bitcoin is still the "gateway crypto" for thousands of people looking to get into cryptocurrency markets from fiat largely because it is widely available. Bitcoin prices might owe their relative stability to the network's role as a gateway into cryptocurrency markets.

Benefitting from Bitcoin's Success
The Bitcoin-altcoin relationship is more intricate than we think. As much as its status as a gateway can be holding Bitcoin prices up, it is possible to argue that the altcoins that are rising right now, owe their success to Bitcoin and to some extent to other well-established coins like Litecoin and Ether. Cryptocurrency market cap and Bitcoin prices were closely correlated up until December 17th. The decoupling only happened 3 weeks ago.

Since Bitcoin is still the most widely available cryptocurrency in terms of fiat to crypto gateways, if a significant part of the fiat money that has been flowing into cryptocurrency markets lately suddenly starts flowing out, a lot of it will go back to fiat through Bitcoin. This will inevitably cause a sudden rise in Bitcoin prices with a potential crash in smaller altcoin prices and one of those epic BTC mempool bottlenecks that we are already used to. It is therefore way too early to declare 2018 as the year of the altcoin.