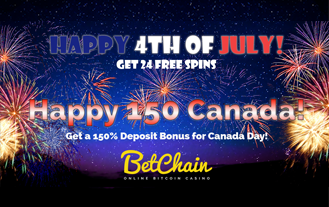 This weekend, BetChain is lighting all the fireworks, heating up all the grills and handing out all the beer for Canada Day and Independence Day. Come join us and celebrate with Canadians and Americans alike, and take all the gifts with you while you are at it. After all, not every day does a nation turn 150 at the same time that its neighbor to the south turns 240! This is the opportunity of a lifetime to celebrate both in the north and in the south without moving away from your computer screen!
Since we are in charge of both parties, we have put together a very singular bonus to celebrate both. Party in Canada first, from Thursday June 30th, until Friday July 1st, and be part of the 150th anniversary of the great white north! You will get a 150% deposit bonus on this very special Canada Day celebration, for your first deposit of up to 0.25 BTC or $/€ 25 on each day from Thursday until Saturday. So don't let this once in a life time opportunity slip, and celebrate with all the Canadians on this very special occasion.
But if that wasn't enough, we have more parties coming up. Make sure your grill is white, red and blue hot before you cash in on your 24 free spins, one for each decade that the US has been an independent nation! All you have to do is make a deposit of either 0.24 BTC or $/€ 24, on Saturday July 2nd, or Sunday July 3rd, and you will be on your journey for freedom and the pursuit of quality entertainment!
This is the perfect opportunity to win all those jackpots that will get you your own version of the American dream! Let our fireworks jump from your computer screen with every winning spin! Enjoy this special weekend with the most amazing Canada Day and Independence Day bonuses out there!