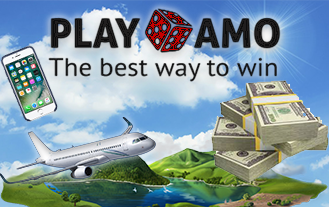 This is truly one of the best promos in the history of winter casino bonuses ever! Playamo is going all out on a massive slot race with some wicked prizes for the winners! There can be more than 50 winners, which means every player has a great chance of getting one of those coveted prizes. iPhone 7 phones, €10,000 in prize money, 10,000 Free Spins and even a full package trip for 2 to Thailand are in play. That is blazing hot for a winter promo!
How do I get a piece of Playamo's Prize Pie?
All you need to do is race all other players to the top, and you can win! To do this the only thing you really have to do, is what you like to do in any case: Spin and win! Make sure you are the top wagerer and you will be able to win a prize every week.
Top 25 weekly wagerers will get a share of a weekly €2,500 give away.
The winner will take an iPhone 7 home.
For any deposit of at least $20/€20/CAD25/AUD25/SEK200 or 0.01 BTC, players will get a ticket for the Free Spin lottery.
There are no limits to the amount of lottery tickets every player can get.
The raffle will take place during the first days of the New Year.
50 lottery winners will get their share of a whopping 10,000 Free Spin Playamo bonus!
What a prize party! The only thing you need to do is start wagering aggressively. The best part of it all, is that you will be able to score tons of wins while you participate in this wager race to get these coveted prizes! Don't miss out, bonus promos like these rarely ever come around. Just sign up and start wagering to become the luckiest Playamo player out there! Race to the top and bring the house down with this mega jackpot opportunity!