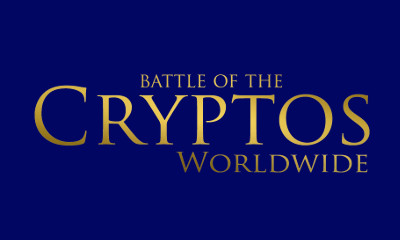 The Battle of the CRYPTOS, set to take place on March 13, 2018, at the Grand Hyatt in New York, will curate discussions on Blockchain and Cryptocurrencies within financial markets.
At Crypto World Journal we believe that blockchain technology is a force that will help shape our future. That is why our mission as a company is to "Build a Better Blockchain Community". As part of our commitment to building a better blockchain community, we would...
read more
Only on Saint Valentine's Day: buy two tickets to Blockchain & Bitcoin Conference Israel for the price of one. The special offer is valid only on February 14.
read more
On March 1, 2018, for the first time ever Istanbul will host Blockchain & Bitcoin Conference Turkey, the event dedicated to legislative initiatives, new trends, and timely solutions in the blockchain industry and ICO. Leading global experts from various industries...
read more
CoinFabric, a full-service for launching ICOs and ITOs, had an impressive start to the year. They secured valuable strategic partnerships, expanded their global team, and completed successful ICO campaigns.
read more
Blackarrow's BlockDelhi Blockchain conference, set for 21 of February 2018, seeks to showcase the showcase the implementation of Blockchain technology in India and the issues it faces.
read more
On March 28, Tel Aviv will host Blockchain & Bitcoin Israel, an event dedicated to cryptocurrency, blockchain and ICO, to be attended by the world's leading experts in the field of digital technologies.
read more
Building on the huge success of its recent Las Vegas event, the world's premier producer of Bitcoin and Blockchain conferences is pleased to announce upcoming February and March dates in New York and Los Angeles, respectively.
read more
The ICO 2.0 Virtual Summit is bringing together the best minds in crypto and ICOs to teach and network together. This virtual event is for anyone who is interested in doing or has completed an ICO, a crypto enthusiast or startup founder.
read more
Rent A Hash is a professional mining platform that allows you to rent hashing power as it becomes available on the platform for the period of time you need to achieve your goals.
read more
Revain have released version 0.4 of its flagship Dashboard service. After several iterations aimed to test some core functions, Revain is finally adding first 15 projects to the platform.
read more
Have anything you would like to share with BitcoinChaser's audience? Feel free to contact us: info@bitcoinchaser.com