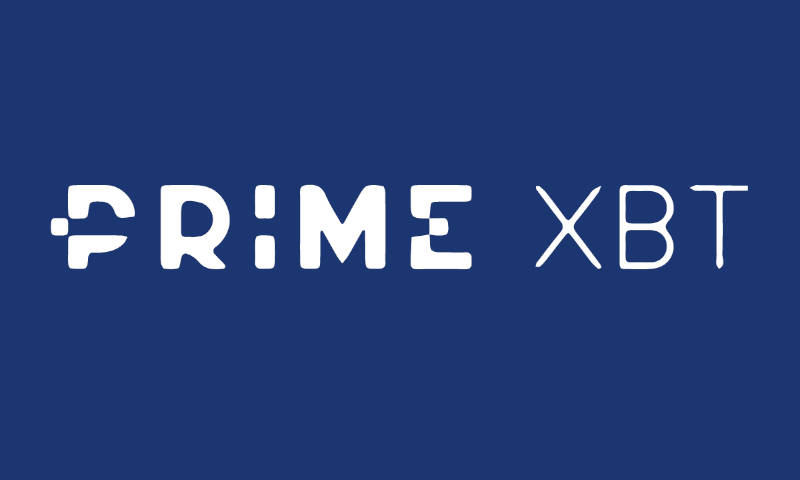 With all the hackers and regulations challenging Coinbase and Binance, it might be time to find an alternative exchange. As they say, don't keep all your eggs in one basket, but it's also important to ensure your other baskets are secure. We have been searching and reviewing exchanges for some time, and we have found another great one to add to our ever-growing list. It's time for you to meet PrimeXBT
| | | | |
| --- | --- | --- | --- |
| | PrimeXBT | Coinbase | Binance |
| Crypto Trading | Yes | Yes | Yes |
| Forex Trading | Yes | No | No |
| Copy Trading | Yes | Yes | Yes |
| Integrated Wallet | Yes | Yes | Yes |
| Business Accounts | Yes | Yes | Yes |
| Cold Storage | Yes | Yes | Yes |
| Yield Accounts | Yes | No | Yes |
Pros
Business Accounts
High Leverage Allowed
Forex And Crypto Trading
Yield Accounts
Copy Trading
Mobile App Available
Cons
No Demo Accounts
Some Geographic Restrictions
Unregulated
Introduction To PrimeXBT
PrimeXBT was launched in 2018 and has since gone through every effort to enhance and elevate trading. In their last few years of services, they have only ever provided their customer base with brilliant support and an ever-evolving platform. They offer a unique platform ensuring plenty of options for every person within their platform. They are not limited to one service, and are rather known for their all-around inclusive experience.
They go above and beyond a lot of other exchanges within the markets right now, offering everything you see in the others but additional features too. They currently have more than 1 million users and growing. They serve more than 150 countries, providing smooth trades across the globe. Let's see what makes them so special.
Trading Options
Unlike most other exchanges that only offer crypto or forex trading, PrimeXBT enables its users to do more with their money. They allow you to trade on cryptocurrencies, forex currencies, commodities, stock indices, and more. Within each category, there is a world of possibilities and options.
They offer up to 15 cryptocurrency trading pairs, as well as leverage and margin trading, allowing you to earn even more with PrimeXBT. Their forex currency options are even broader, providing traders with a total of 50 currency pairs to wager on.
Their commodity trading is something we really appreciate, it feels very nostalgic but still very rewarding. You can trade on commodities such as crude oil, natural gases, gold, and silver. They also offer trade indices including NASDAQ, SP500, Nikkei, and more.
We love that there are so many different trading options wrapped into one platform, providing users with versatility within the markets. This is a great way to introduce specific traders to other subsections of trading, again repeating the saying to not keep all your eggs in one basket. This is just a brief overview of what they offer in terms of trading, you would have to look for yourself to truly grasp the extent of their offerings.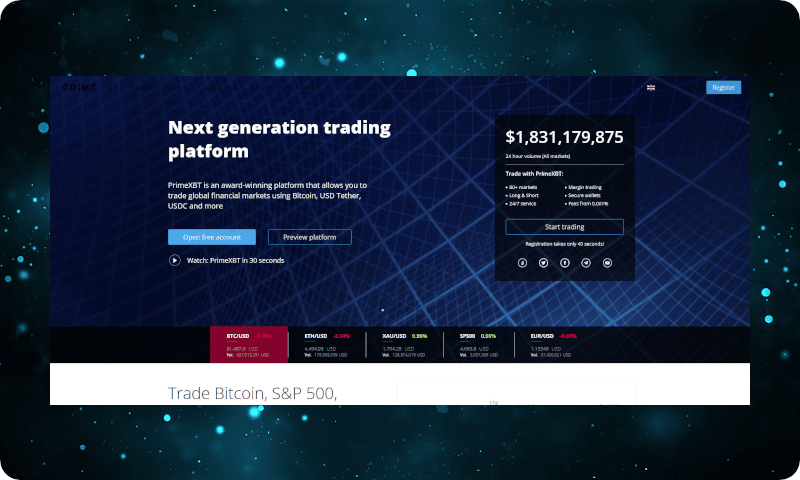 Deposits, Withdrawals, Fees
Depositing and withdrawing have been made simple and fast through the use of cryptocurrencies, providing quick payment processing. PrimeXBT shows great promise in terms of its deposits, withdrawals, and fees, staying well below the general standard rates. You can either buy crypto using a third-party provider, or in the same regard, use a third-party provider to deposit fiat currencies.
There is no withdrawal limit on PrimeXBT, as stated on their website, meaning you can withdraw as little or as much as you like. There is a flat withdrawal fee seen as 0.0005 BTC, 0.01 ETH, 20 USDT, and so on. The trading fees work on a percentage ratio, again staying well below the general standard of other exchanges. You can expect to pay 0.05% for cryptocurrencies, 0.01% for indices and commodities, and 0.001% for forex majors. They offer extremely low fees and quick deposits, withdrawals, and trades.
Additional Features
There are so many factors and features that make this platform a prime example of what exchanges should be. If we had to cover every aspect of this exchange, we would run out of word count. So after covering all the basics of what they offer in terms of tradings, and the fees associated with trading, we are going to give you a brief breakdown of their other features. Here is what else you can look forward to when trading on PrimeXBT:
Copy Trading
Copy-trading gives new traders or those who don't have time to watch the markets, the opportunity to copy the trades made by other more experienced traders. This alleviates some of the risks of trading while ensuring profits are made.
Long/Short Trading
Short trading is basically betting on whether or not bitcoin will be dropping soon. Traders borrow bitcoin and sell it at its current market price, then buy the bitcoin back to pay back the borrower. The price of bitcoin will hopefully be lower when buying back.
Referral Program
PrimeXBT offers a variety of referral program options, allowing you to earn up to 70% of all trading fees paid by their referred users. Or you can get up to $40 – $1,250 for every qualified trader you refer. The more traders you introduce, the higher you get paid.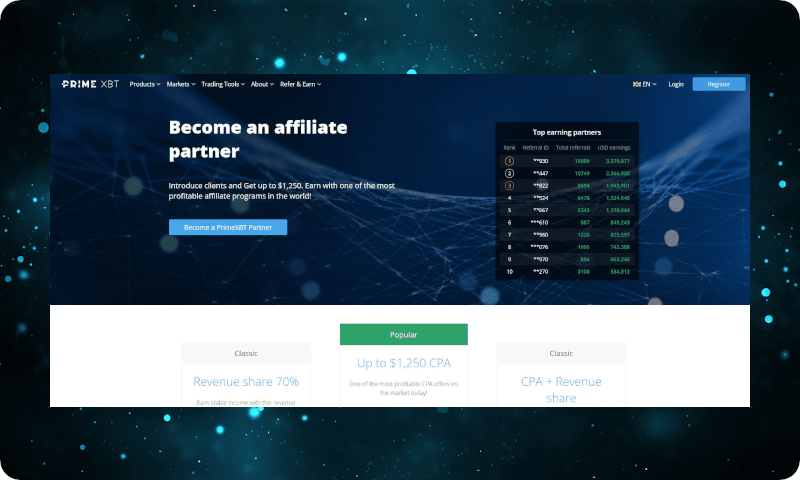 Mobile App
You can trade from the comfort of your phone as PrimeXBT offers a mobile-friendly application. You can download their mobile app on the Apple Store for iOS devices, as well as for Android devices on the Google Play Store.
Yield Accounts
Yield Accounts allow you to participate in numerous DeFi yield generating applications through Staking. Staking products allow for a high variable rate of return on idle crypto assets, otherwise known as an APY. Allowing you to earn up to 10% APY on your crypto.
Education Center
Whether you are a new or experienced trader, education is always appreciated and allows additional learning that can lead to bigger gains. Learn about trading indicators, margin trading, market research, price predictions, and more with PrimeXBT.
Get started With PrimeXBT
PrimeXBT proves that even newer exchanges can compete heavily with those that already hold a market monopoly. Following the masses has never been a benefit, whereas finding what works for you is sure to provide success. PrimeXBT may not be for everyone, but it is another great option for those who want more out of an exchange. While cryptocurrency trading will always be at the heart of what we care about, we are never opposed to finding other ways to make money. Aside from their vast trading options and great fees, this exchange is filled with brilliant features that will make your trader experience all the better. Whether you are a noob or a novice, it doesn't hurt to check out PrimeXBT for yourself. You are sure to be pleasantly surprised, as we were, and may even learn a new thing or two. Find out if PrimeXBT is the right fit for you, head over to their website linked below: