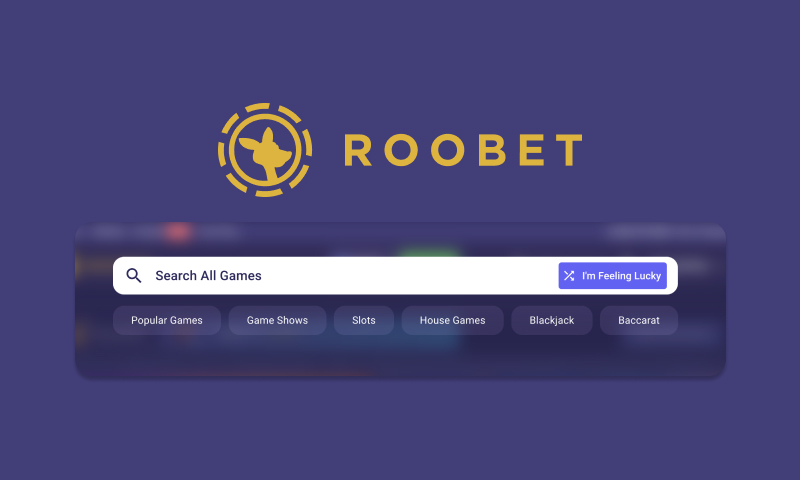 It is now easier than ever to discover new games at Roobet casino thanks to their new feature "I'm Feeling Lucky". 
Hitting the "I'm Feeling Lucky" button will immediately launch a randomized slot game from Roobet's 2000+ collection.
How to Use
Before you can use Roobet's new feature you need to open an account. Roobet happens to be among the growing number of anonymous cryptocurrency casinos so doing this quick and easy.  
Open an account: All you need is a username and password and you are ready to go. No email or phone number or anything else is necessary. 
Click search: Once you are logged in you will see the 'Search Games' button at the top of the page. 
I'm Feeling Lucky: From here you can search for any game by name, view by category, or hit the I'm Feeling Lucky button. 
This will instantly bring up a randomized slot game from Roobet's huge collection and you can start playing right away. 

Why Use It
The "I'm Feeling Lucky" feature is great if you find yourself stuck playing the same old slots time after time, or are looking for an interesting way to try something new. 
It offers a refreshing break from endlessly scrolling through hundreds or thousands of slots at online casinos just looking for one that might catch your eye. 
It is not hard finding cryptocurrency casinos that offer slots but hopefully some of these casinos take note of this feature and replicate it or try something equally innovative themselves. 
Why Play at Roobet
Roobet is a licensed casino that opened its doors in 2018. We first reviewed Roobet in 2020 and since then it has grown greatly.
Roobet now offers:
Sports betting
Bitcoin, litecoin, and ethereum gambling
Unique, custom games
An active community chat
Giveaways on Twitter and elsewhere
Find New Slots Elsewhere
If you enjoy this feature then you should also give BitStarz casino's "Feeling Lucky" feature a go. Very similar to Roobet's new feature, this will roll through the thousands of slots available on BitStarz and offer you a randomized pick to play.
We also love BitStarz's unique categories of slots, such as their 'Anti-Valentine' selection of games leading up to this year's bonus-filled Valentine's Day.
---
Want to learn more about RooBet? Read our RooBet review.