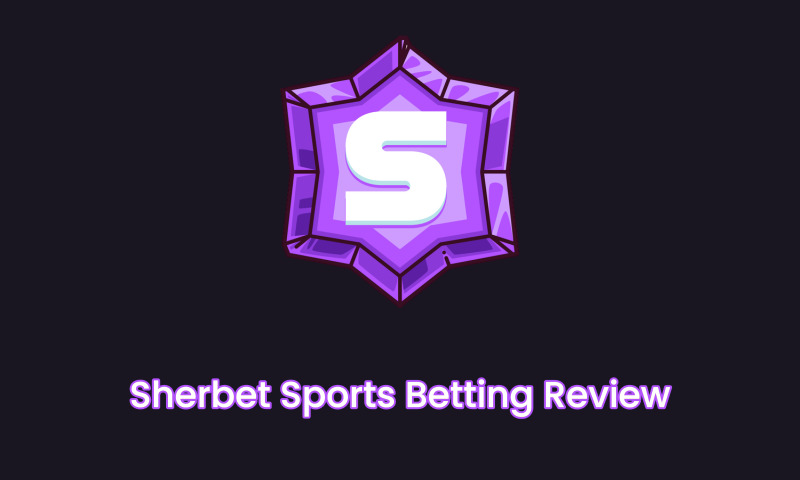 This review will be focused on Sherbet, a fairly new betting platform. This review will be focused on their sportsbook and its user-friendliness. Sherbet's background and foundation is still hard to access as not many other websites have covered it nor have many users used this site. Their help centre was unable to help with this review as they did not have their background information.
What we managed to find out was that their gaming license was awarded by Curacao Gaming Authority. Their payments are processed by Spinkick N.V. The Sherbert platform focuses on NFT's, casino games, and sports betting.
Sherbet Betting Sportsbook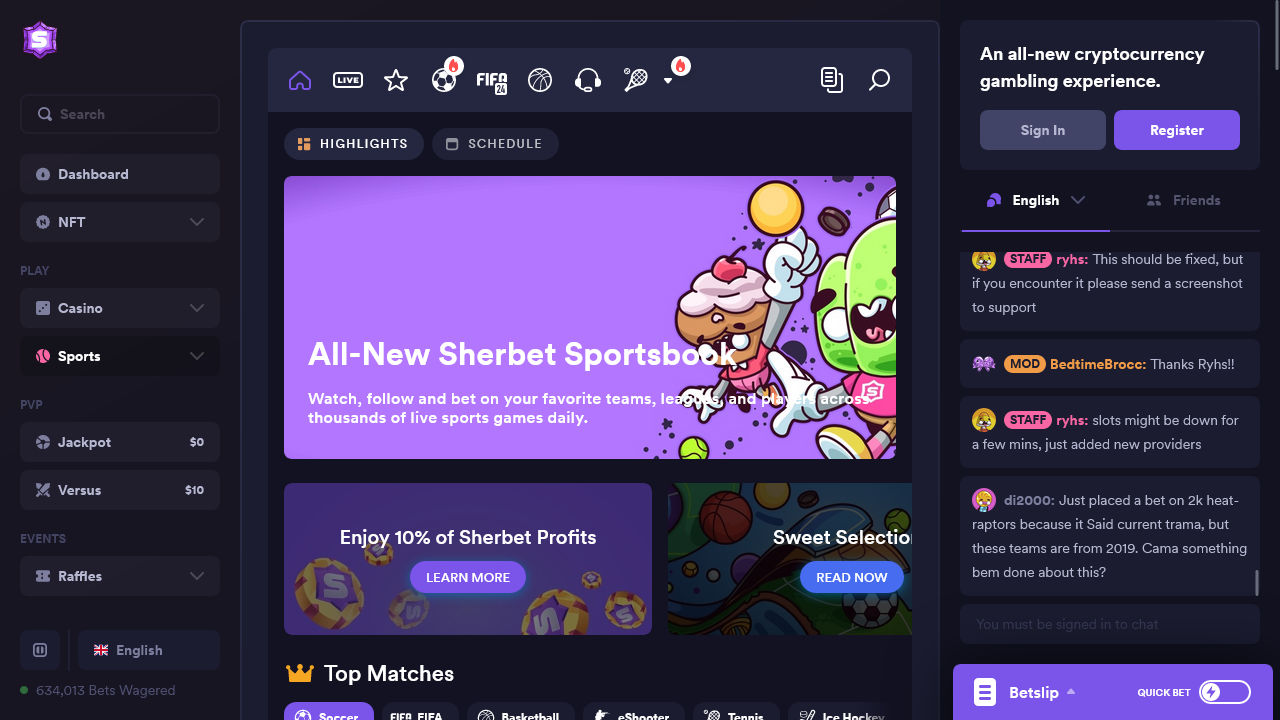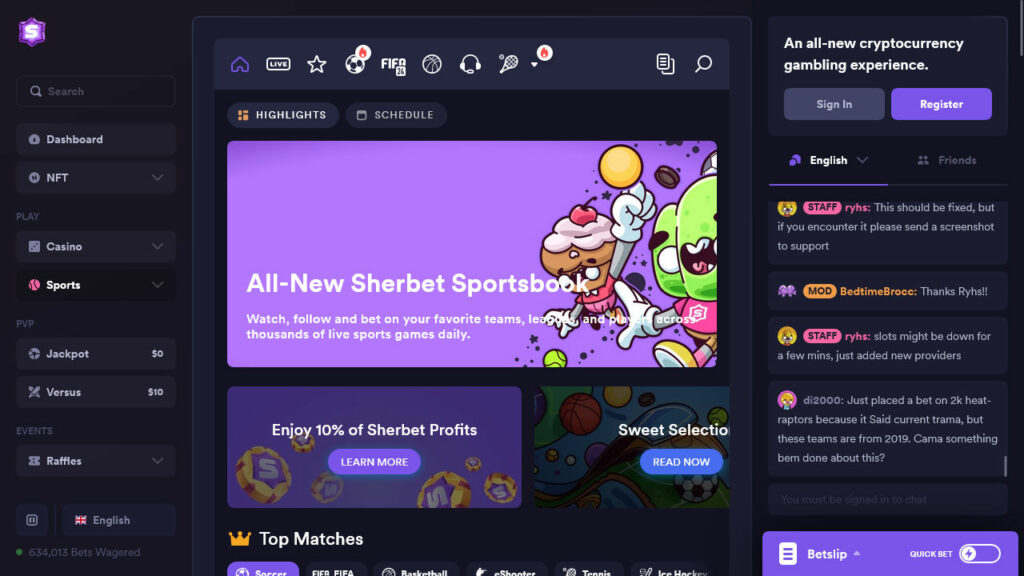 Sherbet has a great variety of sports to bet on. They have over 35 sports on their platform that their users can bet on and about 10 esports games to watch and bet on. Their sports include soccer, tennis, baseball, basketball, and MMA just to name a few. For the esports lovers they have NBA 2K, FIFA, Call of Duty, and a lot more.
The Sherbet platform is available as a website. Sherbet's legitimacy is proven by its gaming license, but other than that, they have not done the best job of putting themselves out there as of now. Some people that have used it before have claimed to have found the site as overstimulating with tabs and visuals. They went on to say tha the site fails to highlight information that is important to the customers such as the company's owners and leadership.
Their user-friendliness is shown in the options they give you for the page layout. On the bottom left of your desktop, there is a choice of layout, namely default, focus, navigation, and chat. All of these options give you different layouts of the site according to what you'd like. Sherbet also has three different language options, these are English, French, and Spanish. They also have multiple odds formats on the bottom of their sports betting pages, you can change them according to the format you understand best..
Sherbet's website layout was said to lack direct guidance and monetary transactions for a first-time user. Their website is however colorful with a navy blue background texture. Their NFTs are used as cartoons/animation for their promotions. Their promotions are always the first things you see on the top end of their website.
Currencies and Payment Methods
Sherbet is a crypto betting company that allows Bitcoin (BTC), Ethereum (ETH), and Litecoin (LTC). You can deposit fiat currencies and change them into cryptocurrencies, but you can also just bet in fiat currencies. It is not yet known how long it could take for sherbet to deposit your withdrawals to you, and neither do we know how long it will take to deposit, their help centre failed to assist with these answers.
Promotions / Bonuses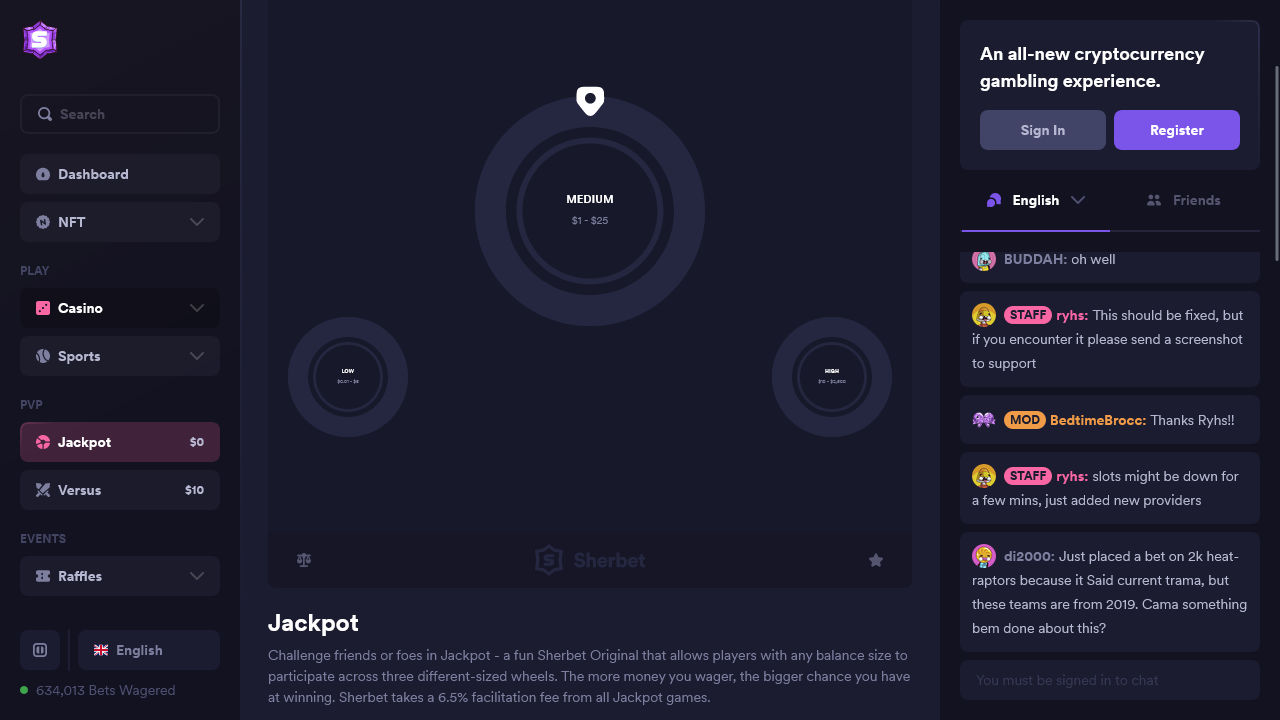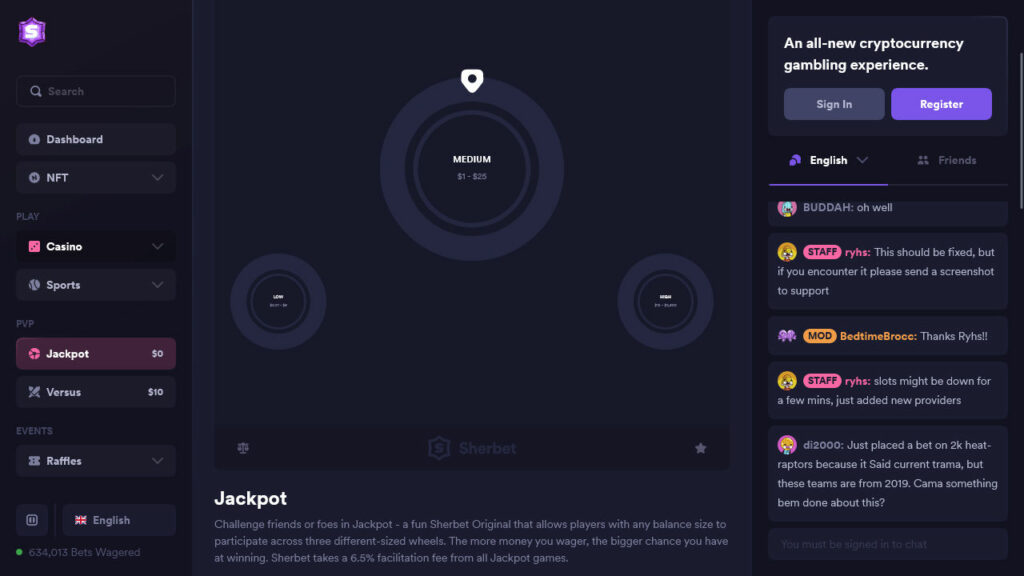 The only promotions we found were not sports-related but rather casino related. Sherbet has taken an incredibly engaging and interactive approach in the manner that they execute bonuses. The website runs Raffles and has two Sherbet original games Jackpot and Versus. Jackpot allows players with any balance size to participate across three different-sized wheels. The player's chances of winning increase as they place large bets. All Jackpot games are subject to a 6.5% facilitation fee from Sherbet.
Versus is a game where players Create a Versus game for up to four participants, then determine the entry wager requirement to compete against other players. To participate in the game, each player must wager an equal sum. When a game is full, the spin starts, and one person wins everything. All Versus games are subject to a 5% facilitation fee from Sherbet.
Sherbet Customer Service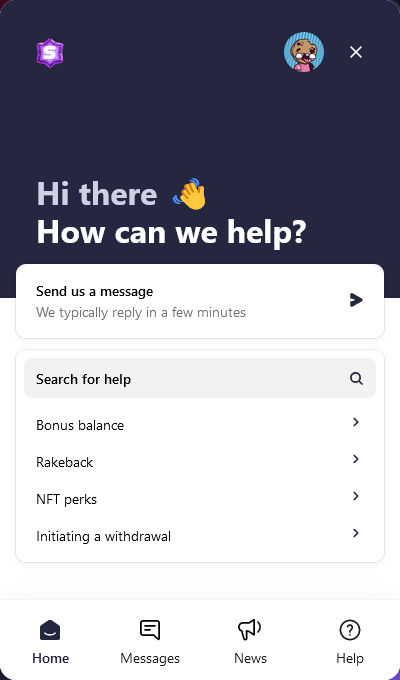 Sherbet's help centre is helpful and always on cue to answer your questions, their answers could be limited though. They have FAQs that can help you answer your questions without having to reach out to their help centre. If this does not help, you can tune into the live chat and ask the other players.
Desktop and Mobile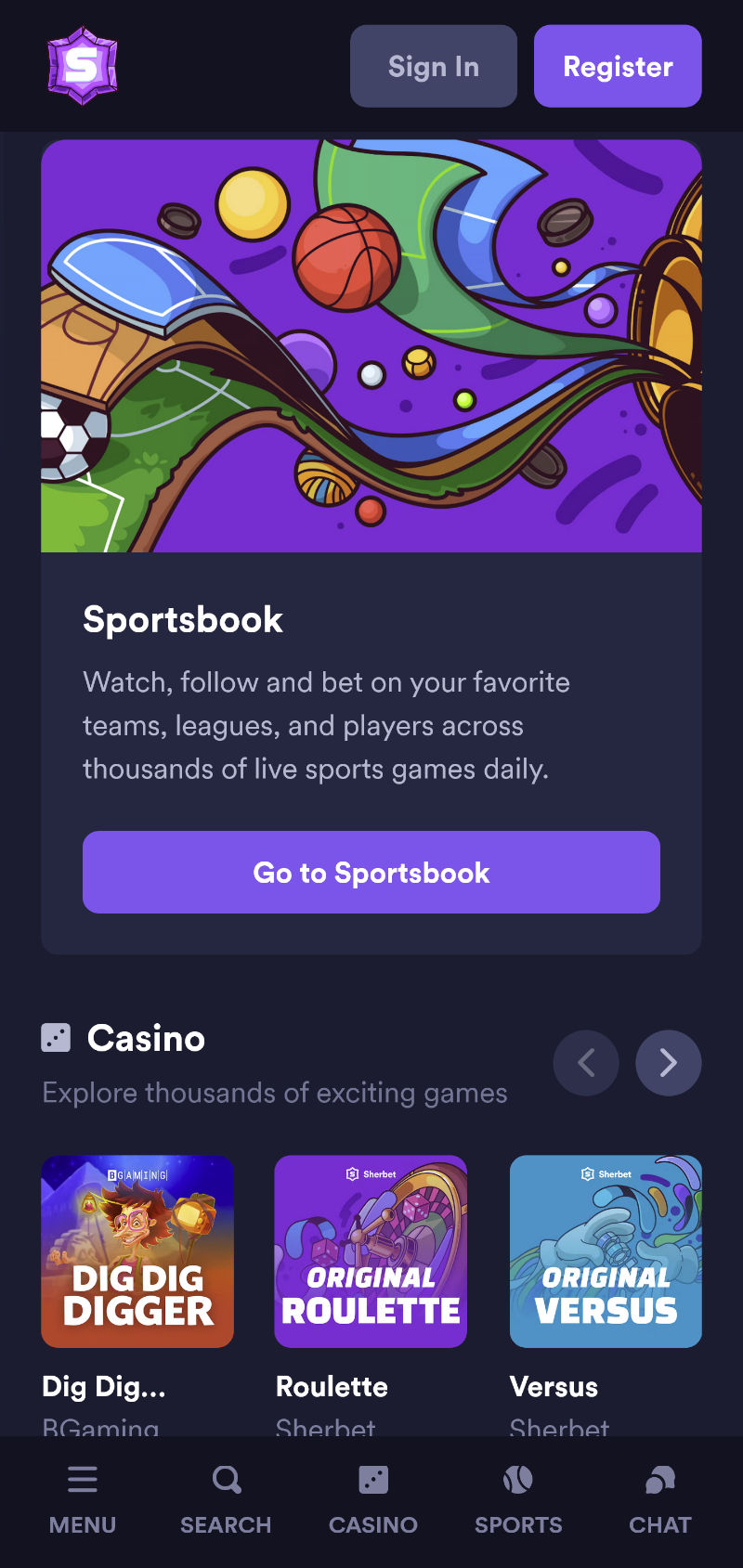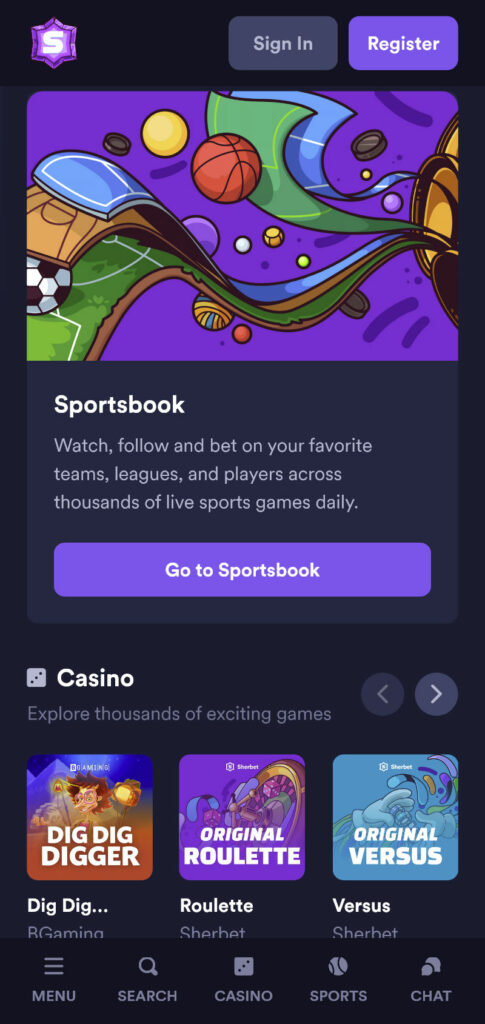 The desktop and mobile devices function similarly on the Sherbet mobile site. There are a few differences in the layouts to adapt to the different devices, other than that, it is user-friendly on both.
Restricted Countries
It is restricted in a total of 17 countries. These countries include the UK, USA, France, Netherlands, and Australia to name a few.
Conclusion
Sherbet seems to be a new and starting company with a lot of potential for growth. As of now, it is difficult to know where to rank them next to the other platforms as they do not allow access to information that could give customers some solace. They have a huge sportsbook that has multiple international sports, there are three cryptocurrencies allowed as mentioned in the review. They do not have any sports promotions according to their help centre.
They have other platforms like NFTs and their casino games. What could give you solace is the fact that the gaming license they use is also used by multiple betting platforms that have been around for longer, and those platforms are probably legit.