NitroBetting is one of the top Bitcoin sportsbooks out there right now. With more betting options and features than you could imagine and unique promotions, the site provides a complete and user-friendly online sports betting experience.
Pros
Withdrawals are generally instantaneous
Homepage isn't overwhelming
Overall Experience
Originally known as Nitrogen Sports, NitroBetting is a very interesting site in that the homepage isn't overwhelming you with offers or promotions but rather provides a long (*really long) list of sports to bet on and information about bitcoins. There is also a rather extensive guide to sports betting linked from the homepage. This feature definitely sets NitroBetting apart from other sportsbook that at times seem geared solely towards experienced bettors.
Any information that you're looking for – whether in terms of the sporting events or about payments and sportsbook help – can be easily found from the homepage. In addition to the above, NitroBetting offers very unique promotions and tournaments outside of the normal sports betting parameters that are all a great way of retaining their bettors.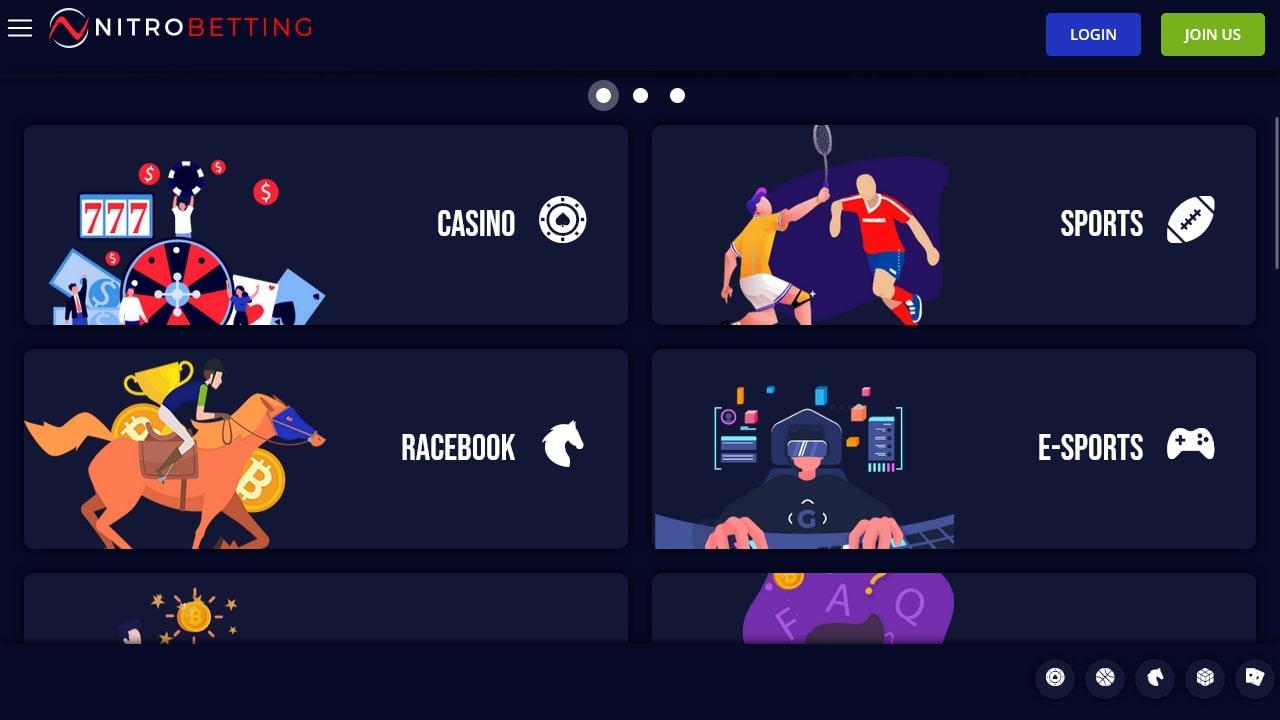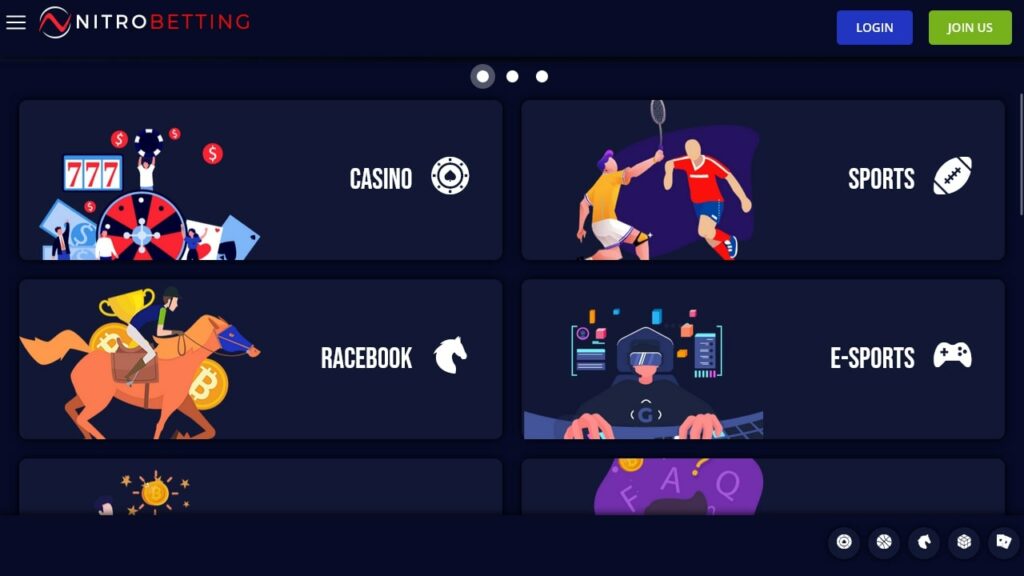 Event Coverage
From the common to the obscure, NitroBetting has the availability to bet on practically every sport imaginable. Of course there are the classics such as American football, basketball, soccer, cricket, etc. and for the more hardcore sports bettors there is also the option of table tennis or snooker.
What helps NitroBetting stand out, however, is the depth within each of these sports. The basketball options are not simply limited to NBA game spreads but also include prop bets, NCAA matchups and basketball leagues from around the world. Opening up the soccer tab gives you a list longer than the height of the webpage and provides you with an almost endless array of wagering opportunities. One thing is for certain, NitroBetting does not lack in event coverage at all.
Lines and Spreads
Given how much different wagering opportunities the site offers, it was a tall order to really compare the betting lines with those of other sites. However, after scrolling through several different sports, including EPL soccer, NFL football and NBA basketball for example, the lines were very consistent with other sites and also very fair. As part of its comprehensive Bitcoin sports betting package, NitroBetting provides lines and spreads that any bettor – experienced or novice – will be more than happy with.
Bonuses and Promotions
When it comes to promotions, NitroBetting really shows its innovation. While many other Bitcoin sportsbooks and casinos are all focused on welcome and redeposit bonuses, NitroBetting reels its players back in through exciting challenges and ongoing games.
The two main promotions are the Parlay Promotion and Go For Gold Challenge. The Parlay Promotion allows players who lost their parlay (a bet where you must be correct in all matchups in order to win) to still have a chance at an ongoing jackpot. Bettors who lost their parlay by 1 game will be entered into the monthly NitroBetting jackpot, giving these players a second chance at victory. This is an excellent way to retain players considering how crushing it can be when your parlay is lost due to one game.
The Go For Gold Challenge has players perform challenges in order to spell the word N-I-T-R-O-G-E-N, with each letter corresponding to another challenge. Players must perform tasks as simple as winning an NHL wager to as difficult as winning a 13-game parlay. The real kicker is how players don't need to spell the entire word to win – whichever player has the most letters, even if it's just the 'N', will win the Challenge.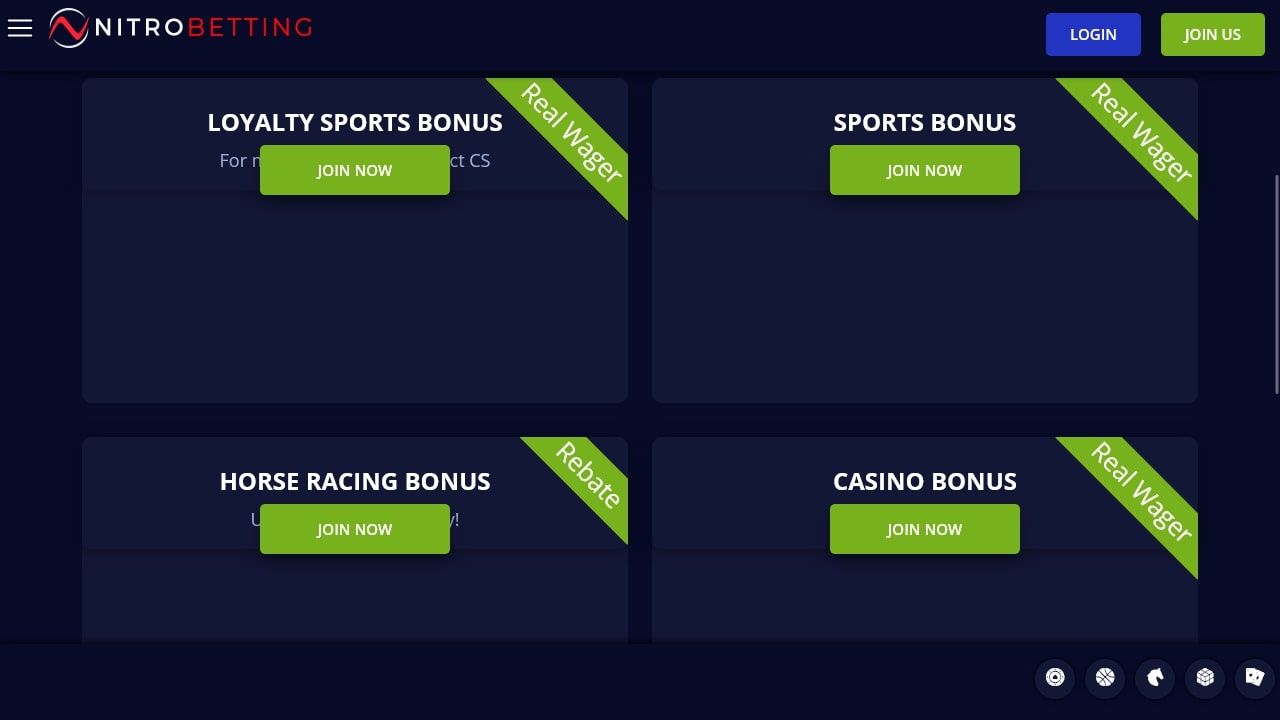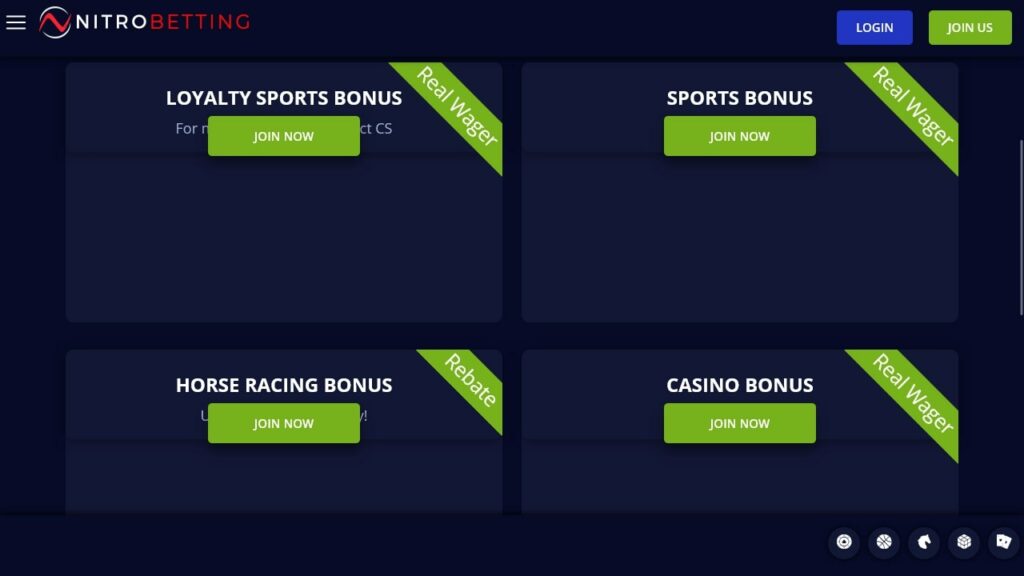 Other Features
There are a number of features that are worth noting about NitroBetting. Firstly, the homepage stresses the ability to play anonymously on the site. Upon arriving at NitroBetting, an account has been created for you, and all that remains is adding a username and password to secure the account. No more information is requested of you in order to play.
Also worth mentioning is the poker option on NitroBetting. The poker tables are very much secondary to the sportsbook, but they still include a loyalty program and anti-collusion policies to ensure fair play.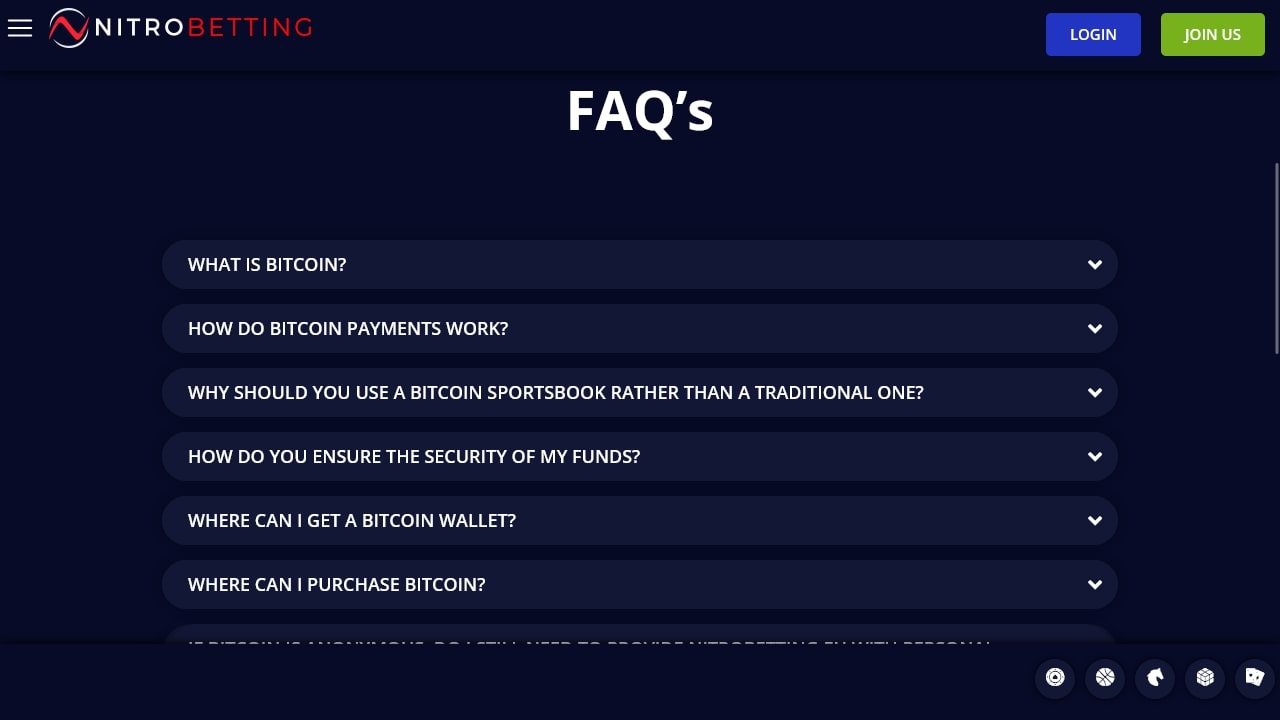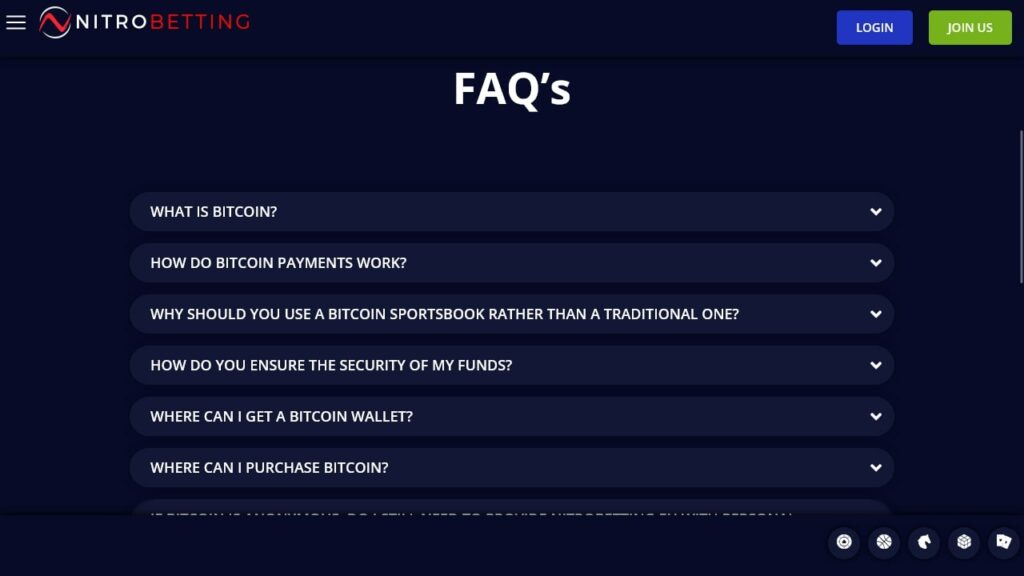 Withdrawals and Payments
Withdrawals are generally instantaneous on NitroBetting, with some requiring up to 24 hours pending review. In terms of betting, minimum bets on the site are 0.001 BTC while maximum bets depend on the game where a maximum is displayed for further transparency.
NitroBetting solely uses Bitcoin as its currency and as stated on the homepage, believes that the cryptocurrency is the future of currency in general.
Conclusion
NitroBetting is a very comprehensive online Bitcoin sportsbook experience that could compete with fiat currency sites in the sports gambling world. There are more sports and wagering opportunities than you could possibly ever need and the exciting and unique promotional games are enough to keep you coming back. NitroBetting is a significant step in the right direction for Bitcoin sportsbook websites.