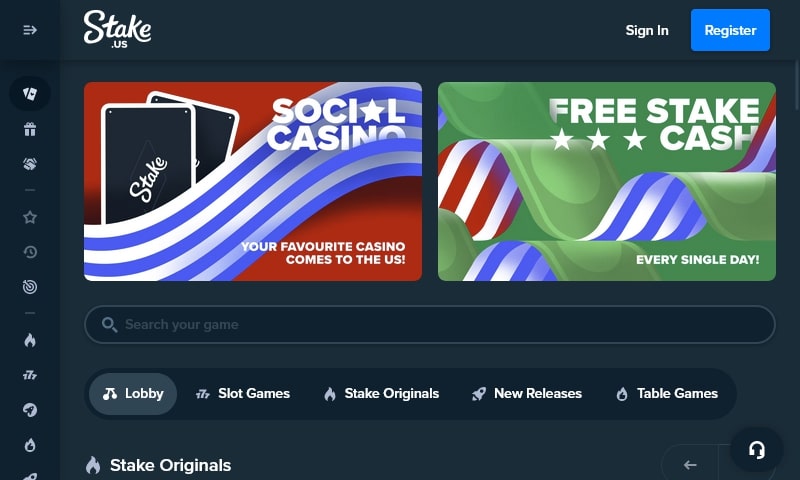 Stake Casino recently announced it would be one of the few casinos to accept players from the USA. This news was greeted with community excitement and praise as very few crypto casinos have managed to legally operate under US laws. Some casinos may allow USA players using VPNs to access their site, but close to none are doing it legally.
Early access was announced on the 25th of July 2022, allowing users to start registering their accounts. But as of August 1st, 2022, Stake.us casino is officially live and users are able to begin betting. There have been some complaints surrounding the verification process, with a few users claiming they have been waiting 6 days to get approval from the site.
There is a little controversy wrapped up in the excitement. Stake, a renowned cryptocurrency casino will not be accepting crypto, not directly at least. Players will be able to convert and deposit their cryptocurrency, but their balance will reflect in the form of SC coins. SC coins refer to Stake Cash. SC coins were most likely introduced as a way to bypass the unregulated nature of cryptocurrency gambling in the USA. You're essentially swapping BTC for Stake Cash and then swapping back when you withdraw.
The casino also does unfortunately not offer USA players access to their phenomenal sportsbook, it's unclear if this is permanent or if it will be implemented at a later stage. The lack of sports betting and cryptocurrency acceptance is definitely a factor to remain aware of when signing up to this casino. Otherwise Stake casino is bringing you their usual incredible bonuses, Stake original games, and more.
They are still adding certain features to the site, as seen by their empty "challenges" section as well as their lack of blogs. There are currently tournaments and races, including their 5,000 SC Race daily, where you can win your share of 5,000 SC. Alternatively, you can also claim on their Social Casino Challenge to win even more.
Some of the games available on Stake can be simplified into categories such as Stake Originals, Slot Games, Feature Buy-In, Table Games, New Releases, and Scratch Cards. We predict more games will be added soon, but for now, you can still enjoy the classic and unique experiences offered by Stakes proprietary games. There are more than 300 games available on Stake casino as of right now, so there is no shortage of enjoyment. Playing these games will also allow you to earn additional rewards thanks to their lucrative VIP program.
Overall, this is an exciting time for USA players who will finally get to enjoy Stake casinos' excellent gambling services. There is still lots of work to be done, having only officially launched a few hours ago, but they are off to a good start. If Stake.us is anything like the Stake casino we know and love, USA players are in for a treat.
Learn more about Stake by reading our Stake casino review, discover the best Stake casino alternatives, or stay updated on everything Stake, casinos, and cryptocurrency with our weekly newsletter.