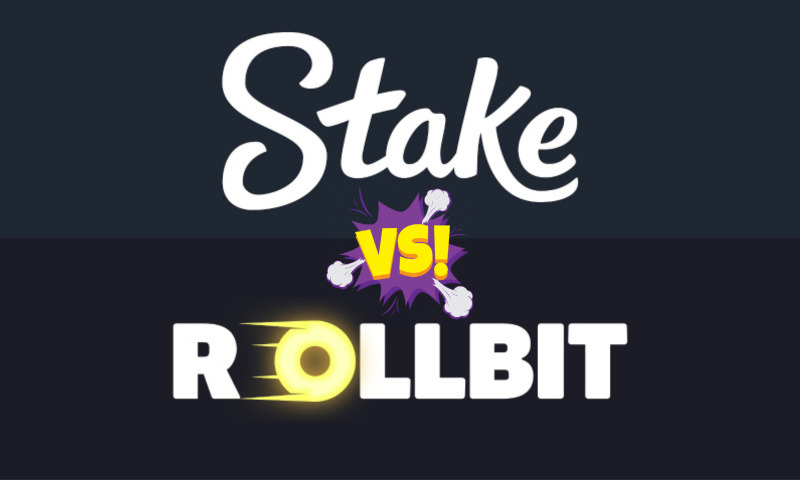 Stake and Rollbit are two of the biggest crypto gambling sites in the world, both having a selection of bonuses and promotions, loads of games, sports betting options, and many available crypto payment methods. Today we'll be comparing these features between the two casinos to find out which one comes out on top in the Stake vs Rollbit battle.
Read our in-depth review of either of these casinos in our Stake Casino Review or Rollbit Casino Review.
Table of Contents
Best for Crypto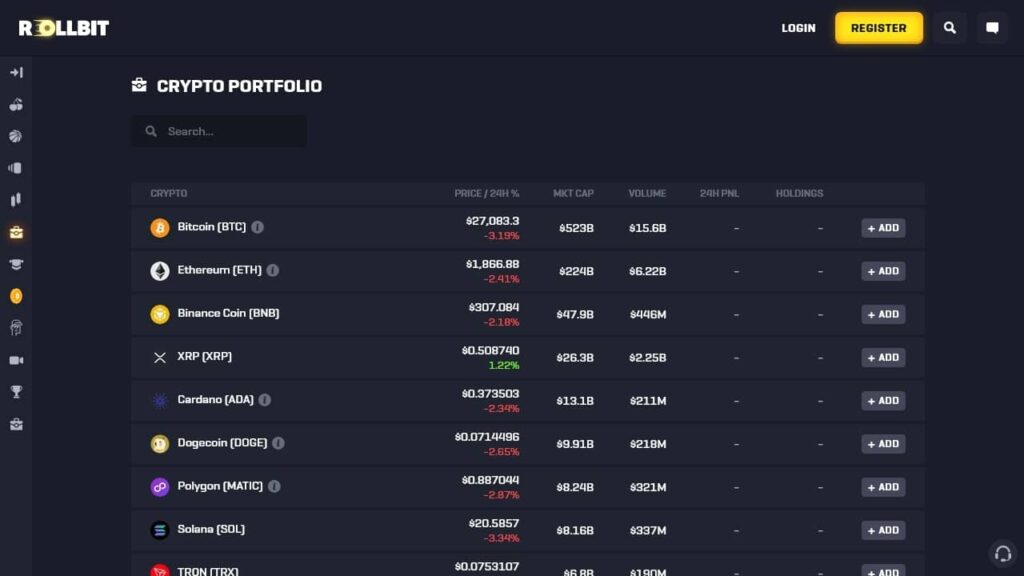 Rollbit
Players are able to deposit and withdraw using mainstream cryptocurrencies such as Bitcoin (BTC), Ethereum (ETH), Litecoin (LTC), and Solana (SOL), but Rollbit also accepts lesser-known cryptocurrencies and the list is extensive, far too long to list here. Rollbit also has its very own cryptocurrency called RLB which was developed in-house. You can purchase any of the cryptocurrencies listed above using a credit or debit card. 
Stake
Stake has quite an extensive list of available cryptocurrencies that are accepted which include Litecoin (LTC), Bitcoin (BTC), Ethereum (ETH), TRON (TRX), Ripple (XRP), Dogecoin (DOGE), Bitcoin Cash (BCH), and Tether (USDT). In addition to the cryptocurrencies accepted at Stake, players can deposit using credit cards and e-wallets.
Winner: Rollbit
With Rollbit's in-house coin and a multitude of accepted cryptocurrencies, it's not hard to see how Rollbit has earned its spot in #1 for the crypto comparison.
Best for Slots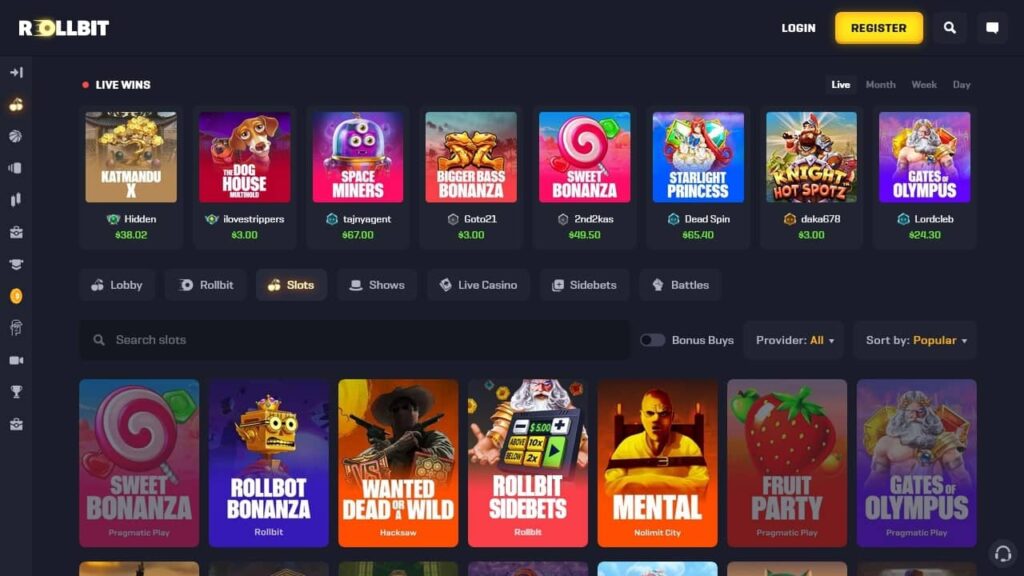 Rollbit
Rollbit has literally thousands of slots to choose from, some sources claim that Rollbit has well over 3,500 slot games alone! Most of these slots come from the very best software providers such as Pragmatic Play, Hacksaw, Play'n Go, NoLimit City, BGaming, and many many more.
Stake
Stake, like Rollbit, is a casino with thousands of slots to choose from, a few sources state that Stake casino has more than 3,000 slot games, and just like Rollbit, most of those games are developed by leading software providers such as Pragmatic Play, Hacksaw, NoLimit City, Booming Games, Play'n Go, and many many more.
Winner: Rollbit
Stake and Rollbit are almost an equal match here, both have pretty much the same games and providers with a few exceptions on either side. The one thing that helps Rollbit stand out though is the number of slot games that are available, boasting almost an extra 500 slot games if the sources we've referred to are anything to go off of, giving Rollbit its #1 position for best slots.
Best for Bonuses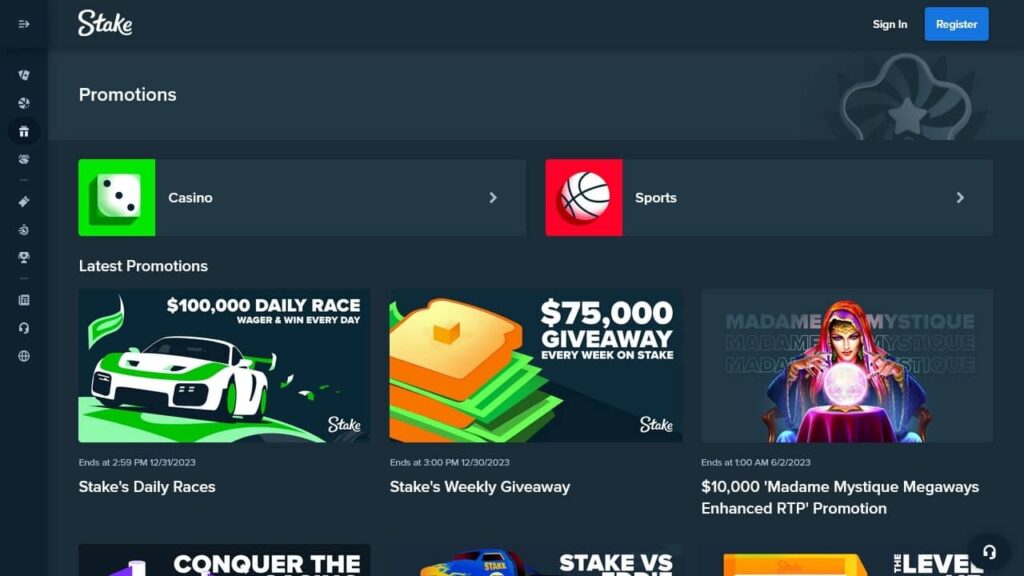 Rollbit
Rollbit is a bit lacking in the bonuses and promotions department, they don't even have a 'bonus' or 'promotion' section on their homepage. Despite all of this, Rollbit actually does have some basic bonuses to take advantage of such as a rakeback bonus which players can claim when they make their first deposit, staking rewards, rakeboosts. Players can also get bonuses by owning Rollbots (Rollbit's NFT project) or taking place in jackpot lotteries.
Stake
Unlike Rollbit, Stake has a dedicated 'promotions' tab on their homepage, making them a whole lot more accessible. Unfortunately, Stake's promotions are also nothing to write home about and deviate from the typical bonuses you'd find at a casino. Stake hosts daily races, weekly giveaways, level-up bonuses, casino challenges and more.
Winner: Stake
Neither one of these casinos is a shining example of how bonuses should be done at an online casino, nevertheless, Stake manages to come out on top due to having more bonuses available which are much more easily accessed.
Best for Originals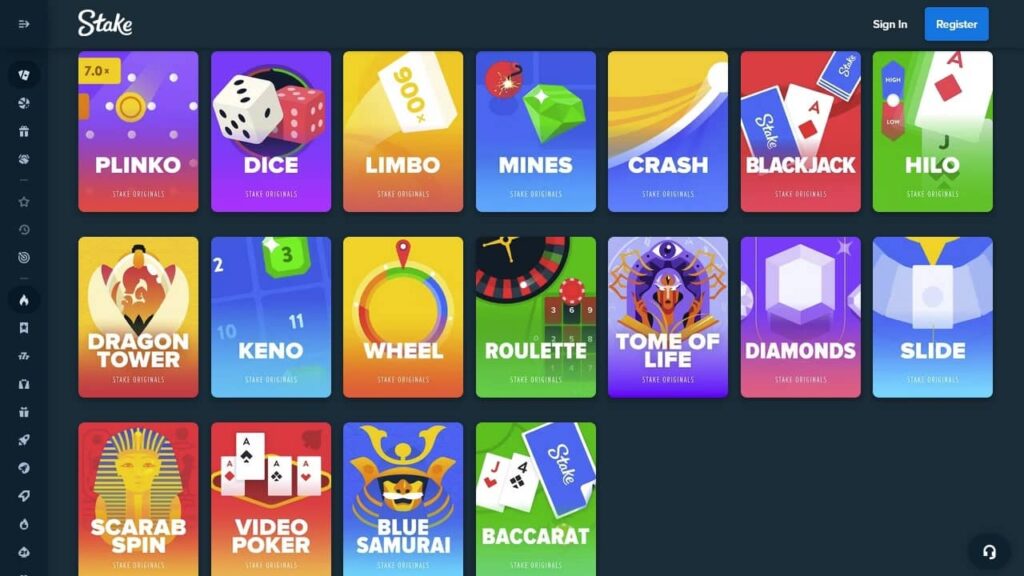 Rollbit
Rollbit and Stake both have games which are known as 'originals', these games are developed in-house by each casino's dedicated team of software providers and generally you won't find these games anywhere outside of the casino they were developed for. Rollbit has 10 original games at the time of writing, these games range from plinko, coin flip, roulette, crash, lootboxes, and jackpot. Each with its own Rollbit take on that type of game.
Stake
Stake's selection of originals is considerably larger than that of Rollbit, boasting 18 original games at the time of writing. Stake's originals range from, plinko, dice, limbo, mines, crash, blackjack, keno, wheel, roulette, and quite a few more.
Winner: Stake
This one is a pretty obvious choice, with such a big selection and such great variety, Stake's originals stand out tall among most other online casino original games, earning its place as #1 in this section.
Best for Sports Betting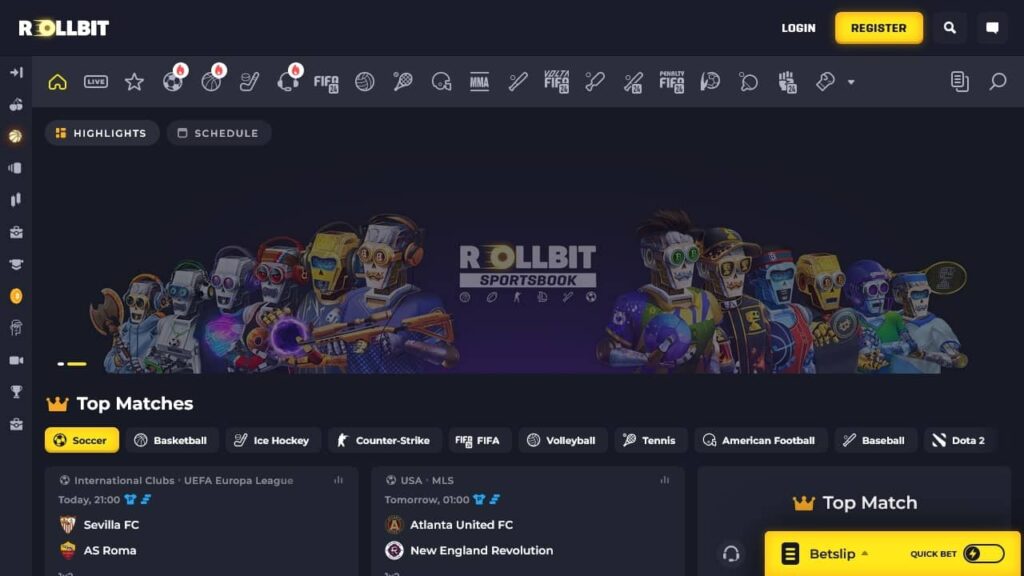 Rollbit
Rollbit has a total of 36 different sports betting options to choose from, ranging from eSports such as Dota 2, Counter-Strike, League of Legends, StarCraft, Rocket League, NBA 2k19, AO Tennis 2, eFighting, and eCricket, to more traditional betting options such as soccer, baseball, table tennis, rugby, American football, and much more.
Stake
Stake has a total of 44 sports betting options for players to check out, these range from eSports like Dota 2, Counter-Strike, and League of Legends, to the usual sporting options such as badminton, American football, basketball, baseball, cricket, and much more.
Winner: Tie
Stake has more sports betting options than Rollbit so it seems like the obvious choice for a winner, however, if we take into account how many more eSports betting options are available at Rollbit it's fair to say that it just about balances it out to a tie.
Stake vs Rollbit winner: Tie
Both of these top-dog casinos have their benefits, but neither one is perfect and some aspects and features shine brighter than others, especially when we put them under a microscope and compare the two.
Rollbit's portfolio of accepted crypto is massive, Stake's isn't as big as Rollbit's but without a doubt outshines Rollbit's selection of bonuses. Rollbit has more slot games but Stake's originals are superior. Stake has more sports betting options but Rollbit has more eSports betting options, we can see that where one casino has a flaw, the other one counters it with a benefit, and both do this equally throughout their features, making Stake vs Rollbit a deserving tie.