SwC Poker was established in 2012, and has made it their mission to bring you the best Bitcoin poker experience. SwC Poker gained its rise to fame by being among the first gambling sites to accept cryptocurrency and bring players an anonymous platform for betting. Fun fact: The site's actual, or original, name was Seals with Clubs when launched. Let's see what SwC Poker has to offer.
Pros
No geographic restrictions
Games And Providers
SwC Poker provides its users with a wide variety of poker options, featuring cash games and tournaments. Their main game categories are Hold'em, Omaha, Stud, Chinese, Draw, Pineapple, Short Deck, and Mixed. But there is more, within each category, there are multiple game types, rules, and limits. For Hold'em you can choose from Fixed, Pot Limit, and No Limit. Within the Chinese category, you can choose from Badacey, Badugi, and Badeucy. This expands throughout their entire poker selections. There are no slots, sportsbooks, or dice games available at SwC Poker, this is a purely Bitcoin, and Bitcoin Cash, poker platform.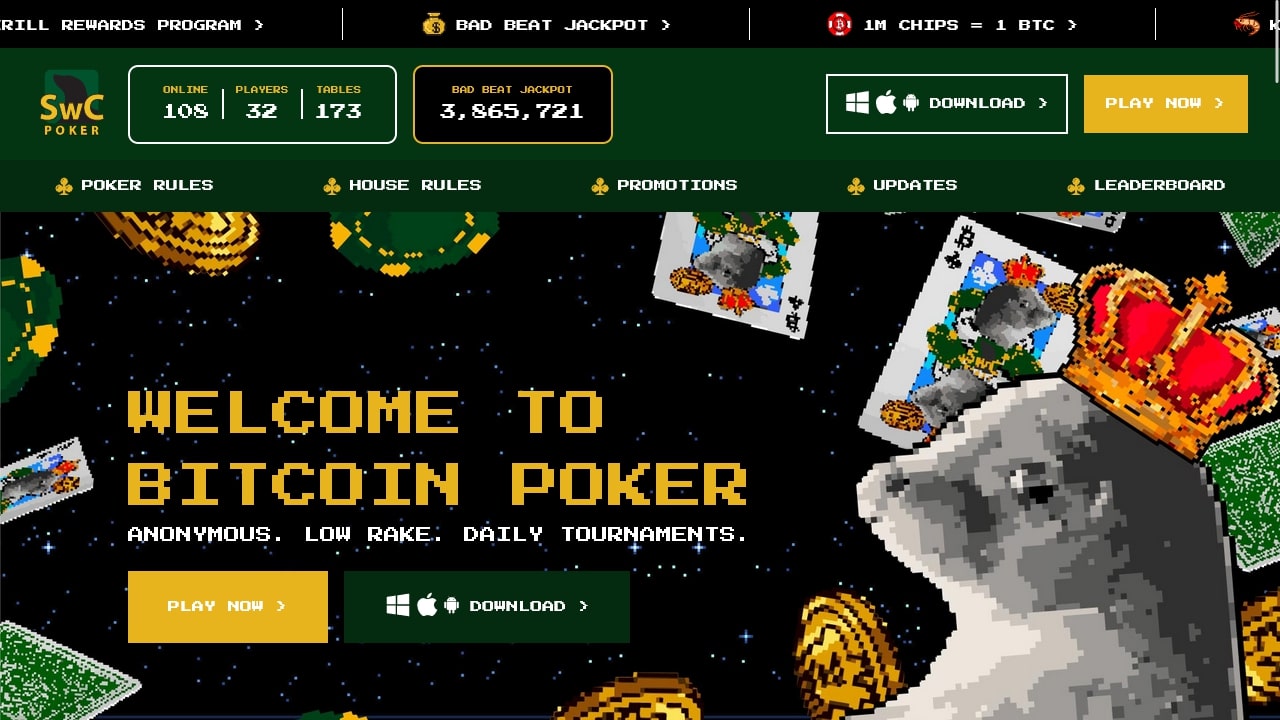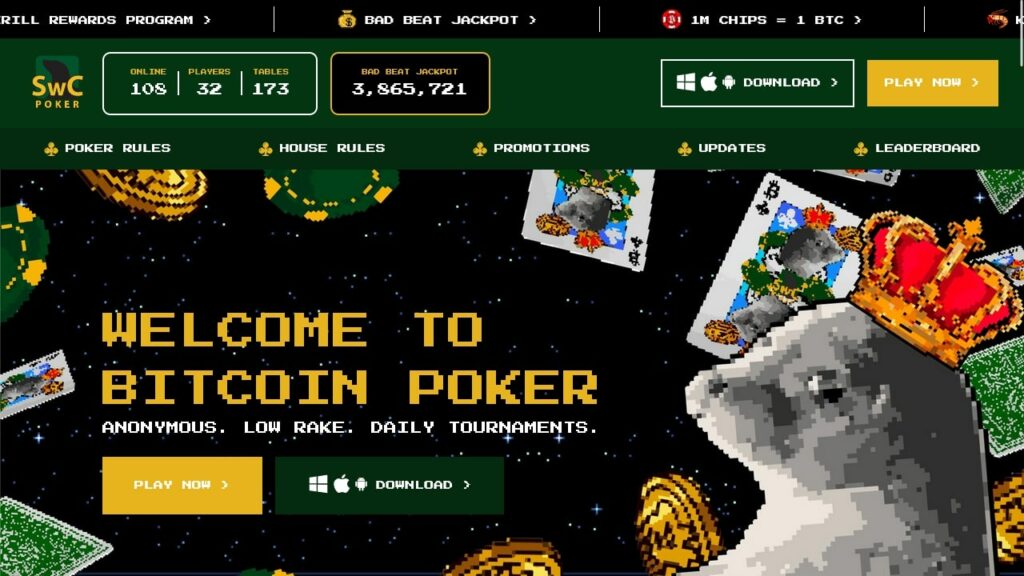 Bonuses And Promotions
SwC Pokers' main promotions are centered around their Krill tokens. Players earn Krill every time they are dealt into Bitcoin poker raked hand. By earning Krill, users can unlock permanent rewards, including but not limited to rakeback and access to exclusive freerolls. The rakeback for users with 200,000 Krill is 33%. The more Krill you collect, the more rewards you gain access to. The top 10 weekly earners of Krill will be able to win prizes of up to 5,000 chips. The top 15 Krill earners of each month will stand a chance to win an even bigger prize of up to 15,000 chips.
In addition to Krill, players can try to win the Bad Beat Jackpot. A player has a chance at winning this jackpot if they hold a full house consisting of AAAKK cards in their hand. This requires the usage of both of your hole cards. A tricky task to tackle, but with a prize pool of more than $3 million, it's worth a try.
SwC Poker also offers free rolls, freerolls are free poker tournaments with a small prize pool. You can enter these freerolls immediately upon registration. There will apparently always be freerolls available, allowing those with a low balance to enjoy the games too. The small number of chips earned from freerolls will be enough for players to join the No Rake Microstakes cash tables, expanding on their free poker experience. There is also an affiliate program to take advantage of, get paid for your recommendations and claim 25% of MGR as well as other rewards.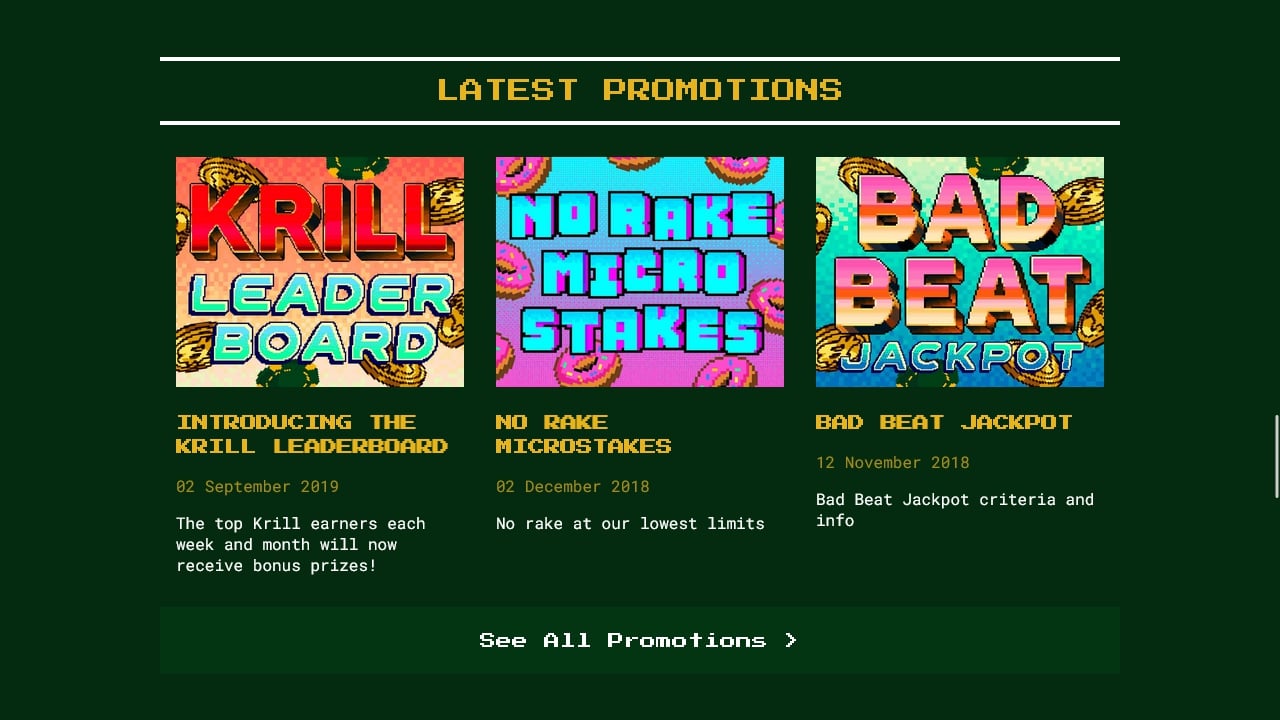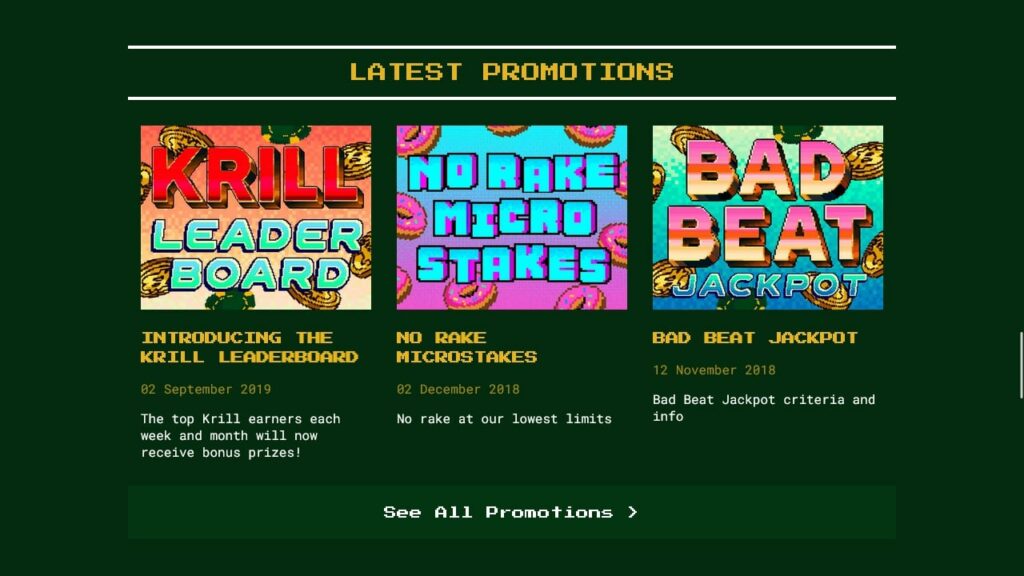 Payment Methods
This poker site prides itself on being a Bitcoin-only poker site, and for this reason, Bitcoin and Bitcoin Cash are the only currencies that may be used for making deposits and withdrawals. Using Bitcoin is how this casino provides its players with anonymity. The added benefits of using cryptocurrency over traditional fiat currencies are faster, more secure, and cheaper transactions. 
They also offer P2P transfers meaning you can enter the amount of bitcoin you want to buy for the amount you want to buy it for, and you might find a trader who accepts. If you are choosing to deposit to the platform using crypto directly, you will be given a unique address to send funds to. Once your funds have been deposited, you can start betting.
Customer Service
The only way we could find to contact SwC Poker is through their email support services. If you are having any issues, need guidance, or want to ask questions, you can reach out to this platform via email at support@swcpoker.club. You also have the option of getting in touch with them through Twitter. Overall, not the most effective customer service we have seen, but they show customer support in other ways too.
SwC Poker offers language support to their customers, players can choose to play in languages such as English, Spanish, German, Czech, Portuguese, Russian, Chinese, Malay, Arabic, and Italian. In addition, SwC Poker has a number of informative FAQ sections on its website, some of which you should read before getting in touch with customer service.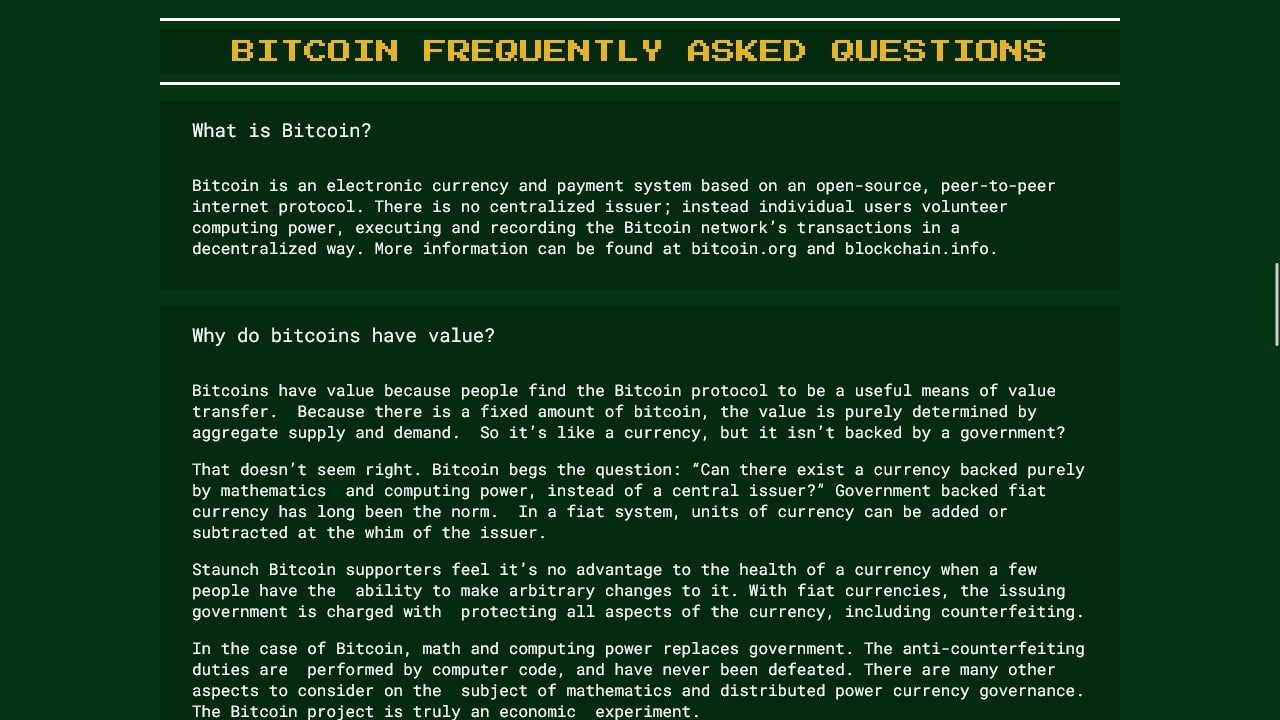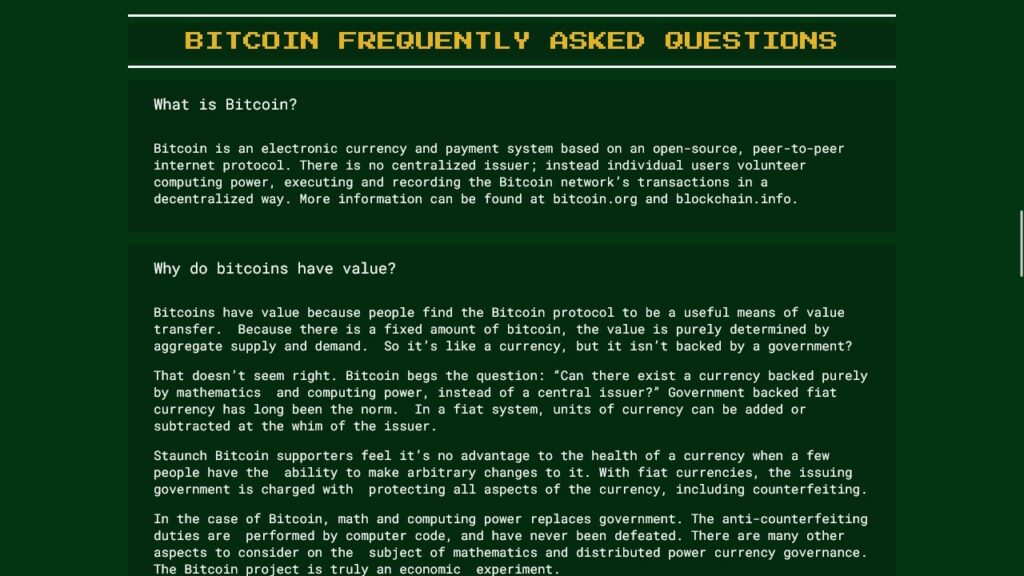 Country Restrictions
SwC Poker welcomes players from all around the globe. They do not specify any restricted countries, and even claim to welcome USA players. There are no limitations on which countries you may play from since Bitcoin provides a heightened position of anonymity. SwC Poker does not limit any countries officially but certain ISPs may ban access to the platform or site. If this is the case, you may try using a VPN, but doing so is at your own risk.
SwC Poker Conclusion
SWC Poker is just as good as any other more mainstream gambling provider, with all their effort being placed on Bitcoin Poker. Their niche has allowed them to capture the market, and they have maintained their position thanks to their great promotions, quality games, and user-friendly platform. They bring you a wide range of poker-style games, as well as some additional customer categories so you can truly play the poker you want to. When you add to this the fact that they are providing huge event series and having mixed games as a prominent part of their menu, we believe this to be a significant advantage. With Android, Mac, Windows, and HTML5 downloadable applications, this poker platform truly has gone above and beyond to advance your experience. Play at the best Bitcoin poker platform around, check out SwC Poker for yourself.