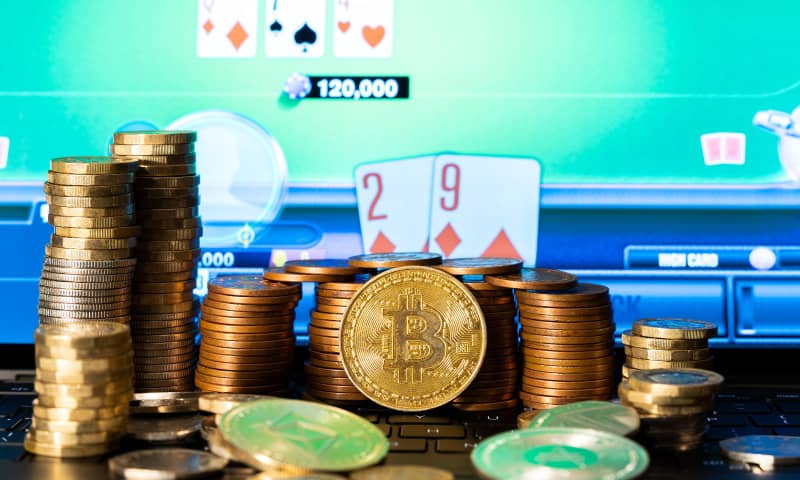 With the rise of the internet, gambling has become far more accessible worldwide, but that accessibility was heightened even further with the introduction of cryptocurrency.
Cryptocurrency, and subsequently blockchain technology, has created a far cheaper, safer, and faster way for gamblers to enjoy their time. But even with the safety precautions of cryptocurrency, there are still concerns that need to be addressed. Crypto gambling is safe as long as you make sure you are being responsible. Newbies can lose funds, naive players may get caught in phishing scams, and you as a player need to be prepared and have precautions in place to prevent unsafe gambling.
So today we are going to explain how you can safely gamble with cryptocurrency. 
Table of Contents
Benefits of crypto gambling
By default, most cryptocurrencies through the use of blockchain technology offer heightened security and safety. Crypto is generally safer than fiat gambling due to the technologies in place. Players can expect:
Anonymity and security
Faster transactions
Lower fees
Global accessibility
Provably fair gaming
Not only does blockchain gambling and crypto betting provide safe transactions, but when used correctly, can also provide players the security of provably fair gaming. Overall crypto is the safer gambling option, but there are far more factors to be considered.
Tips for safe crypto gambling
1. Choose a reputable platform
The most important aspect of how to safely gamble with cryptocurrency is choosing a reputable platform. As the crypto community always likes to say, do your own research.
Thoroughly vet and review the platforms you are choosing to deposit at. Make sure you verify the platform's track record through online reviews and users reviewing the site.
Choosing a reputable platform is the first and most vital part of safe crypto gambling so take your time and DYOR.
2. Verify the platform's security measures
While a reputation is worth a lot, it is not the only thing you need to consider when choosing a safe crypto casino to gamble at.
Take into consideration the gambling site's security measures to ensure your safety.
Look for licenses, look for encryption technologies such as SSL or TLS, look for account verifications, as well as many other things.
We know KYC is a little taboo in the world of crypto gambling, but this is another measure put in place to ensure you can get access back into your account in case you are hacked.
3. Secure your crypto wallet and casino account
Setting up 2FA (two-factor authentication) will allow you to secure your funds for both your crypto wallet and casino accounts. This will ensure that even if someone gets access to your passwords, your accounts are safe. The hacker or scammer would also need access to your email address or cellphone number to get into your account.
This could be even more heightened by the use of KYC so you can report and claim back your account by providing a photo of you with your ID documents. Make it hard for others to steal and keep your account.
4. Double-check your transactions
This could be regarding multiple problems that could arise. First and foremost, make sure that your crypto address is correct both when sending and receiving funds. An incorrect address could lead to you losing your funds and never being able to get them back. Send a test amount to confirm your address before any big transactions.
Also always make sure you are sending funds to and from the same network. If you send USDT from BSC to a USDT Ethereum address, your funds could be lost. Always double-check your transactions.
5. Understand wagering requirements
Understanding a bonus wagering requirements is maybe not directly aligned with safety, but it does help you keep your gambling funds secure. Do not waste funds on bonuses and promotions that feature insane wagering requirements to unlock your funds.
What is the point of claiming a 10% deposit bonus on $25 which requires you to wager x40?
If you are allocating big funds then it may be worth it, as you will have the means to meet the wager requirements but otherwise, it is not worth the wasted funds and time.
6. Beware of VPN gambling
While using a VPN may in theory seem like a safe bet, it can put you at risk of losing your account. While you may be able to use a VPN to access a casino you would not otherwise have access to, an issue can arise when trying to withdraw.
Some casinos require players to do KYC when withdrawing to ensure they are the owner of the account, you are not money laundering, and so on.
Because casinos geo-block players from restricted countries, you may be able to sign up and deposit with a VPN, but when you can not complete KYC with the correct location documents, your account will be blocked and your funds lost.
FAQs
Before we sign off, we wanted to answer some of the internet's frequently asked questions. We hope this article helped you feel more confident in how to safely gamble with cryptocurrency, but if you still have concerns or questions, here are some additional answers.
Is crypto gambling safe?
Technically yes, crypto gambling is far safer than traditional fiat gambling. But the majority of the safety is only applicable when the player is responsible and sets up safety nets to secure their accounts. Choosing a trustworthy and reputable platform is always the first step in safe crypto gambling.
Are crypto casinos safe?
They definitely can be, but some more so than others. The use of blockchain and cryptocurrency does provide a heightened level of security but it is not the only factor to consider. You need to do your own research on every casino you consider.
How do I know if a crypto casino is safe?
As we highlighted in this guide, you need to consider all factors. Look for a casino that is reputable and has good security measures in place such as licenses, encryption technologies, account verifications, and 2FA.
Are there legit crypto casinos?
Yes! There are tons of reputable, trustworthy, and legit cryptocurrency casinos out there. We would recommend looking at BC.Game, Stake, Rollbit, and others. Be sure to always do your own research.