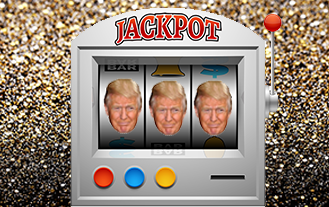 What a week! Wherever you are in the world and whatever you believe in, there is one thing everyone has in common: the feeling of absolute surprise following the US elections. Trump's win was a complete shocker! It is clearly the first time a billionaire hits a jackpot against all odds to take the White House. That is why Mars Casino has decided to come out with an exclusive bonus in partnership with Bitcoin Chaser.
If Trump can become president, anyone out there can hit a record making jackpot, and to give you a little boost, Mars Casino is giving Chaser readers an incredible 25 Free Spins! This exclusive bonus is a limited time deal for this weekend only. This is your chance to deliver the next surprise this week and make your way into the bitcoin winner hall of fame! The politics don't matter, the only thing that does is your ability to play and win!
Make The Trump Jackpot Your Jackpot!
So go ahead and try your luck out just like Trump did, knowing that your odds will always be better than the ones he had! On top of that provably fair gaming that makes sure you have a fair chance, you get a huge boost from those 25 Free Spins! No candidate in presidential election history had that kind of a boost to win, but you do!
Make sure you take advantage of this special week of surprises, play and win big! There is no week like this week to make history. There is no week like this week to rake in a huge win and become a Mars Casino legend. What are you waiting for? Just take your chances and run for jackpot winner of the year with this exceptional 25 Free Spin bonus that will make Trump's presidential jackpot pale in comparison!
*Terms and conditions apply.