Sportsbetting and gambling have been made significantly safer thanks to the innovations of cryptocurrencies. Cryptocurrencies are praised in the casino industry because they provide faster and cheaper transactions, while also ensuring transparency of funds. What could be better? A blockchain casino, we guess. Luckily for you, we know just the casino. Wagerr casino is taking advantage of blockchain technology to bring you limitless benefits. Let's take a better look at Wagerr casino.
Games And Providers
As a sportsbook casino, Wagerr has made it its main focus to bring you provably fair sports betting through blockchain technology. They do not have a setlist of games or even sports categories as their betting module is updated depending on sporting events currently happening. They offer sports betting categories such as:
Soccer
MMA
Basketball
Ice Hockey
Esports
Baseball
Rugby Union
Rugby League
Football
Golf
Tennis
Cricket
Australian Rules
Horse Racing
Motor Sports
Within those categories, they offer sports betting for certain events and leagues. For golf, you will be able to bet on events within leagues such as PGA, ETOUR, and RYDRCUP. Within baseball, you will be able to bet on events within the leagues of MLB, NCAA Baseball, and the World Series of Baseball. You will also be able to bet on the Olympics, the winter and summer editions.
There are plenty of sports categories and events to bet on with Wagerr casino.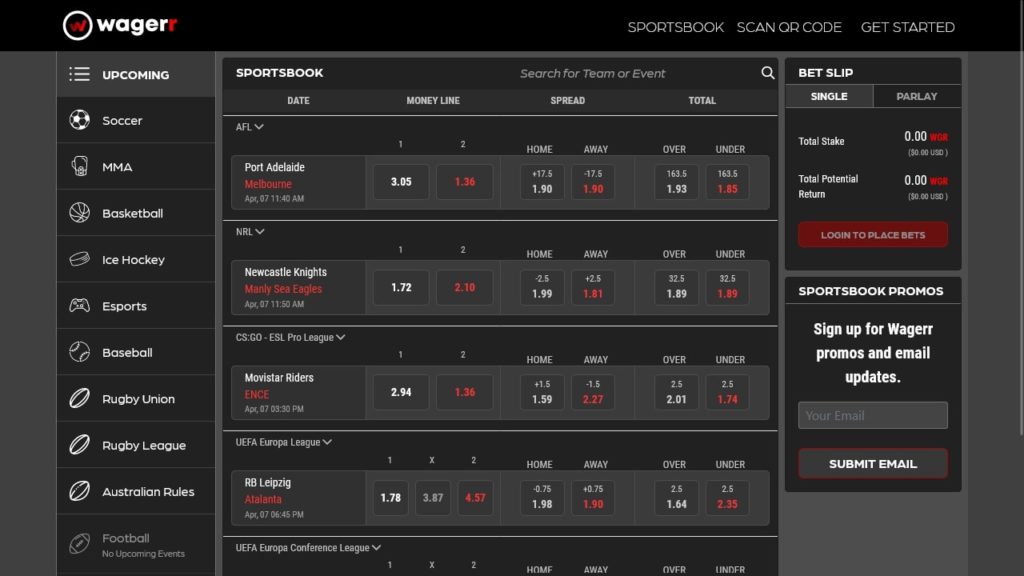 Bonuses And Promotions
The bonuses section of Wagerr is non-existent. That is not to say they have no bonuses, in order to receive bonuses from Wagerr you will need to enter your email address. The casino is anonymous, meaning no account information is needed other than your seed phrase to save. Entering your email takes away some of that anonymity, but it's not essential you enter it. We signed up to receive bonuses via email, but after 5 days, we did not receive any promotions. We can not honestly rate their bonuses because we did not receive any, but that does not mean they do not have any. 
Payment Methods
If you are a fiat currency user, you can still play at this casino. You can use your fiat to buy their native cryptocurrency WGR. That seems to be the only cryptocurrency they accept. You can swap your tokens or buy WGR on exchanges such as Uniswap, PancakeSwap, ApeSwap, CREX24, Coinsuper, Ionomy, InstaSwap, Beaxy, and ChainEX. If they do accept other cryptocurrencies, they do not make it clear, but buying and using WGR is easy.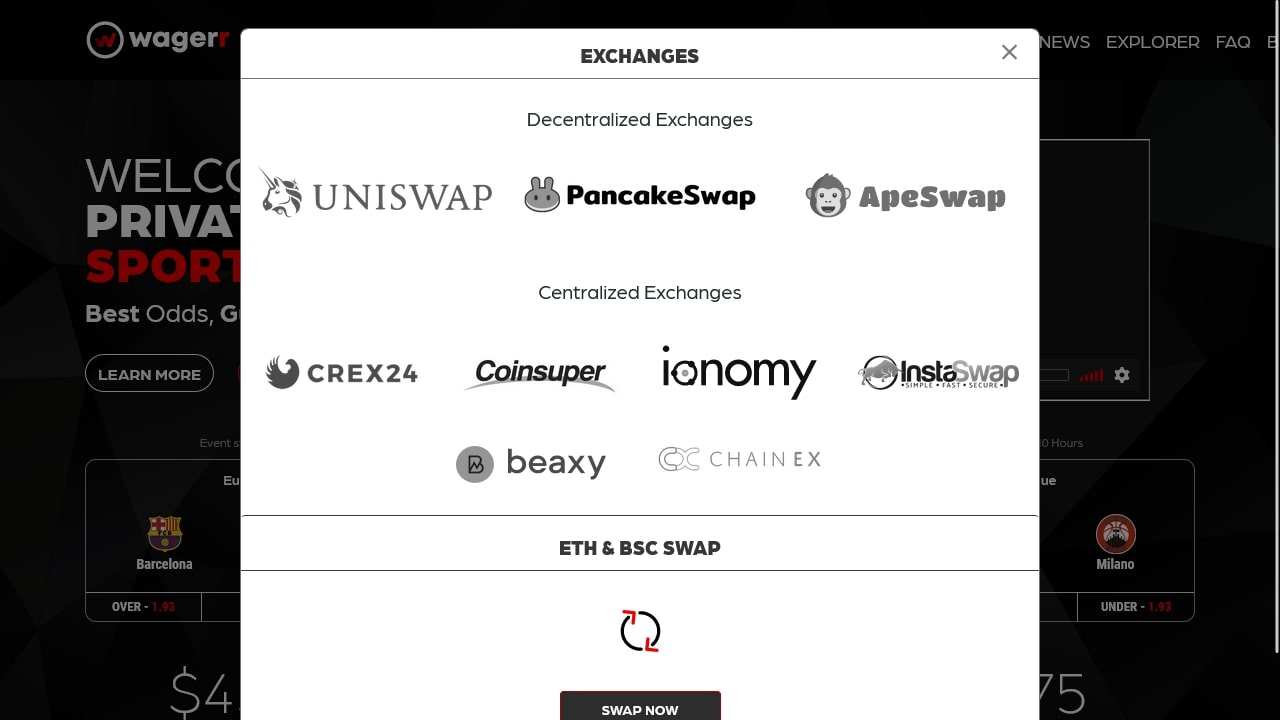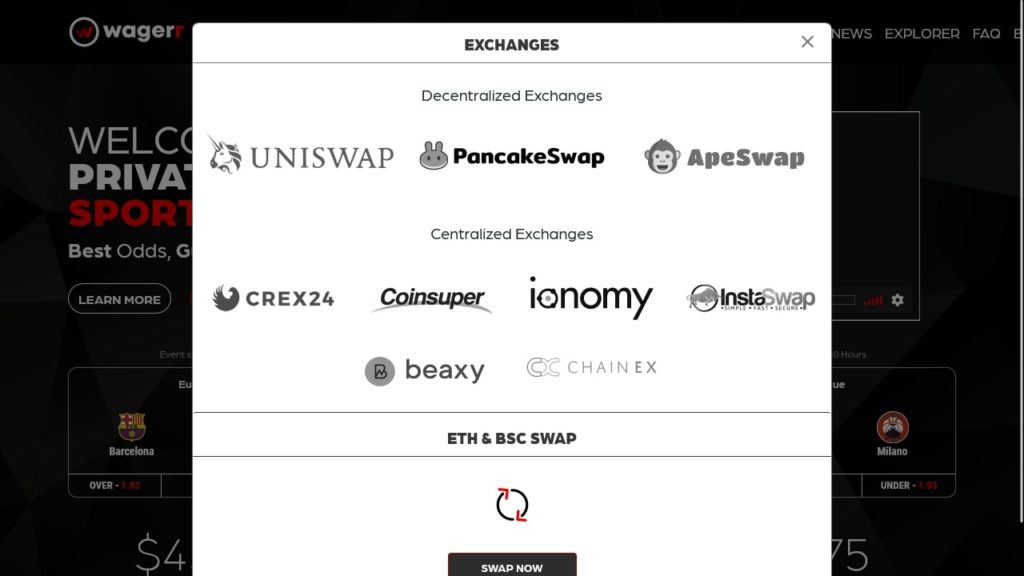 User Experience
Aside from some limited accessibility, such as their payment methods, Wagerr offers players a great user experience. Their blockchain-based provably fair casino allows users to partake in sports betting without worrying about country restrictions thanks to the anonymity offered by their site and app. Their platform is easy to navigate, has all instructions laid out, and provides a supply for the demand. Overall, simple, fun, and rewarding.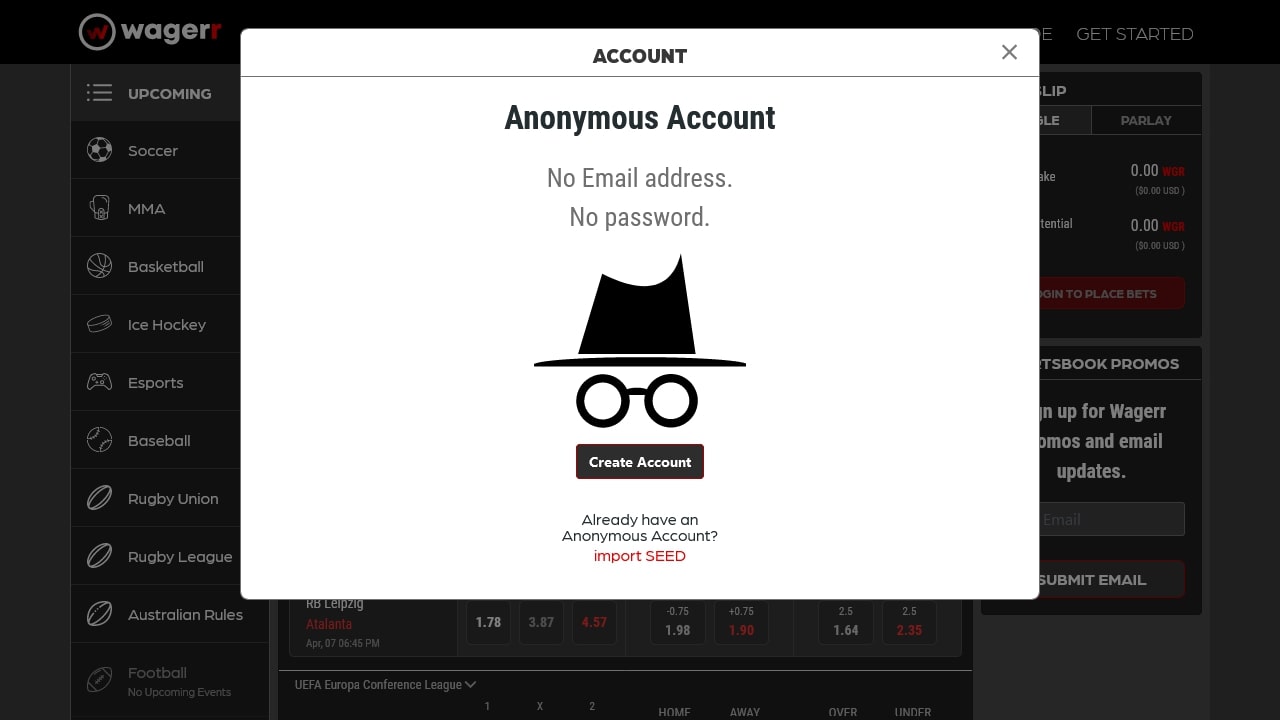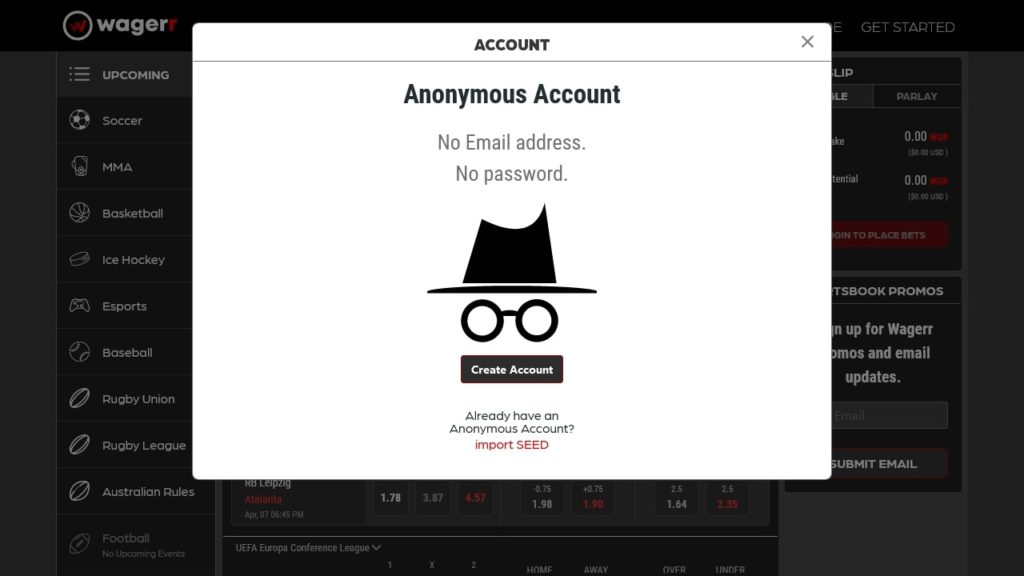 Customer Service
The app for Wagerr does seem to offer customer support, although we did not get a response. Other than that, the website does not make support obviously displayed or easily accessible. When reaching out to the casino for questioning, we used one of their many listed social media platform pages. You can reach out to them through Twitter, Facebook, Discord, Telegram, Reddit, or Github. We have yet to receive a response but will update you when we do.
Casino Conclusion
While the concept and core of this casino are very interesting, we do feel as though there is still a lot of work to be done. Making adjustments to the bonuses, payments, and support sections of their platform would do them and their players great justice. That being said, there is still plenty of features and quirks to enjoy when playing at Wagerr casino.
This casino is innovating the casino industry, double downing on what we all want. Speed, low fees, and transparency. Ensuring they are provably fair alone is a high note for many. They have created a market for those who want to sports bet without worrying about regulations and restrictions, ensuring you stay anonymous. They also have a great website and app, filled with incredible sportsbook categories and events for you to bet on.
Every casino has its pros and cons, but we think it is safe to say this casino is worth a try.
Check the Wagerr blockchain casino out for yourself.