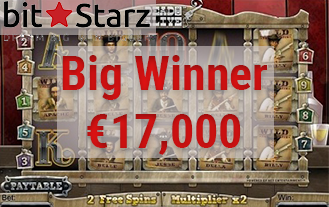 It happened last week, when a first time depositor started playing on the cowboy themed slot Dead or Alive. Apparently this slot machine is well known for being one of those that either gives all or nothing, with very little room in between. You can imagine he excitement of a first time player landing a huge jackpot on the first deposit. These things are almost too good to be true, almost.
Bitstarz which is a world leading hybrid online casino – bitcoin and fiat – certainly was as excited as the player who hit the jackpot. This huge €17,000 win clearly shows that you can play the odds and come out on top. This could happen to anyone on any slot game, whether they play with bitcoin or fiat, and people are taking notice. There has been a surge in interest in online casinos, especially bitcoin casinos like Bitstarz.
This is because apart from the huge jackpots available and the amazing game selection that provides the best entertainment out there, players have a good chance of hitting jackpots that grow in value even after they withdraw the funds. With bitcoin hovering the $700 USD mark and the bitcoin halving coming, that €17,000 Dead or Alive jackpot, will be dwarfed. It is only a matter of time until a first time bitcoin depositor hits a 25 or 30 coin jackpot.
In the meantime, Bitstarz is celebrating with the winner of this Euro jackpot. Kate Garber, the Marketing Manager at Bitstarz, declared that she is
"…delighted to see yet another big winner at Bitstarz and wins like this really shows that anyone has the possibility of landing a big win at any time. I wish to congratulate the lucky winner and I hope we'll see some more big winners soon!"
When your casino joins in celebrating your €17,000 jackpot, you certainly know you are in good hands. Congratulations to the lucky player who made it on the first deposit, and to Bitstarz for providing the best quality entertainment and customer service out there.
Do you want to be a Big Winner? Play at Bitstarz Casino now.